The reputation of Christian music has not been the greatest in recent decades. Often accused of being derivative, sugarcoated, and boring, Christian music as a genre has become such a stigma that many musicians understandably avoid the label like the plague. They don't want to share their faith in their music for fear the general public will not listen.
While some of Christian music's poor reputation is deserved, there are many artist out there that are bringing it back to life in a great way. The case against Christian music can be simplistic and overstated. The truth is there is a lot of artistically interesting, quality Christian music being made today, but it's just not always easy to find.
The following are some of the top Christian artists that should be on your radar. Their styles are diverse and some might be up your alley more than others, but all are worth checking out. They bridge the gap between modern music and Christian worship in a catchy, fun way.
---
Lauren Daigle

Jaguar PS / Shutterstock
Over the last year, Lauren Daigle has blown up in the music world, performing her songs on shows like "Good Morning America," "Dancing With the Stars," and "The Tonight Show." All of these shows typically are reserved for secular music, so it's empowering to see that Daigle is helping to bridge the gap between the mainstream and Christian-inspired music.
While the world has labeled as a Christian artist, Daigle herself simply views herself as an "artist." Daigle can be seen as a more progressive musician, and frequently talks about faith and love rather than using words like "God" or "Jesus". This allows those who may not yet know Christ to start rethinking spirituality in a new way.
---
---
Newsboys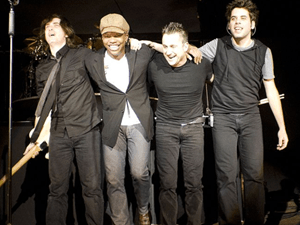 Orangegrovemedia/Flickr
Newsboys are a Christian rock band who first started in 1985 out of Australia. The band has released 17 studio albums, 6 of which have been certified gold. Michael Tait is the band's lead vocalist since 2009, who was formally in DC Talk, another Christian rap and rock trio. Since then, Newsboys has only continued to see success in the studio. In 2019 the band released the album "United" to great success.
Newsboys keep in mind when creating music that they do not want to be too "preachy", so that they don't alienate listeners much like Daigle. Tait said in a statement, "As a believer in God and Jesus, I still don't want to be the guy that shoves them down your throat. I just want to share what He's done in my life and if you can relate to it, great..."
---
MercyMe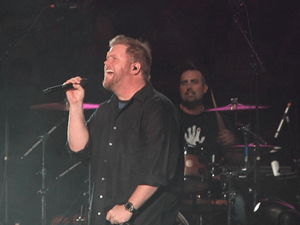 WordyGirl90/Wikimedia
MercyMe is another Christian band that has been around for a while, first banning together in 1994. They are best known for their single "I Can Only Imagine" which gained mainstream recognition. This elevated their debut album, "Almost There", to triple platinum certification. The group has also had 13 consecutive top five singles on the Billboard Christian Songs chart, with seven of them reaching No. 1. MercyMe has won eight Dove Awards and has had many Grammy Award nominations.
Outside of the Christian space, some might believe that MercyMe was a one-hit wonder. However the band continues to generate incredible Christian tunes. There most recent album, "Lifer", came out in 2017. The lead single on the album "Even If" reached No. 1 on the Billboard Hot Christian Songs chart for three weeks, and also charted on the Bubbling Under Hot 100 chart at No. 20.
---
---
TobyMac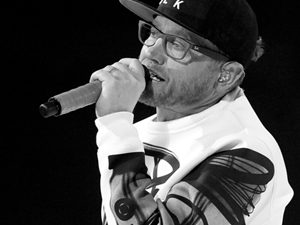 Michael McLoone/Flickr
TobyMac is a Christian hip hop recording artist who was first known for being a member of the Christian vocal trio DC Talk. His solo career has since been incredibly successful with the release of seven studio albums. His most recent album, "The Elements", became his fifth album to top the Christian Albums chart on Billboard. A single from the album, "I Just Need U" debuted at No. 1 on the Hot Christian Songs chart. His rap style captures many of the younger millennials because it feels relatable to what they might hear on the mainstream radio.
In late 2018, TobyMac's son died at the age of 21. While it was a hard time to go through, TobyMac was honest about his heartbreak and shared with fans how he leaned on God to get him through. He said during a concert, "Mostly, I want to say, thank you for the prayers...a friend once told me this: 'God didn't promise us that we wouldn't experience heartbreak or pain or loss, God said make sure you find what He did promise us. And that is that He will never leave us or forsake us.'"
---
Chris Tomlin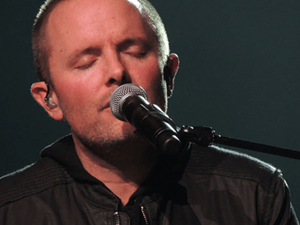 Dakota Lynch/Wikimedia
Chris Tomlin isn't just a Christian musician; he is also a worship leader. Some of his most well-known songs are "How Great Is Our God", "Our God", "Whom Shall I Fear (God of Angel Armies)" and his cover of "Good Good Father", and he has sold over seven million records. Tomlin has been awarded 23 GMA Dove Awards, a Grammy Award for Best Contemporary Christian Music Album for his 2012 album "And If Our God Is For Us", and two RIAA certified platinum albums.
Tomlin is extremely popular in contemporary church circles for both his music and his sermons. He's a modern worship leader that honors the history of great hymn writers, giving it a modern makeover while still spreading the Word of God. Tomlin said in a tweet, "Worship is an opportunity to thank God not just for what He's done but who He is."
---
---
Casting Crowns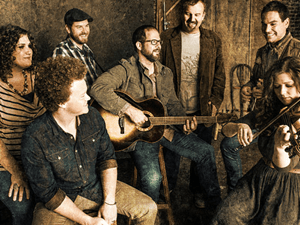 PLGPress/Wikimedia
Casting Crowns is a Christian rock band started in 1999 by Mark Hall, who serves as the band's lead vocalist. Hall, a youth pastor, started the band as part of a youth group at his church in Florida. Since their small beginnings, they have now grown into a band that has won a Grammy and Dove Award, and became a multi-RIAA Platinum-selling group. In 2019, Casting Crowns songs spent the most weeks at No. 1 at Christian Radio. Additionally, their latest singles "Only Jesus" and "Nobody (ft. Matthew West)" were the group's 14th and 15th career No. 1's.
Given Hall's youth pastor background, he's always kept younger audiences in mind when creating music. In a statement he said, "Teenagers are passionate and they want music that speaks within their hearts. It's a big deal for students to listen to Christian music and talk about it at school. Music is a very exciting element of your life when you're love. I think it's huge."
---
Skillet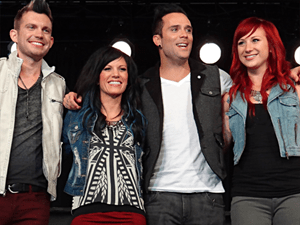 ThePanhead/Wikimedia
Skillet is another Christian rock band that has stuck around for a while, first debuting in 1996. The band has released 10 albums, with two, "Collide" and "Comatose", receiving Grammy nominations. In January 2010, they toured with Puddle of Mudd and Shinedown through the East Coast of the United States. They also have toured with Papa Roach, Godsmack, Seether and Nickleback, showing that they can bridge the gap between rock and Christianity.
The band, however, is very akin to making sure their songs are in line with their Christian beliefs. Lead singer John Cooper told "The Christian Post" that he has a very close relationship with his church and takes their input seriously. He continued, "We are looked at as a ministry of our church. So they're very behind us." The band has been worried in the past about listeners only using their music as a means to learn God's Word. Cooper said in another interview, "We are in a dangerous place when the church is looking to 20 year old worship singers as our source of truth. We now have a church culture that learns who God is from singing modern praise songs rather than from the teachings of the word".
---
---
Christian music hasn't always been something the mainstream secular world is accepting of. However, these Christian artists continue to pave the way in the music industry. Through their dedication to the genre, they are opening doors for others to learn Christ in a fun way, while still worshiping Him and His Word.