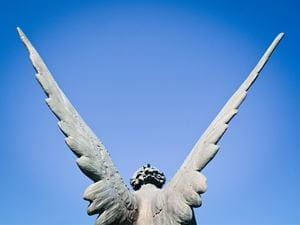 Shutterstock.com
Angels are many things—messengers, guides, and encouragers, to name a few. But above all, they are protectors.
In a world that feels increasingly violent, unstable, and just plain unpleasant, many of us feel vulnerable. We feel anxious and upset and unsafe. At times, we need reminders that we are protected by powerful, invisible hands.
Music—the very language of the angels—is a wonderful way to receive that reminder, and to calm our frazzled nerves as we realize that we are watched over. From centuries-old-hymns to modern pop songs, humankind has been singing of our invisible guardians for much of our history.
And it is for good reason that we do. When we sing of angels—or simply listen to these songs—we not only give ourselves an emotionally comforting reminder of their presence, but we draw them to ourselves, as well.
If you're feeling uneasy with the state of the world, lend an ear to these 5 angel songs that will protect you.
"Angels from the Realms of Glory"
"Angels from the realms of glory,
Wing your flight o'er all the earth;"
Written by Scottish Poet James Montgomery and first printed in the Sheffield Iris on Christmas Eve of 1816, this Christian hymn is a beautiful reminder of the ability of angels to proclaim good news—something we all need.
Angels from the Realms of Glory tells the story of angels singing of the birth of Jesus Christ—the son of God, in the Christian tradition. But whatever your faith, you can appreciate the role of the angels, who are simply there to bring praise and positivity and love into the world. From this song, we learn about their joy-bringing nature.
As you listen, dwell on this positivity, on the ability of angels to bring forth messages of hope and goodness, encouraging all to celebrate in unity. It's exactly this sort of protection that we all need right now.
"B'Shem Hashem"
"On my right is Michael, on my left is Gabriel
In front of me is Uriel, behind me Raphael"
This angel song by Jewish Rabbi Shlomo Carlebach is all about angelic protection, invoking the name of Michael, which means "God's strength," Gabriel, which means "Light of God," and " Raphael, which means "God's healing".
This composition is commonly sung as a part of bedtime prayers in the Jewish tradition, and although you may not understand the Hebrew lyrics, they invoke the names of the four most powerful angels, imploring them to stand guard all around the singer. This is not only a song, but a powerful prayer, so those in need of protection of a more physical sort would do well to turn to this song.
Beautiful are the lyrics of this song, and lovely is its melody—with a prayer for not only strength, but light and healing, you can't go wrong with this one.
"Guardian Angel from Heaven so Bright"
Guardian angel from heaven so bright
Watching beside me to lead me aright.
Fold thy wings round me,
O guard me with love
Softly sing songs to me
Of heav'n above.
Beautiful Angel, my guardian so mild,
tenderly guide me, for I am thy child.
This song, possibly written by a Catholic Nun in the 19th century, is one of emotional protection and comfort.
Guardian Angel from Heaven so Bright directs the mind toward a comforting subject—guardian angels—and implores them to guide and care for us as if we were children.
And isn't that just the sort of care we need in tumultuous times? To be cared for as a parent might care for a child means absolute, unconditional love and protection.
What could be better than that?
So if you need a reminder that your guardian angel is out there, watching over you, look no further.
"Angel"
Just like a shadow
I'll be beside you
I'll be your comfort
And let it guide you home
I will provide you a place of shelter
I wanna be your zone
Moving on to a more modern song, Natasha Bedingfield's Angel is lovely song that conveys human love, but a love steeped in the qualities of an angel.
This song reminds us that, if a flawed human being can feel this way, can aspire to love and comfort and guide as the angels do, how much greater will the love and care of an actual angel be?
Angels are higher than man—more perfect, wiser, and more compassionate. And like those who love you, they're on your side.
"Requiem Mass in D Minor"
"Grant them eternal rest, Lord,
and let perpetual light shine on them
You can find some angel songs in surprising places.
Mozart's powerful orchestral piece, "Requiem Mass in D Minor," carries with it the sound of the heavens within its beautiful Latin chorus.
This song is wonderful if you wish to contemplate the heavenly nature of angels—a nature that is far more powerful than ours. When the world feels out of control, meditate on the sheer majesty of these creatures, and on the fact that they are here for you.
Enjoy, and be awed.
You are Watched Over
Though some of these songs may be outside of your normal traditions, have a listen. Cultures and peoples from all over the world celebrate the protective power of angels in different and fascinating ways.
No matter how bad things get out there—and they may very well get bad—know that you are not only watched over, but protected, cared for, and guided. Your guardian angel is with you unconditionally, and nothing you do can ever make you unworthy of that divine care.
So dwell on the nature of each of these songs with that in mind. Your thoughts will draw toward you the kind of angelic protection that you need, whether that's strength, healing, wisdom, comfort, or anything in between.
There, you'll find your protection, even in the midst of the darkest situation.