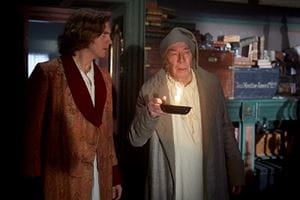 An instant family Christmas classic, the new movie The Man Who Invented Christmas follows the six weeks when Charles Dickens makes the decidedly offbeat decision to write a Christmas ghost story, then struggles to get it done in time for the holiday. A Christmas Carol in Prose, Being a Ghost-Story of Christmas was published in 1843, and Christmas in the English-speaking world has never been the same. This delightful new family film, starring Dan Stevens (Downton Abbey, Beauty and the Beast, Legion) as Dickens and Christopher Plummer (Beginners, The Man Who Would Be King, The Imaginarium of Doctor Parnassus) as Scrooge, will release nationwide for the Thanksgiving holiday.
The movie's title comes from the 2008 book on which it's based, The Man Who Invented Christmas: How Charles Dickens's A Christmas Carol Rescued His Career and Revived Our Holiday Spirits by Les Standiford. When Charles Dickens wrote A Christmas Carol, Christmas was not celebrated as the central holiday it is today. It's hard for us to imagine this, but Christmas was a second-tier celebration. A Christmas Carol helped make it the immensely popular and important holiday it is today.
In Europe, the central holiday in the Christian calendar was Easter, not Christmas. (And still is for many Christians.) In Dickens' time in England, even the existing traditions had fallen out of favor as too Catholic. But around that time, a number of factors were conspiring to cause the British to rethink Christmas.
The Oxford Movement was restoring interest among the British in Catholic traditions that had fallen out of favor. This included making a bigger deal out of Christmas. And because of intermarriage between royal lines in England and Germany, English royalty had been exposed to some of Germany's Christmas customs, including decorating a tannenbaum (German for fir tree) with lights, tinsel, fruit and ornaments. The future queen Victoria particularly loved this tradition in her youth. When, just three years before Dickens wrote A Christmas Carol, then-Queen Victoria married a German, Prince Albert, the Christmas Tree tradition spread throughout middle-class British society.
While carols date back much earlier, it was the publication of William B. Sandys' Christmas Carols Ancient and Modern in 1833 that popularized them in England. This book was the first appearance in print of "Hark the Herald Angels Sing," "The First Noel" and "God Rest You Merry, Gentlemen." A decade later, Dickens cites the last in A Christmas Carol (though as many do, he misquotes it as "God Rest You, Merry Gentlemen.") When a caroler appears at his door singing this carol, Scrooge scares him off. The British tradition of singing carols in church on Christmas Eve didn't start until 1880.
The first Christmas card was printed for the same holiday season as Dickens' book, in 1843, and depicted scenes of helping the poor, echoing a similar theme. The card was developed earlier in the year, showing that this interpretation of the spirit of Christmas as a challenge to the social justice issues of the day was not invented by Dickens, though his story popularized it.
But these trends of increasing interest in Christmas involved the privileged classes. Meanwhile, things were rough for most people. "They'd had a run of very bleak winters in the 1830s and 1840s which, I think, really beat people down," the movie's star, Dan Stevens, told us in an interview. At the same time, the early stages of industrialization had turned many people who worked with their hands into seemingly disposable cogs in a machine, while creating greater disparity between the poor and more privileged—a recurring theme in Dickens' work. Some grumbled the attempts to revive interest in Christmas were little more than a capitalist ploy to encourage people to buy more stuff!
But Dickens reframed the whole thing: his hopeful message of the inherent goodness of people, and of the possibility of finding a little light even in the darkest places was balm for the weary souls of Victorian England. "There's something about the celebration in the winter solstice that appealed to the Christian Fathers as much as Dickens—that in that very darkest moment the light will return," said Stevens. Christmas was no longer just for Anglo-Catholics and those imitating royal customs. The British public embraced his story and its message enthusiastically as the true meaning of Christmas. Dickens' publisher had balked at the cost of its color illustrations and the problematic idea (a Christmas ghost story?), so he had funded the project himself. A Christmas Carol sold out its print run of 6,000 in a few days, went through eleven editions by the following Christmas and has gone on to sell over two million copies.
By focusing his Christmas story not on the birth of Jesus, but on a universalized version of the message of Christianity, Dickens helped turn Christmas into a holiday that non-devout Christians and even many non-Christians would celebrate. We can thank Charles Dickens' A Christmas Carol in part or in full: for the phrases "Merry Christmas" and "Bah, humbug"; for an increase in serving turkey rather than goose for the Christmas feast; and for the tradition of kissing under the mistletoe (which he didn't invent but did popularize.)
Most of all, though, we can thank Charles Dickens for emphasizing the connection of Christmas with peace on Earth, goodwill toward neighbors, help to the needy, and family coming together to count their blessings with a feast, no matter how poor the may be.
The Man Who Invented Christmas, which open for Thanksgiving, tells this story of what drove Charles Dickens to write A Christmas Carol and how some of these threads in Victorian society around him wove together with his own story into the beloved book we know. At the same time, it is quick-paced and quick-witted adventure for the whole family, with delightful magical elements and plenty of humor. Director Bharat Nalluri (Miss Pettigrew Lives for a Day, Life on Mars) delivers a future Christmas classic—a movie that families are bound to return to year after year.