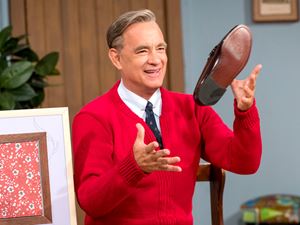 TriStar Pictures / Sony Pictures
Fred Rogers, the mild-mannered Presbyterian minister-turned children's television icon, is a key figure of the new Sony Tri-Star film "A Beautiful Day in the Neighborhood" starring Academy Award-winner Tom Hanks, Matthew Rhys, Susan Kelechi Watson, and Chris Cooper. Releasing Friday, it traces Rogers' (Hanks) unlikely friendship with hard-hitting journalist Lloyd (Rhys) and how it affects his relationship with his father (Cooper) and wife (Watson). The story is inspired by Tom Junod's 1998 profile of Rogers, "Can You Say . . . Hero?," in "Esquire" magazine.
Writers Micah Fitzerman-Blue and Noah Harpster, whose recent credits include "Maleficent: Mistress of Evil" and "Transparent," were tasked with bringing the story to the screen. Although they were eager to deliver a film treatment worthy of such a revered figure in American television history, they felt a deep responsibility to "get it right," Fitzerman-Blue admitted.
Part of that "getting it right" was including Rogers' significant yet somewhat understated faith. Rogers did not preach with the fervency of a Sunday morning evangelist, but spoke loudly in his actions. In "A Beautiful Day in the Neighborhood," the transformational effect he has on Lloyd is deliberate and noticeable. The writing duo learned through their research that Rogers often shared his faith, either through actions, or with words, with those whom he interacted.
"He never proselytized," Fitzerman-Blue stated. "He never put that on anyone else. He only witnessed. He only showed that belief in his actions until someone asked him about it, and then it began. A lot of the people that he had these relationships with, through our research, a lot of them were about faith and about the struggles of faith and about the big questions. And a lot of them weren't, but it wasn't something that he like demanded of other people. He just was the way he was."
Because it was essential to Rogers' character, he added that the writers kept the faith element intact, not ignoring or shying away from it. In one memorable scene, Rogers kneels in prayer, calling out a long list of names of those who need divine intervention, including Lloyd and his father.
"When I think of Fred, I often think of him in terms of what he did every morning, which was pray and think of the people he needed to pray for and write to those people and read and write," Junod said. "He had from five to seven every morning, those two hours of contemplating not just the mysteries, but the mysteries of people."
Junod also noted that even from his first meeting, he knew Rogers had started working on their relationship and getting through to him.
"Fred saw me, sized me up and went to work, which is where the movie and script is very, very true to life," he said. "Fred had that amazing gift of looking at a person and seeing what that person needed, and that he was going to minister to that person. And that person, in this particular case, was me. And I look back on it now and realize how purposeful Fred was and how relentless he was in doing that."
Rogers frequently turned the attention to others, as he does with Lloyd. When the journalist shows up to interview him, Rogers begins probing his life and asking deep, sometimes personal questions. Harpster said the writers took a cue from this characteristic and fashioned their film with Rogers as a supporting character in his own biopic.
"The story couldn't really be about Fred," he said. "It had to be about someone else who had sort of these big changes in their lives. Fred, as he did in his real life, would come into that person's life and really affect them, and really help them on their journey.
Fitzerman-Blue agreed, saying Rogers' tendency to put attention on others inspired them to change the main focus to Lloyd.
"What was what was revelatory about Fred Rogers for us was that here was a person who had a lot of the same tragedies and triumphs and heartaches and disappointments and struggles as anyone else," Fitzerman-Blue said. "And he turned his life into a practice that allowed him to deal with those emotions and deal with those problems and those struggles in a way that made him, to be perfectly honest, not a very good subject for a conventional biopic, but an incredible person to study and to get to know."
Throughout pre-production, Fitzerman-Blue and Harpster and the film's producers, which include Youree Henley, Peter Saraf, Marc Turtletaub, and Leah Holzer, had their sights set on Tom Hanks to star. Unfortunately, he read through the script several times and passed on the project.
"I think he just felt, 'I don't need to play another historical character,'" director Marielle Heller said. "This is a lot of pressure to play another beloved person in this way."
When Heller, whose recent credits include "Can You Ever Forgive Me?" and "Diary of a Teenage Girl" came aboard, Hanks, who was a friend, reconsidered and eventually accepted.
"She very specifically came back to me with a perspective of the power of the force of Mister Rogers as opposed to the plot that goes on," Hanks said. "I just knew that she was coming at this with this is the red dot of what this movie is, and that is the chosen power of empathy."
The addition of the two-time Academy Award winner for Best Actor naturally changed the trajectory of the project.
"When Tom Hanks came on, we lost our minds," Fitzerman-Blue said. "We always had envisioned Tom Hanks playing this part. We felt like we would we grew up with Fred Rogers, and Tom Hanks. We feel like they occupied a little bit of a similar neighborhood in our psyches."
Earmarking the actor for the part meant there would be no audition. The writers believed the actor would bring his "A" game to the role but had no guarantee he would be believable as Rogers. When he showed up to the set, Harpster said it was evident the actor had done his homework.
"When he showed up and put that costume on, I feel like Tom Hanks met Fred Rogers somewhere in the middle of this performance. And then when he when he said, 'Action' for the first time, our jaws dropped and we're like, 'Oh my gosh, this is happening!'
Ultimately, although the film is rich in nostalgia for boomers and Gen Xers who grew up with Rogers' voice, the film deals with timely themes such as compassion, kindness, and forgiveness, what many in the cast and crew feel that world could always use more of.
"At the end of the day, this is the story of a person making one small critical decision in his life to forgive someone," Fitzerman-Blue said. "Fred Rogers had the power to push people to make that one small change in their own lives."
The writer continued by relaying a story of a friend of his who saw the film at the Toronto Film Festival. Like Lloyd, his friend had a new baby and had not contacted his father in months. When Fitzerman-Blue asked him what he thought of the film, he said, "I called my dad today. And that's what I thought of the movie."