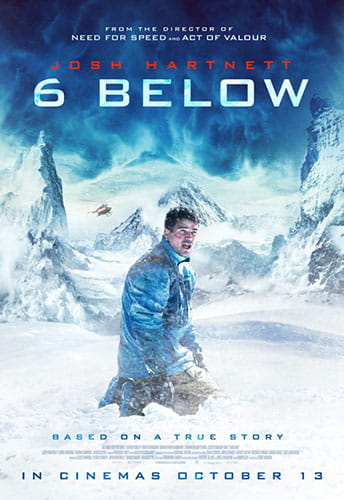 Think you know your own limits? Portrayed by Josh Hartnett in the faith-based survival film, 6 Below, the miraculous story of Eric LeMarque stands to remind audiences that, with the right qualities, they can do anything.
Eric LeMarque is a tough man. As a pro hockey player who went on to play for the French national team at the 1994 Winter Olympics, he was used to the ice, to hard knocks and long days of training.
When Eric's beloved professional hockey career came to a close, he found employment at a sporting goods store. But things just weren't the same—the old thrill wasn't there.
To find it, he turned to two pastimes: crystal meth and snowboarding. And it was the combination of these which would nearly kill him.
On the evening of February 6th, he set off for a day of snowboarding on California's Mammoth Mountain with only a few pieces of gum, his MP3 player, a dead phone, his keys, some soggy matches, and a bag of meth. High, and searching for a thrill, he ignored the warnings of ski patrollers, venturing out onto a ridge known as Dragon's Back and plunging down a steep expanse of untouched snow.
There are no resorts or markers on this side of the 11,000-foot mountain—it may as well have been the dark side of the moon. When Eric came to a flat expanse, he began to trudge in what he thought was the right direction to make it back to civilization.
He was wrong. He was heading out into the Ansel Adams Wilderness, a vast, 231,005-acre expanse. His tracks were continually covered by fresh-fallen snow, making it impossible to find his starting point.
Thus began Eric's miraculous, week-long tale of survival—one that would bring him face-to-face with not only with death and disability, but with Jesus Christ, breaking his drug addictions and launching him into a life marked by the kind of faith only held by those who have been pushed to their limits.
Hartnett's Perspective
Josh Hartnett, star of films such as Black Hawk Down and Pearl Harbor found himself drawn to the role of Eric, telling us that "The story is insanely compelling, and I felt like [Eric's] determination, and the drive that he shows within the script, as well as when you meet him and talk to him is something that I found fascinating. It gave me a sort of clue into what it might take to be able to survive something like this."
In this tale of addiction and redemption there are many significant moments, but here's what Hartnett had to say about his favorites.
"There are so many that felt important to me. From a script perspective, and what the character is going through on-screen, I believe that his being able to kick his crystal meth habit was a pretty big moment for him, and a defining factor in his survival.
What was most compelling actually wasn't just the moments—it was the type of character he must have had to be in order to find himself in those moments, and to make the decisions that he made. That ability to look at his own scenario and know that physically, he can overcome his situation without a doubt in his mind—he knows he's physically capable, where most people would fold under that pressure—I think is something that's very compelling."
Hartnett was impressed by Eric's story, telling us that "I found that the lesson for me was something that I've seen many times, but it's hard to understand until you have a personal relationship with someone that has endured something like this—you're not really sure of what you're capable of until you're really pushed to the edge.
And that's nice to know and to be certain of—that there are reserves of strength you don't know exist yet. Don't fool yourself into thinking that you've actually put yourself to your limit."
Eric's Perspective
The real Eric LeMarque is a gregarious man, full of life, energy, and zest for God. Working with a co-writer, he transformed his life-changing experience on Mammoth Mountain into not only a film, but a book as well. And he did all this for the purpose of, as he says, "Populating heaven and plundering hell."
Here's what Eric has to say about seeing his story on the big screen.
"What I had to go through on that mountain, Josh Hartnett portrayed brilliantly. When I first watched it, we were selling the film to the studios, and I started to squirm, because they were playing me like an emotional instrument.
It's very humbling and very honoring, and also is very healing to see the story come out. I had to find my way out of the darkness and learn to tell the truth again—being so transparent and kind of an open book reminds me of when I dumped the meth out on the mountain.
I finally took a good stand for myself and my life, and was in a position where I was turning my heart to start the healing."