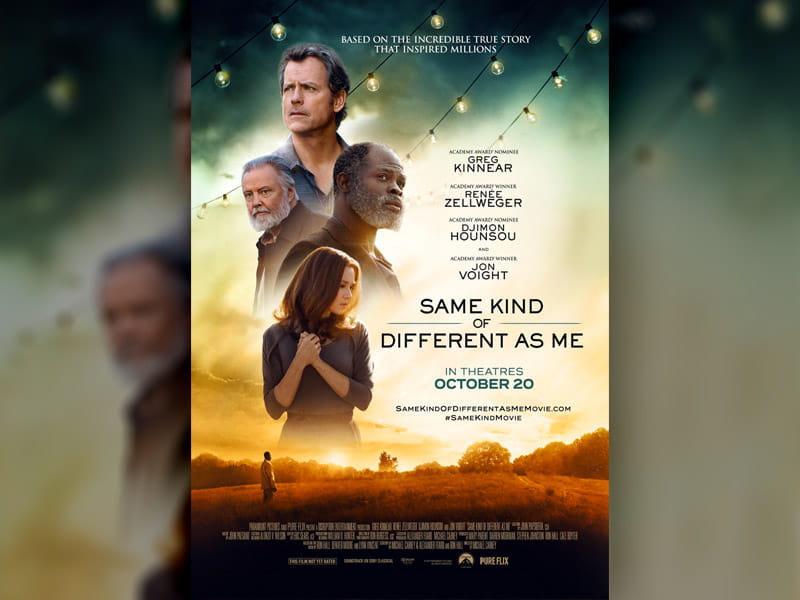 Based on the best-selling book and the movie of the equivalent name, the "Same Kind of Different As Me," invites people into an improbable friendship between international art dealer Ron Hall and a homeless man named Denver Moore. Moore, a wandering drifter, was raised under plantation-style slavery in Louisiana in the 1960s. He finally escaped the grips of slavery and hopped a train to Dallas, Texas where he strolled the streets for 18 years. Despite being free in the physical sense, Moore was bound to a grave past until he met Hall's wife Deborah at a homeless shelter.
Yet, this was a short encounter as Deborah died of liver cancer. She challenged her husband to befriend Moore before her passing, which wasn't an effortless commitment as Hall was coming from a realm of Armani suits and high-brow associations. Reaching out to someone unlike him was difficult and inconvenient. Nonetheless, he did as his wife beseeched. After the emotional ups and downs of getting to know each other, both Moore and Hall commenced on a journey that would help them conclude you can always love another human being, regardless of their class and history. "I used to spend a lotta time worryin' that I was different from other people. But I found out everybody's different—the same kind of different as me," said Moore. Yes, we all are complex, but by overcoming the barriers of division, people can experience solidarity and love. We encourage you to reflect on the subsequent lessons from the "Same Kind of Different As Me."
The power of love.
Moore spent many years as a homeless man. But God showed His love through Deborah and Hall. As tense as it became, the love of God rendered the prison encompassing Moore's embattled soul. In 1 John we find "That we should be called children of God, and so we are. The reason why the world does not know us is that it did not know Him." As representatives of Christ, it's our duty to share God's love with the world. This unconditional love calls Christians to lay down our lives for a friend and even a stranger.
Let down your guard.
We are reminded in Romans neither height, depth or anything else in all creation will be able to separate us from the love of God that is in Christ Jesus our Lord. However, if we want to receive and give love, we need to take down our own barriers. Hall was a wild boy, who lived in another world. Letting his guard down to minister to a stranger who was sometimes dangerous, was not an easy assignment, but persistence opened a new world outside of himself. The same was true for Moore. "The Word says God doesn't give us credit for lovin' the folks we want to love anyway. No, He gives us credit for loving the unlovable," said Moore. Be open in reaching out to people who are hurting by letting your guard down. You never know how God will use you.
We're all different.
No one is perfect and we're all trying to figure life out. We can only do the best we can because we're all wounded people. Moore felt rejected by life. Yet, often times we can feel grief from a lover, a friend, from a co-worker or from a family member. "We're all just regular folks walkin' down the road God set in front of us. The truth about it is, whether we are rich or poor or something in between, this earth ain't no final resting place. So in a way, we are all homeless – just working our way toward home," Moore wrote. A natural response is to withdraw like Moore did. Nevertheless, when he realized we're all different, he was able to make peace and learned how to love again.
Money can't bless you.
Hall explained that "Money can't buy no blessings." Well, he's was correct as he had much of it. This didn't help his marriage, his home life or bless him with happiness. Beneath the possessions, people are generally miserable with their lives and money creates a false hope. Money won't get you into Heaven and you don't want to find this out when it's time to leave earth.