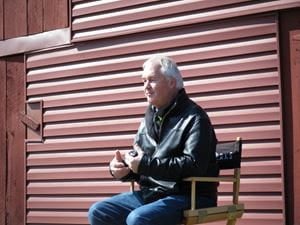 Ask people on the film set of "The Ultimate Life" how they look to bring God into Hollywood? They will explain that it's writing an inspirational story that is undergirded in faith and excellence.
"I think we need to be very, very careful [and] to do things with excellence. I want to make sure that the stories that are told are told with excellence, so they reach a broader based audience," said executive producer Rick Eldridge, who owns Reel Works studios in Charlotte, N.C.
Derived from Jim Stovall's successful novels, the film is the prequel and sequel to "The Ultimate Gift". Jason Stevens (Logan Bartholomew) receives an inheritance from his grandfather Red Stevens and is running a multi-million dollar foundation. Jason finds himself in a court battle with his dysfunctional family demanding money. He receives Red's journal to discover the taste of poverty, hard work, and how being a workaholic can destroy relationships. Bill Cobbs, Peter Fonda and Drew Waters join the cast with Lee Meriwether.
Michael Landon Jr. directing one of his actors (brown coat)
In Winston-Salem North Carolina, the winds picked up and a chill runs down your back on a cattle farm roughly about 10 minutes from downtown where director Michael Landon Jr. is filming. A summer scene was set in 36-degree weather, where actors appeared to be building fences in the Texas heat. To make it look like they were under a hot Texas sun sweating, water was sprayed on their shirts for authenticity. Waters, who plays Red (ages 34-43), was brushed with a mixture of food-dye and laundry detergent. Melted chocolate (I heard) was used to darken his face for the "striking oil" scene the following day. He said tree-tea oil did the trick for removal, by the way. Extras wore straw hats, worn-out jeans, and their faces where muddied with dirt.
With props, costumes, and makeup, masking reality, the underline theme is to not solely whisk people away in Red or Jason Stevens' life, but offer movie goers a plot with substance. Eldridge said he doesn't make Christian movies; he makes movies from a Christian point of view.
Hollywood seems to be embracing more Christian films and programming. Productions like "The Bible," "The Hobbit" and "Noah" are making their mark.
But don't make any assumptions.
"We can't be naïve that we think Hollywood is now doing more Christian movies, " said Eldridge. "No, Hollywood is doing more movies that sell tickets. At the same time, if we support it, they will keep doing it."
Producer Yochanan Marcellino and CEO of City of Peace Films will be releasing "The Identical" in the fall. He said creating solid scripts and having a high-quality film will encourage Hollywood to listen and fund more movies.
"We want to bring films with a redeeming value to the world. One of the ways you do that is live where people are living. We have seen that with the reaction that we had from Hollywood. We've seen this in the casting situation in landing Ray Liotta and Ashley Judd, Joey Pantoliano and Seth Green."
Playing a younger Red, Waters really connected with the message on how we chase the wrong things in life.
"When I read that script I liked him [Red] and related to him," Waters said. "I was that guy, my father was that guy and I liked the message that was at the end of it. I am a believer through and through. I am not an actor that focuses on deep Christian movies because I don't want to preach to anybody. I want the audience to feel the undertone of everything and get the message that way."
This seems to be Landon's approach to movie making.
When Eldridge was interviewing directors for "The Gift", he narrowed it down a couple of candidates--Landon was one. Eldridge asked "What makes you feel that you can really do this story or relate to this story?"
Drew Waters (left) seen in a blue jump suit with Michael Landon, Jr. (right)
Landon, one of nine children, added "'I am Jason. That's what being a trust fund baby is all about. I grew up in a home with the same things Jason had to live with. I understand Jason.'"
This made a huge impact on Eldridge and Landon was hired.
"Michael is very soft-spoken. He thinks and studies his scenes and what he wants to accomplish. He's very soft-spoken in the way he relates to his actors. Instead of screaming behind the camera, he'll walk to them and have a conversation."
Waters started his career nine years ago at 30, and coming from a shy background, being directed by someone who didn't rant was a huge plus.
"There are many directors out there that have their own vision, and how to get it [performance] out of you," Waters told the press. "Some are very aggressive, which for me doesn't really work. To approach somebody, especially, somebody building a character, to approach them with the understanding that 'here's an idea, go with it, and see what happens.' That to me is the best director you can work with. Michael is one of those, he truly is."
"The Ultimate Life" is slated for fall release.