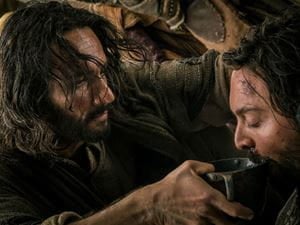 © Paramount/MGM
Hope is a word of optimism and it defines what we are living for – it is a feeling of expectation and desire for certain things in our lives to happen. When we lose hope, it can be devastating, throwing our lives off course and challenging what we believe. However, losing hope can help us realize how much we ponder when we fail and just how much those situations can transform our lives for the better. Without hope, faith is impossible.
Hope has been a central part of Judah Ben-Hur's story since Lew Wallace wrote "Ben-Hur: A Tale of the Christ" in 1880. The story recounts in descriptive details the adventures of Judah Ben-Hur, a fictional Jewish prince from Jerusalem who is enslaved by the Romans at the beginning of the 1st century and becomes a charioteer and a Christian. Judah's story runs parallel to the unfolding story of Jesus, who comes to the same region at a similar age, and offers a message of hope and faith to the marginalized and downtrodden. The novel reflects themes of betrayal, conviction and redemption, with a revenge plot that leads to a beautiful story of love and compassion. In Paramount/MGM's new release of "Ben-Hur," a fresh imagining of the timeless classic, we see God working on Judah's hopeless heart in amazing ways.
Early in the story, Judah and Esther, the woman he loves, are in the marketplace where the Romans have captured a zealot and announced that He will be crucified. As Judah bitterly complains that zealots are bringing not freedom, but Rome down upon them, a simple carpenter named Jesus working nearby speaks up. He tells Judah, "There is freedom elsewhere. Love your enemies. God is love. He made us to share that love forgive them and you will be forgiven." Jesus' message of love is radical: "But love your enemies, and do good, and lend, expecting nothing in return, and your reward will be great, and you will be sons of the Most High, for He is kind to ungrateful and the evil" (Luke 6:35). Jesus' seemingly impossible challenge doesn't fully resonate to Judah at the time, though it later will.
After Judah loses his title as prince, is separated from his family and the woman he loves, and endures several years of life as a slave, he hits rock bottom and finds himself in a hopeless place. In his lowest moment, he does all that he can do: he turns to Jesus. At a powerful point in the film, Judah finds Jesus carrying the cross to His death and tries to offer Him water. Jesus tells Him that He gave His own life of His own free will. Later, He says at the cross, "Father forgive them for they know not what they do". Judah begins to experience the healing of His anger and His hatred. In witnessing the extraordinary love of Jesus as He allows Himself to be crucified and forgives His killers, Judah's heart is opened and He is redeemed, transformed by God's grace from a man of hate to a man of love.
For producer Roma Downey, this was the scene that touched her spirit the most – the moment Judah, with grace, is transformed in front of the cross.
"He is carrying a rock that he's picked up along the way when he goes to give Jesus water. Jesus on his knees collapsed carrying the cross and he goes to give him water and the Roman kicks him and [Judah] grabs a rock instinctively to hit the Roman back," Downey said. "He still has this rock in his hands when he hears Jesus says, 'Father forgive them for they know not what they're doing'. And as he drops to his knees, his heart having opened, he also opens his hand and lets go of the rock."
This scene reminds Downey of all the places within ourselves that we may be hanging onto anger, disappointment, hurt or bitterness.
"We all have an opportunity in front of the cross to lay those things down and through grace to be healed and restored," Downey said.
In the Bible, God tells us, "For I know the plans I have for you, says the Lord. They are plans for good and not for disaster, to give you a future and a hope" (Jeremiah 29:11). God knows the plans He has for us and ultimately He will give us a glorious future. But as we live out our lives, it's important for us to remember that the best growth comes through persevering through trials, not escaping them entirely. When we learn perseverance, we find surprising joy. This is what Judah does and this is why he ultimately finds new life.
Hope is not an abstract, but rather it is a person: Jesus Christ, true God and true Man. When we seek refuge in Him and allow hope in our hearts, we know that there's no trial we can't overcome. God has a purpose for each of us, and there is a reason for the trials we face. When we're in the mindset of hopelessness, it is so easy to feel alone. The world becomes smaller and smaller. It's tough to imagine getting through whatever we're experiencing. But regardless of the circumstances we're facing, we are not alone. We are a part of something so much bigger than ourselves. When we believe in hope and turn our hearts to Jesus as Judah did, all things are possible.