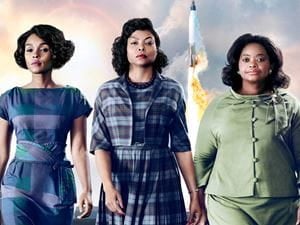 20th Century Fox
The film "Hidden Figures" is the remarkable story of how 3 incredibly skilled African-American women working at NASA helped us win the space race. Katherine G. Johnson (Taraji P. Henson), Dorothy Vaughan (Octavia Spencer) and Mary Jackson (Janelle Monáe) were hidden in the background, but these mathematicians were more than just brains that launched Friendship 7 and famed astronaut John Glenn into orbit in 1967. The women were the foundation of the program and people that Glenn trusted and respected. According to a scene in the film, Glenn was concerned regarding the trip and felt uneasy. He needed the numbers to be checked and asked to see the lead researcher (Johnson) to verify the orbital trajectory calculated by dual IBM computers. "Get the girl to do it," he said. "I want this human-computer to check the output of the electronic computer, and if she says they're good, you know, I'm good to go as part of one of my pre-flight checklists."
The human computer had no idea how she would reshape the world. Based on the book of the same name written by historian Margot Lee Shetterly, the narrative shined a light of what the political, cultural and racial climate was for women during the 1960s. To give you an idea of how critical the situation was, Johnson who worked with all white male physicists, had to walk from the NASA campus to find a "color approved bathroom." If you think about this, the 1960s were not that long ago--making this a sobering reflection. Yet, their story of bravery and resolution resonates with us today. Here is how to make "Hidden Figures" your own phenomenon.
Believe in yourself.
Discrimination still exists today. People are not only discredited because of their race, but by their economic class. Imagine living in the 1960s where you are fully able to do the work like any other male. However, you are paid less and told to remain out of sight. "Their dark skin, their gender, their economic status--none of those were acceptable excuses for not giving the fullest rein to their imaginations and ambitions," wrote Shetterly about these amazing women. Believe in yourself and live to your fullest even if it hurts you to the core.
"Remember it doesn't matter what your background is, it doesn't matter where you came from--your start is not your finish."
Rise above the noise.
In the book and in the film, the bar was set low for women. It was assumed that they were not competent before they even had a chance to establish themselves as intellects. "Women, on the other hand, had to wield their intellects like a scythe, hacking away against the stubborn underbrush of low expectations," Shetterly explained. Remember it doesn't matter what your background is, it doesn't matter where you came from--your start is not your finish. Focus ahead on your strengths. You have to be your biggest fan--no one else will do it for you. When you lose focus on your goals or dreams, you sink. Reject those hurtful words or damaging memories.
Find a cheerleader.
In "Hidden Figures" Kevin Costner plays the head of NASA's Space Task Group, Al Harrison. Although he is a fictional character, Harrison is looking to accomplish the goal of getting America to the moon. Color and gender are not relevant to him--what is essential to him is math and science. With America falling behind the space race he understands one thing that the country needs to get ahead of Russia. "Only a person who's losing is really looking at things carefully, deciding that they've got to do something different. He thinks the best thing is to get to the top. But he realizes that NASA wasn't even allowing the best people (Katherine Johnson) to have their voice," Costner said in an interview. We need to have a Harrison in our lives to encourage us. However, you have to encourage yourself as well during the journey.
Great leaders help others succeed.
Teachers can really make an impact on a life. When Johnson was a little girl her teachers saw potential in her. They knew that she needed a better education and that her current school was doing her a disservice. Her teachers took a collection so she could attend West Virginia State High School. Guess what? She ended up graduating at the age of 14. Leaders can shape communities, families and may inspire groups of people to reach higher. If Johnson's teachers were not so charitable, she might have never seized her destiny.
Don't give up.
Jackson became frustrated that every time they believed to reach a goal, another impediment would get in the way. "I plan on being an engineer at NASA, but I can't do that without taking them classes at that all-white high school, and I can't change the color of my skin. So I have no choice, but to be the first," Jackson explained to a teacher.
Outlast the challenges.
Are you feeling that nothing you do works anymore? Maybe you are stuck in a rut and need to experience a sense of freedom. Jackson felt those frustrations. "Every time we get a chance to get ahead they move the finish line. We go from being our father's daughters to our husband's wives to our baby's mothers." You are more than your obstructions. You are more than your victories. Don't undermine yourself because of the fight and don't label yourself because of the challenge.
If you need a pick-me-up, read the book and go see the film "Hidden Figures." We all need to come out from the shadows and be ourselves. We live in a better world today than it was during the 1960s. But there needs to be more light, more hope and more solidarity. Be invigorated and refreshed that you can be the best you can be today. Just show your prowess. Will this decision be easy, absolutely not! Is it worth it? Well, take a glimpse at the striking story of Katherine G. Johnson, Dorothy Vaughan and Mary Jackson and determine your fate from there.