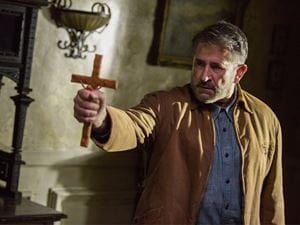 Warner Bros.
Can a spirit enter an inanimate object? According to demonology books, demonic activity involving a doll was despoiling a Connecticut home. Paranormal investigators Ed and Lorraine Warren were involved in examining in what is considered the "Devil Doll'" when a mother innocently acquired an antique Raggedy Ann doll in 1970. The doll was a birthday present for her daughter, Donna, who placed the new toy on the bed. However, there was something unsettling about the red headed friend which would move into strange positions on its own. One day the arms would be folded and another day the doll was found standing on its feet without human manipulation.
Dark and mysterious, the film, "Annabelle: Creation," is based on this disturbing story and is a spin-off to "The Conjuring." This time audiences will be taken through the infamous doll's very beginnings—from her first home in a little girl's room to her first ownership of her soul. After a chilling cameo in "The Conjuring," the fictional part of this story is about toy maker Sam Mullins and his wife Esther who welcomed a nun and orphaned girls into their home. Tragedy then strikes and the couple loses their 7-year-old daughter Annabelle in a car accident. Suddenly, terror torments the home and the family through a doll. Anthony LaPaglia takes on the role of Samuel Mullins. "It's not my genre particularly in life, horror films," the actor admitted. "I never did a straight-up horror genre before so that was interesting. I am always up to a new challenge." When asked if he believed in paranormal activity, he said: "There was not enough science to back it up."
Most Americans might disagree. About 3 in 4 Americans profess at least one paranormal belief, according to a Gallup survey. The most popular is an extrasensory perception with 41 percent, followed closely by those believing in haunted houses (37 percent). In the U.S., 18 percent say they've seen or been in the presence of a ghost, People admitted demons could inhabit your body and they existed. Specifically, 56 percent of men said they believed in demons who could do this and 59 percent women said the same. However, among people between the ages of 18-29, that number was even higher. About 63 percent of people in that age group stated that they believed that it was possible for people to be possessed by demons.
It's no surprise movie-goers enjoy the clash between good and evil and they will get there chance in the movie. Miranda Otto (Esther Mullins), who is the wife to Mr. Mullins, fights to destroy the demon's dangerous agenda. Mullins was on the fence regarding paranormal activity, but "I do get premonitions of things that are going to happen. I dream about things and then they happen." LaPaglia added, "What am I doing tomorrow?" They laughed, but many people like Otto do have premonitions through dreams or through a feeling. The Virgin Mary experienced premonitions in visions and in visitations. They may alert us to problems and help others as well. We don't know if the characters in the film had premonitions regarding what was ready to befall them, but according to the former owner of the real Annabelle doll, there was a peculiar sensation about the toy.

During LaPaglia's crucifixion scene, there's an eeriness in taking on the devil head-on. Although this is Hollywood, in reality, there are real exorcists who operate without a script. Fr. Francisco Lopez Sedano conducted over 5,000 exorcisms. He shared about how a typical session would begin. "I am nobody, but I come from Christ, your Lord, and God and you leave right now – I command you in His name that you go. Out!" Fr. Lopez explained to Los Angeles Today, the devil enters into a person because they allow him to do so. "He can't enter us if we do not open doors," the priest added. "Because of this, God prohibits the practice of magic, superstition, witchcraft, sorcery, divination, consulting the dead and spirits and astrology.
A doll is a perfect conduit to be used. Stephanie Sigman, who plays Sister Charlotte, was so disturbed by the dolls and according to a rumor, she asked a priest to come in and bless the dolls on the set. LaPaglia told dreadcentral.com since he was a Lapsed Catholic. "I'm not big on the supernatural. I'm pretty much a science guy. I need scientific proof myself. Otherwise, it's totally open, it's not objective at all, but I also respect that people do have those feelings."
No matter where you stand on the paranormal, "Annabelle: Creation," is expected to be filled with twists and turns. You don't have to believe in the real Annabelle, possessions, exorcisms or ghosts, to enter an alien world of wickedness to be entertained. But when you're at the movies, remember that Raggedy Ann is sitting in a special case built for the Occult Museum in Connecticut. She was exorcised by a priest several times and it's believed that some energy remains attached to this doll. If thoughts of the real doll is scary, stick with the film, it's much safer.