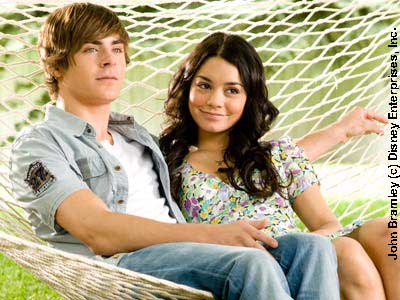 No one expected a Disney made-for-TV movie to become the worldwide juggernaut that is "High School Musical." Back from a whirlwind promotional tour that included stops in Stockholm, Paris, and London, the actors behind basketball hero Troy (Zac Efron), brainiac Gabrielle (Vanessa Hudgens), diva Sharpay (Ashley Tisdale), jock Chad (Corbin Bleu), future lawyer Taylor (Monique Coleman), and composer Kelsi (Olesya Rulin) stopped for a bit in Los Angeles to reflect on the early days before they became household names.
"Obviously, we did not know it was going to be this huge phenomenon," said Tisdale. "There was this feeling around the room that we felt we were doing something really great. Just something like, 'I think this is going to be something really good for kids, they're going to love this movie.'"
That was in the days when "HSM" was merely a TV movie on the Disney Channel. Now "High School Musical 3: Senior Year" is poised to hit the big screen worldwide on October 24. Eagerly awaited by tweens as well as older fans, tickets are already selling out in some theaters. The film follows the youngsters, now seniors, at East High, as they anticipate leaving high school and each other. They look forward to their graduation with a mixture of excitement and sadness, which they express through extravagant dance numbers that transition through space and time.
The story takes place in a magical high school where the drama teacher presides from a golden throne, where a romantic garden blooms on the roof, and where the biggest worry is how to ask a girl to the prom. Diva Sharpay and her twin Ryan (Lucas Grabeel) scheme to win a scholarship to the art college Julliard, a step toward fame and fortune. Chad looks forward to playing basketball at University of Arizona while Taylor knows she's headed for big things at Yale. Sweethearts Troy and Gabriella both look forward to college, but not to separation. The issue is put to the test when Gabriella is offered the chance to leave early for Stanford, a choice which would force her to miss both the prom and opening night of the musical.
If you're looking for a gritty coming-of-age story, you won't find it here. The movie shares DNA with the musical galas of the past and not with today's angst-driven teen dramas. This is by design. "Everyone is all about making edgy films," says Hudgens, "No one really takes the time to make a movie that people of all ages can watch and enjoy. You watch it and you're taken to this world where it's happy and you have fun. I'm extremely proud to be a part of this project."
"We harkened back to the great musicals of the 50s and 60s, and we recognized how young people responded to that," said producer Barry Rosenbush, "We knew it would touch people because no one had explored the genre in a long time."
Like a 60s musical, there's not much plot, but rather a series of emotions woven together and expressed through song. The opening sequence "Now or Never" sums up the feeling of having the clock counting down your last school moments and wanting to make them count. "A Night to Remember" captures the excitement and anticipation of prom, and revives a nearly lost art form, the cha-cha.
In "The Boys are Back," best friends Troy and Chad rock down memory lane as they relive their boyhood days together while stomping through a junkyard. It's the first time the two carried a dance piece together without the ensemble. They make it a high-energy number, leaping off cars and flipping through the air. Efron draws inspiration from dancer Gene Kelly, the legendary soft-shoe of "Singin' in the Rain." "I always admired how commanding he was," says Efron, "It seemed to me that he pulled of tap dancing in the most manly of ways. Not everyone could make it look so cool."
Bleu agrees, "It's beautiful when you look back to the greats such as Gene Kelly and Fred Astaire. Masculinity in technical dancing was so prominent…It was great for us to be able to go into that style and really show that guys can be cool when they're dancing." Efron continues his masculine dancing in the solo "Scream," in which he dances in a rotating hallway. "I was pretty exhausted," said Efron.
Four numbers highlight sweethearts Gabriella and Troy expressing their affection through song. "Right Here, Right Now" is a sweet duet in a treehouse. "Can I have this Dance" channels Fred Astaire and Ginger Rogers in a rooftop waltz. "Just Wanna Be with You" starts as a duet that expands to include the entire cast. While they sing, waltz, and stare into each other's eyes, they almost never kiss. It's a sweet and innocent romance for younger viewers.
"We've taken our share of knocks from people saying, 'But it's not like high school. There's no drugs, Nobody's got STDs,'" said writer Peter Barsocchini, "And we're going, you know, 'That's available in the marketplace'…. Kids have to grow up so fast. ….There's a huge desire to not have to absorb all that and be forced into being cool."