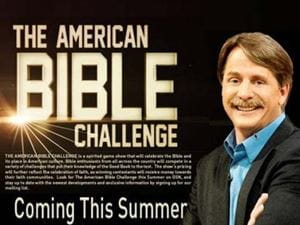 The Dallas shopping mall's atrium was filled with excited hopefuls of all ages. They stood patiently in line, applications in hand, hoping to be the next nationwide TV game show winners.
But on this new show they wouldn't be answering "Who Wants to Be a Millionaire" trivia. Nor would they show off their "Price Is Right" knowledge or their "Don't Forget the Lyrics" grip on pop music.
Instead, they were cramming, last minute, flipping through Genesis, Exodus, Leviticus, Deuteronomy and the Song of Solomon. And the Second Epistle of Paul to the Corinthians.
They were clutching Bibles, glancing over New Testament flash cards and hoping they would get to appear on what the Game Show Network is taking a big risk on – and what could be America's next TV phenomenon. With full support from the network's Sony Corporation owners, GSN is auditioning potential contestants nationwide and has signed on comedian Jeff Foxworthy to host the American Bible Challenge.
Is it a crazy idea? Well, in its 25th season Wheel of Fortune is just a dressed-up children's game, yet it continues to draw record audiences year after year. The Price Is Right is in its 39th year – little more than a test of how well you've kept up with grocery prices – and it's a money machine for its owners. And Jeopardy? For a quarter century, America has watched geeks and eggheads create correct questions to trivia answers. Yet each of those three shows earns millions in advertising dollars due to the millions of faithful viewers – daily regulars who schedule everything around Drew Carey, Alex Trebeck and Vanna White.
So, reasoned the corporate bigwigs at Sony and GSN, why not a game show built around the bestselling book of all time? More copies of the Bible are in print than any other written work. According to the New York Times, more than 40,000 Bibles are sold daily. Even more are given away daily by such groups as Gideons International and the American Bible Society. The Bible's continuing sales numbers exceed those of even the most popular novels. Harry Potter, Twilight, Hunger Games – none even come close. "If you want to get at the real best sellers," said the manager of one of the largest bookstores in New York to a Times reporter, the standout champion of all time is the Bible.
So, why wouldn't a game show based on its pages be a big success? GSN is believing the Holy Bible's universal appeal and eternal promise will give them the next Deal or No Deal.
It would seem that the big prime-time hits such as "Deal," "Millionaire," The Singing Bee, Are You Smarter Than A Fifth Grader? and Don't Forget The Lyrics would be the giants of the game show world. Actually, the powerhouses are three shows that have lasted year after year: The Price Is Right, Wheel of Fortune and Jeopardy. In fourth place is Family Feud. Fallen by the wayside, but probably due for resurrection in the not-too-distant future are such old favorites as Password, Hollywood Squares, Let's Make a Deal and the Match Game.
But the Game Show Network is looking to shake things up. They think they've found a vast, untapped market – those millions of viewers who couldn't care less about pop music or sports trivia, but who can recite the all names of the ancient judges of Israel, can detail the major events in each chapter of the Book of Acts, and without blinking can
rattle off the Seven Churches of Revelation's Chapter 2.
After all, for decades Sunday schools, children's church, Wednesday night youth groups, church camps and overnight retreats have featured "Bible Bowl," "Bible Trivia" and "Sword Drill" contests and their many variations.
"A good game show can last for many, many, many decades," says network executive Bob Boden. "Price is Right is a perfect example. Price is Right's core skill and core play along value is about what things cost. And everybody, everybody relates to that. That's a show that can go on forever. They've created a variety of game formats within the show — over 70 to date and each one of them is, in and of itself, compelling and engaging. Wheel of Fortune is a very simple game, a childhood game that everybody remembers, hangman, combined with a tremendous spectacle of shopping, winning money. In its current incarnation, big, big prizes for solving puzzles. It's a show that will be on for quite a long time. Jeopardy is a show that very simply portrays human intelligence and everybody either wants to be smart or thinks they are smart or is enamored by people who are smart.
"And no matter how you watch Jeopardy, whatever of those three ways you watch it, or in a given episode, it could be all three. Family Feud is a show that you cannot help watching without yelling at the TV. You just can't. Every time a question is asked you have an answer for it and you can't believe that the people on the show didn't give your answer."
The American Bible Challenge has the same potential.
David Schiff
A casting call in Texas for the new show was a no-brainer says David Schiff, senior vice president of programming and development. Explaining in his best TV jargon, he says Dallas was an easy choice since "we have a big Southern skew, we have a big African American audience, and we want to go to where our audience is. There's a big faith-based community as well, and we like what Dallas represents."
Auditions have also taken place in Atlanta, Los Angeles and Chicago.
But the American Bible Challenge will have a twist. Nobody's going to become a millionaire. Instead, winners become philanthropists. They give away every cent they earn. And part of the audition is selling the producers on the contestant's favorite causes.
Schiff admits that making the Bible into a game show is potentially controversial, but after all, "the Bible is the most popular book of all time. Period, end of sentence. There's no denying that it has an incredibly continuing relevance in hundreds of millions of lives. We believe it is perfectly acceptable for us to take that material and those facts and turn it into a game. We're excited about this, and we have the ultimate confidence that this is going to be a really well-received series."
Eighteen teams of three contestants will play in the first six episodes. Only six winning teams will advance to the seventh and eighth episodes. In the ninth and final show, one winning team will triumph over all the others.
Contestants will answer fact-based questions about the Bible, such as "Who were the passengers on Noah's Ark?" and "Which Apostle sliced
off somebody's ear with a sword when trying to prevent Jesus' arrest?"
The show's slogan is "If you don't know the Bible, you haven't got a prayer."
Schiff says you also don't have to be a biblical scholar, however a head for biblical trivia won't hurt. Can you recite the names of the 12 Disciples? Can you identify the first person to see Jesus after His resurrection? Which words describe Delilah: a) A high priestess of Baal; b) Peter and Andrew's mother; c) Samson's barber; or d) the author of the Song of Solomon?
But is there enough interest in the Bible today to create a game show around it?
"We knew in Los Angeles when we did our first casting call that we had a hit on our hands," says Schiff. "So many teenagers and 20-somethings showed up — which was not at all what we'd expected. Some of them had jailhouse tattoos, others spray-on tans. We had retirees and professionals and little kids – all possible demographics.
"We've heard moms and dads say 'There is so little that we can do as a shared experience as a family these days' – there's nothing on TV that the family can watch together. This is the first show in a very long time that will transcend generations – ages 8 to 80 watching together and shouting the answer at the screen. When you see these people and hear the stories of our contestants, you know that America is going to fall in love with this show.
"Some have faced very difficult challenges in their lives. Others are just ordinary people like you and me. Some of them have been through terrible times and hit rock bottom. That brought them to their faith, which is very real to them. They love the Bible. They love its stories and its heroes.
"You know, you hear these days that there are so very few role models," said Schiff. "Well, you are going to fall in love with some of our contestants. You are going to be inspired by what some of them are doing in their day-to-day lives to help other people. The neat thing about this game is they are using their Bible knowledge to go out and be an agent of change in the world."
And, yes, none of the contestants get to keep the money they win.
"That's right," chuckles Schiff. "Nobody gets to keep the money. But look at the people standing in line to be contestants. Some of them have been here for hours before we even opened, waiting to register, knowing full well that they're not going to get rich. They're winning money for a charity that is near to their hearts."
How did GSN land Foxworthy?
"He is our dream host," says Schiff. "We weren't sure we could get him because he's a very busy guy obviously. But to find somebody who is so endearing and appealing to the public. He's hilarious and talented, but he is also somebody whose faith is so authentic. He lives his faith. When he talks about his faith and its role in his life, it comes though as being so real. So combine that with his great sense of humor and how warm he is with the contestants, he is absolutely perfect."
Is the Game Show Network stepping out on a limb with this? Isn't a game show based on the Bible risky?
"I actually don't believe that it is," says Schiff. "This is a show where everybody is invited to watch, everybody is invited to join in. The Bible's significance as a significant part of world culture no matter what your belief system is. The beauty of the Bible is that it weaves in history and geography and mythology and art and music and language. There's so much here in this tapestry that I think the people who have never gone to a Sunday school or who haven't been – in my case, in many years – will find the show very educational, very interesting, very provocative and very inclusive.
"We don't want to exclude anybody and we have not.
"The purpose of this show is to entertain, not convert anybody. We invite everybody to come in and celebrate this piece of cultural history and enjoy the fun of fascinating, enthusiastic contestants whose hearts are obviously in the right place – and who you're going find yourself cheering for – praying they'll win the big money for a great cause that is so important to them."