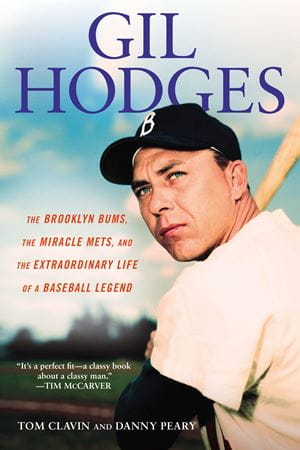 Gil Hodges had been the only Dodger with more than 30 homers and 100 RBIs in 1952. He was the only player in the league to have done this double feat three years in a row. Also, he was the only player in the league to have had more than 100 RBIs the last four seasons. He was the model of consistency, so everyone expected him to have another big year in 1953 despite his troubles the previous fall. It was a new year, there was even a new U.S. president, Dwight D. Eisenhower, and Hodges was cautiously optimistic when he came to Vero Beach.
Hodges understood that his career was in serious jeopardy if he didn't show he could hit the outside curve. Every hurler in the league would exploit his weakness. He again spent extra time working with Billy Herman, who still tried to get him to hit outside breaking balls to right field. During downtime, Hodges played cards with his teammates, worked on puzzles, played golf, and went fishing. Among the anglers on the team were Furillo, Erskine, Walker, and Campanella, and they'd often venture out onto coastal waters as a group. Fishing in the Sunshine State and their past barnstorming adventures cemented the relationship between Hodges and Campanella. The Dodger receiver was a smart, good-humored man who told a lot of funny stories, including about his days in the Negro Leagues, and, Roger Kahn observed, "Gil enjoyed him."
Roy Campanella II says, "My dad held Gil Hodges in high esteem, and that's not just lip service. It's truly how he felt. I think, to a certain extent, given the racial polarities of the time, my dad really respected Gil's openness. I'm sure Gil reminded my dad of his father, John Campanella, who also was a very, very open man. African-Americans develop early in life a sensitivity to prejudice, and my father recognized that Gil, like my grandfather, had that we're-all-equal attitude about people. Gil was just such a warm, friendly, humanistic man. It almost sounds silly to string together those corny words to describe him, because Gil was atypical."
Hodges had a special role on the team that he assumed naturally over the course of time because of the respect all his teammates had for him. Like Reese, he served as a unifier for the diverse personalities on the club, including the black and white players who had issues with one another, and even the team's two black stars, Campanella and Robinson. Consummate professionals, Campanella and Robinson were civil in the clubhouse and had a strong bond on the field, but their relationship was strained. Campanella was still angry at Robinson for how he divvied up the money when they barnstormed together; and Robinson had pulled away from Campanella because he wasn't as vocal as him on political issues. Hodges didn't choose sides, but remained friends with both and was a link between the two. "Gil lockered next to Jackie," recalls Kahn, "and though I didn't observe much back and forth between the two of them, I could tell Gil enjoyed him. Sometimes he just burst out laughing at something Jackie said. It was the same with Campy. Gil was just a solid guy. Conservative, certainly, but without the slightest trace of bigotry."
In what was the biggest story of the spring, Robinson was put on the defensive for being "divisive," but it had nothing to do with Campanella and, he insisted, had nothing to do with race, at least on his end. Dressen announced he was going to move Robinson to third base to make room at second for Jim "Junior" Gilliam, a multitalented African-American prospect who had done well at Montreal. That meant Billy Cox would sit, and Robinson, who knew Cox was unhappy being displaced by a black rookie, worried fans and writers would point out that he couldn't carry Cox's glove at the hot corner. He was accused of making waves and not being a team player by happily accepting his new position. Denying reports of racial tension on the team, he was conciliatory when he finally addressed the press: 'What's good for the Dodgers is good for Robinson," he commented. "If this kid [Gilliam] can hit .275, I think our club will be stronger with him at second base. He can get to balls that I can't reach anymore—maybe two or three years ago, but no more. After all, I've only got a couple years left."
Exhibition games began in Dodgertown on March 21, when the Philadelphia Athletics played the Dodgers in the inaugural game at the 5,000-seat Holman Stadium, which was named for a local official. When Hodges did not hit in the exhibition games, there was major concern that what he was experiencing wasn't transitory. Making matters even worse was that Hodges first missed games because of a finger injury and later sat when he began to feel considerable pain in his ankles and lower legs due to an inflammation in the joints of his feet. Soon the inflammation spread to his wrists.
">
He was frightened when doctors raised the possibility of arthritis and was told to rest indefinitely. He left the team and flew home, where he underwent tests at Long Island College. It turned out Hodges' problems were brought on by an allergic reaction to penicillin, after he'd been injected recently for an infection in his thumb. When the swelling went down, a relieved Hodges rejoined the team in Washington as it made its way north. Missing ten days near the end of spring training didn't help his situation. He was still clueless about how to overcome his curveball woes.
The Dodgers opened the year by winning 4 of their first 5 games against the Pirates and Giants, losing only to Sal Maglie. It was immediately apparent that Gilliam was the best leadoff hitter the Dodgers had had since the war. The switch-hitter from Tennessee had equal success against left-handers and right-handers. He had an exceptional eye and worked a lot of walks while rarely striking out. He had the speed and daring to take the extra base and was the stolen-base threat the team needed now that Robinson and Reese were slowing down. He was often on base, providing the batters behind him with RBI opportunities. In a 12–7 win against Pittsburgh he scored 4 runs and stole 3 bases. In his rookie year, he'd score 125 times, walk 100 times, and swipe 21 bases. Also in the lineup was Don Thompson, who got his second chance to be the Dodgers' left fielder because Andy Pafko had been traded.
With Newcombe still in the service, Branca soon to be waived, and Wade and Labine assigned to the bullpen, the Dodgers traded for a right-handed starter, the Phillies' Russ Meyer. He'd won 17 games in 1949 but was considered expendable after three losing seasons and giving Phillies' managers a lot of headaches with his antics. He was known as "The Mad Monk" because of his temper, and the Dodgers took a chance adding him to a colorful but highly disciplined team. The risk paid off. He'd make thirty-two starts and win 15 games. "He was a nice guy with a good sense of humor, and always willing to do someone a favor," wrote Hodges in The Game of Baseball. "But when the game started, he was all business. He was a tough competitor. But when he blew his top, it was like plugging a hose into an electric socket."
"Meyer was great to be around," recalls Dave Anderson, who became the Dodgers' beat writer for the Brooklyn Eagle in 1953, after Howard Burr fell and broke his hip. "Roscoe McGowen used to play rummy with him on the train. And whenever they lost a hand, they'd throw the cards up in the air." On those train trips, the dapper Meyer would bring a steamer trunk with four or five snazzy suits.
The Dodgers also brought up Johnny Podres after only two years in the minors. He was ready. The twenty-one-year-old left-hander had a good fastball and curve and would develop the best circle change in baseball. He had a lot of confidence and was unfazed when, in his first two major-league starts, Dressen pitted him against two aces, the Giants' Maglie and the Phillies' Roberts. He lost both decisions, though he pitched well against the Giants, but he'd appear in thirty-one more games as a spot starter and reliever and win 9 of his final 11 decisions.
After five games, Hodges was hitting just .211, above only Thompson's .150. His 4 hits had all been singles, and he had just 1 RBI. It was too early to be certain that his grave troubles from the fall hadn't gone away, but a good indication of this was that he had already struck out 7 times, 5 times looking.
Hodges' feeble plate appearances continued into May. By then it was clear that he was mired in one of the longest slumps in baseball history. He raised his average slightly to .220 by May 4, but he had no extra base hits and still had only 1 RBI, and he was striking out with frightening frequency. Dressen patiently kept him in the lineup, because the Dodgers were still scoring a lot of runs and his glove was still saving runs. On his one day off, Hodges practiced hitting the outside pitch under the supervision of coach Cookie Lavagetto.
The next day, he crushed a 2-run homer off the Cardinals' Joe Presko in a 7–3 victory. The drive into the upper left-field stands at Ebbets Field was Hodges' 140th career homer, eclipsing Dolph Camilli's Dodgers record. Hodges later had an RBI single to improve his average to .241, so the hope was that his big homer had ended his slump and he was ready to erupt.
Instead he fizzled. By the middle of the month his average was down to .187 and he had gone 19 at-bats without a hit. "I couldn't get any lower if I had been crawling," he said a few months later. "It was really rough."
When Joan Hodges was later asked by a reporter whether her husband was fit to live with during his ordeal, she replied, "Oh, very much so. He did nothing unusual except talk a bit less. I'm the one that's not fit to live with, especially when we play those Giants."
It wasn't so easy being Hodges' road roommate during this time. In Bums, Furillo remembered that Hodges slept well, but when awake he'd lie in bed, stare straight ahead, and mutter to himself, "All it takes is a couple of hits. Just a hit or two and I'll be all right."
Hodges was distraught at being in the throes of a slump, but, Erskine remembers, "He never said anything. When he wasn't hitting, he never gave an alibi or said he wasn't seeing the ball well or his timing was off. There was no crybaby stuff. He'd just go out early and work on his own, trying to get his timing back." But the players who knew him best could detect when he was agonizing over his game by gazing into his eyes and by watching his chain-smoking become even more intense. "Gil smoked a lot," wrote Snider in his autobiography. "It wasn't unusual for him to sneak a cigarette on the bench even though it's against major league rules."
">
"Jackie, Duke, and I didn't smoke," Erskine remembers. "But most of the guys did, and Gil was a very heavy and intense smoker. There was a little space behind the dugout on the lower level. That's where the guys would light up, because you weren't supposed to smoke in the dugout. We'd call out, 'Gil, you're on deck!' And he'd call back, 'Okay'—puff—'I'll'—puff—'be'—puff—'there.'"
After Hodges went hitless in three consecutive losses, Dressen informed him that he would sit out a few games. "I told him," Dressen told reporters, "'I'm not giving you a rest, because you're not tired. I just want to help you get back on the beam.'" In a doubleheader against the Cincinnati Redlegs--which the first professional team would, after bowing to rampant anti-communist sentiment, call itself until after the 1958 season--Dressen used Robinson at first and Cox at third against a southpaw, and Robinson at third and Wayne Belardi at first against a right-hander. Hodges watched from the dugout. He did not protest. Dressen was the manager and he respected his decision, and there was no need to ask for an explanation or ask when he might return to the lineup. When he'd manage, Hodges would expect the same attitude from his players. "Charlie Dressen was very fair with Gil," said a diplomatic Joan Hodges. "He went about as far as he could with Gil, and it was very nice to tell him about it before he read it in the papers."
New York's sportswriters took it harder. "The lynching of Gil Hodges, a possibility for several days, became a fact today," wrote Roscoe McGowen in the Times on May 16.
"This is an anomaly if ever there was one," wrote Arthur Daley in his Times column about the biggest sports story in the city. "The best fielding and longest hitting first baseman in the league has been benched."
As during the World Series, shaken Dodger fans sent him kind words, good-luck charms, religious medals, and hitting advice. What more could they do to help their local hero? Father Herbert Redmond of the St. Francis Xavier Roman Catholic Church in Brooklyn had an idea. Addressing his congregation in late May, he delivered some of the most quoted words ever uttered by a priest: "It's too hot for a sermon today. Go home, keep the commandments, and say a prayer for Gil Hodges." And that's what they did. So did thousands of other fans as Father Redmond's genial command was repeated throughout the borough.
"That 'pray for Gil Hodges' business absolutely happened," says Roger Kahn. "People at church, in their homes, on the subway, at work, at school—they prayed for Gil."
"You couldn't believe how hard we all prayed for him," recalls Bob Aspromonte, who played ball with Sandy Koufax at Lafayette High before signing with the Dodgers in 1956. "There was this incredible feeling across all of Brooklyn."
"I was Jewish but I knew about the priest asking everyone to pray," Larry King remembers. "Everyone in the city prayed for him. Well, I didn't pray. I was an agnostic, so I rooted for him and crossed my fingers. We all loved Gil Hodges."
"Gil Hodges could do no wrong in Brooklyn," says Tommy Davis, who grew up playing ball in Bedford-Stuyvesant before signing with the Dodgers. "To me he was like a big teddy bear."
The Flatbush faithful were loyal to the player they dubbed "Hodgiss of Dodgiss" because he never pretended to be perfect and never acted like he was better than the other guy, whether it was a pitcher he took deep or a fan who wanted a moment of his time. He was always genuinely modest, even self-deprecating when he had success, so the fans felt empathetic when he experienced failure, especially because they knew how much he wanted to give them their money's worth. That Hodges did battle with a fatal flaw that threatened his livelihood—he couldn't hit a damn curveball—made him even more sympathetic and human, an Everyman. He was a wonderful role model for kids because he played the game with fairness and a sense of honor, breaking up fights rather than starting them. He even refused to take Dressen's standing offer of fifty dollars to vigorously argue with an umpire just once about a bad call. "I'm just not built that way," he said with a shrug.
The fans felt he was a Brooklyn man now, a neighbor, because he had married a Brooklyn girl; chose to reside with his family all year 'round in Flatbush; and walked the streets, shopped, went to church, played sports in Prospect Park, and even sold cars every offseason at Century Chrysler on Fourth Avenue, in the borough. "My father was visible in the community," recalls Hodges Jr. "If you wanted to run into him, all you had to do was go to our church on Sunday."
Dodgers fans also appreciated that the star first baseman was so underpaid by the notoriously tightfisted organization, yet he still turned down appearance fees when he agreed to do clinics for kids or speak at benefits at churches and synagogues. Even young fans knew that Hodges didn't make a mint from product endorsements or outside business interests. His friend and business attorney Sid Loberfeld, a pioneer radio play-by-play man and the first announcer at Ebbets Field, told Randy Harris on WFPC Petersburg in 1991, "Whenever I made some deal for him, he worried that we shouldn't take advantage of the other fellow, that maybe we'd get too much money."
"There was no dirty laundry," says Kahn, "nothing negative to write about Hodges." Here was a guy who, while his teammates waited impatiently on the bus, would stand in the hot sun, the sweat soaking through his dress shirt, until he'd accommodated the last autograph seeker. Arthur Daley contended years later that he "was such a noble character in so many respects that I long believed Gil to be one of the finest men I met in sports." Dick Young could be nasty toward players, but he admired Hodges tremendously, and repeatedly reminded his two million readers that he was an ex-marine of exceptional character.
"Hodges was a sweetheart," recalls Dave Anderson. "I'd sit on an equipment trunk in the clubhouse listening to conversations between all the players, and Gil was one of the guys I enjoyed talking to most. He was very quiet and succinct, but he was friendly. And had a great sense of humor. There were times on planes that I couldn't find my typewriter because Hodges had snatched it, but then it would show up on the conveyor belt with the luggage."
Anderson was one of the first writers to recognize the twenty-nine-year-old's leadership skills: "Every now and then, Hodges walked over to the mound and talked to the pitcher. Whenever he said anything, people listened. They didn't want him mad at them. He had 'the Look.' It was the look your father has when you've done something wrong."
Kahn, too, saw that the quiet man could be a take-charge guy: "We were in Chicago at the end of a series against the Cubs. A charter flight, a DC-6, I imagine. They were doing some work inside the plane, so Gil and I went outside to wait. It was raining, so we stood under a wing. There was a mechanic with a screwdriver and wrench working outside on one of the engines. He was getting frustrated and then, finally, he said, 'The hell with it!' and started to walk away. Hodges took three giant steps and grabbed his shoulder and said, 'The hell with what?' That mechanic got right back to work. As far as I know, Gil never mentioned to his teammates how he looked after them."
"He was a leader," says Erksine. "I was the player rep and Reese was the captain, but he's the one who presided over all the meetings when we divided up Series money. He was like Pee Wee in that he needed only a word or two or that look of his to get his point across. He could give you a jab that would go right to your socks."
By the time Anderson started covering the Dodgers in late May, Hodges' slump was over. Hodges credited the fans for their prayers and "for sticking with me when I couldn't buy a hit"; his father for reminding him that "prayer makes all the difference"; and his own prayers: "Before each game I would ask God not to let anyone get hurt, and to remember those I love, to give us good health, and forgive us our mistakes." But most of all it was Charlie Dressen who saved Gil Hodges' career.
Hodges dutifully listened to suggestions about his hitting, but he could be very stubborn when believed only his opinion was correct, and couldn't be swayed. So it was frustrating for anyone who tried to tell him that he needed to change his stance, swing, or style. Hodges needed proof that they were correct about what he was doing wrong. Dressen supplied it. Hodges told the AP's Frank Eck: "Charley had Barney Stein [the New York Post and Dodgers photographer] take 16 millimeter movies of my swing from all sections of Ebbets Field while I was in the slump. You could see the catcher giving the pitcher a target at which to throw the ball outside the strike zone. Gosh, it was something terrible the way I was pulling away from the ball. I was turning my head, putting my foot in the bucket, taking pitches that were strikes and going after curves that were four inches to a foot outside the strike zone. I didn't want to believe the things I was doing wrong at the plate but the movies convinced me."
Dressen's remedy for Hodges' tendency to step into the bucket when a right-hander threw him a curve was for him to move his front foot up a little and his back foot farther from the plate. In that way, if he stepped back he'd actually be stepping into the proper line and be able to stride toward the ball. "It's hard to explain, but it helps me get that outside pitch I used to miss," Hodges confirmed.
Back in the lineup, he had an ideal compact swing, and his new setup allowed him to better see the outside pitch and distinguish between balls and strikes. He'd fallen into the trap of always guessing curveball, but now he could go back to looking for the fastball and adjusting to the curve, a tenet of good hitting. Hodges came back to life on May 24 and 25, when he got 5 hits and 3 RBIs as the Dodgers beat the Phillies twice. In one eleven-game stretch he went 19-for-42, a .452 clip, with power.
Furillo started hitting at the same time. Surely it was because his vision had improved after a cataract was removed, but perhaps it made a difference that his roommate was no longer muttering eerily about a need to get a hit. Except for a parade of left fielders, everyone in the lineup had produced since Opening Day, but they were in fourth place until Hodges and Furillo came around in late May. Then the team jelled, winning 10 straight and 19 of 22 games. On June 28, the Dodgers moved into sole possession of first place with a 42–25 record. On June 30, Hodges and Furillo ended the month by combining for 7 RBIs against the Phillies.
Over the first thirty-two games of the season, Hodges had 1 homer and 5 RBIs and batted .181. At the All-Star break on July 12, he was up to 17 homers, 64 RBIs, and a .306 average. Furillo, whose average was .263 on May 23, had climbed to a robust .327. With those two big bats joining an offense that already had Robinson, Snider, Cox, and Campanella batting over .300 (with Reese close behind at .283), the Dodgers led by 1½ games over the Braves. As Red Barber would say on WMGM and WOR-TV, they were "sittin' in the catbird seat."
Reese and Campanella were starters in the All-Star Game at Crosley Field in Cincinnati. Hodges, Robinson, and Snider were reserves in the National League's 5–1 victory. Furillo, on the way to a batting title, and Erskine, headed for his first 20-victory season, weren't picked for the team, although Dressen was the manager. Hodges went 0-for-1 after replacing Ted Kluszewski, who would have an impressive line in '53: 40 homers, 108 RBIs, and a .316 average.
In the first game after the break at Ebbets Field, Hodges crushed the third pitch he saw from Stu Miller for his 9th career grand slam. He added a 2nd homer off Lefty Chambers as the Dodgers defeated the Cardinals, who were managed by Eddie Stanky, 9–2. Hodges still had momentum. His hitting exploits were accompanied by glowing articles with titles like "Gil Hodges Hero of Dodger Win," "Gil Hodges Hottest Batter in Majors," and "Life Bright Again for Dodgers' Gil Hodges." With him leading the way, the Dodgers went 21–8 in July to up their record to 65–34, 8 games ahead of the Braves.
On May 22, Hodges had trailed Campanella in RBIs 46 to 5; on July 22, exactly two months later, he knocked in 3 runs to temporarily pass Campanella, 85 to 84. In the 11–1 victory over Chicago at Ebbets Field, he and Furillo each homered and went a combined 5-for-9, with 4 runs and 5 RBIs. On July 28, in a 13–2 thrashing of the Cubs at Wrigley Field, the roommates homered again and went a combined 7-for-8, with 5 runs and 6 RBIs. Furillo was now hitting .329 and had 61 RBIs, although he was batting seventh. Hitting in the fourth, fifth, and sixth spots in Dressen's order, Hodges was batting .316, with 24 homers and 90 RBIs.
It was telling that Hodges was putting up the big numbers although he still had difficulty hitting the curveball. For decades after Hodges' playing career had ended, many sportswriters who didn't see him play (including Hall of Fame voters) would try to negate his achievements by pointing to his inability to conquer the curveball. But perhaps Hodges' greatest feat was to hit so many homers and drive in so many runs despite a weakness and a fear he had since childhood. "He had courage and strength, but was born with neither," wrote Dick Young. "He made himself do things, forced himself to stand up to the plate, overcame the common tendency to bail out, the ballplayers' expression for striding away from the pitch on a breaking ball. Sometimes his front leg, planted astride the plate, would quiver visibly. 'That's my curve ball knee,' he would say smiling."
"It is a measure of courage that Hodges fought his cringe reflex, year after year," wrote Kahn in The Boys of Summer. "To taste fear as he did, and to choke it down and make a fine career is a continuing act of bravery."
Hodges continued to pound the ball in August, when the Dodgers went 25–6 and made a shambles of the pennant race. So did Snider, who was thriving facing almost exclusively right-handed pitching but smashed the 1st of 2 grand slams he had in a three-game span against Reds' lefty Joe Nuxhall. On August 17, with the Dodgers down 2–0 to Pittsburgh in the bottom of the ninth, Snider tied the score with a 2-run homer, and Hodges clouted a 3-run homer in the bottom of the eleventh inning for the victory. The next day, Hodges' sacrifice fly in the thirteenth inning, his 3rd RBI of the game, beat the Giants 4–3. They were baseball's most formidable 1–2 punch.
Clem Labine won both games in relief and also won back-to back games against the Giants on the twelfth and thirteenth. By this time, Labine was the Dodgers' top reliever, replacing the ineffective Joe Black. He'd go 10–4 with 7 unofficial saves in 30 relief appearances in 1953. "Clem Labine was the big man in the Dodgers' bullpen," wrote Hodges in his book. "What a pitcher he was, too! Labine was strong. Labine was fearless."
The game in which Labine beat the Giants on August 13 was memorable because it confirmed that the New York teams' rivalry was still strong even without the Giants in the race. Durocher took out his frustrations on the Dodgers every chance he got, because those were the only meaningful games his team played. In this game he ordered Ruben Gomez to hit Furillo. Rubbing his wrist, Furillo jogged to first base as Durocher added insults to his injury. Suddenly Furillo veered off the baseline and charged into the dugout, a man possessed, as those Giants who stood between him and his prey parted like the Red Sea. Furillo started choking Durocher. Umpire Babe Pinelli supposedly yelled, "Kill him, Carl, kill him," but before Furillo went that far, he was pulled away by several Giants. One, Monte Irvin, stepped on Furillo's finger during the melee, perhaps intentionally. It was broken, and Furillo, who had locked up the National League batting championship, missed the rest of the regular season.
Durocher would have been overjoyed if he was responsible for an injury that cost his rivals the pennant, but even with Furillo sidelined, the Dodgers went 31–12 in the final six weeks of the season and coasted to the National League title, 13½ games in front of the Braves. They were the first team to win back-to-back National League pennants since the Cardinals did it in 1943 and 1944. For Hodges, Robinson, Snider, Reese, and Furillo, it was the fourth pennant in seven years. For the fourth time they'd be facing the Yankees in the World Series.
They had lost Series to the Yankees in 1947, 1949, and 1952, but the Brooklyn Dodgers were never better than in 1953. Their 105 wins—against only 49 losses—were the most in Brooklyn history. They scored 955 runs, which was 186 runs more than anyone else in the league. They slammed 208 homers, 32 more than second-place New York. They stole 90 bases, 41 more than the Cubs, and had four of the top five base thieves in the league. Their .285 team batting average was 14 points above St. Louis. Additionally, Brooklyn led the league in fielding percentage, and its pitchers accumulated the most strikeouts, despite Newcombe's being in the service and Branca's going to the Tigers on waivers in July.
The Dodgers had eight players who reached double figures in home runs, and four with more than 20. Furillo, who hit 21, drove in 91 runs, but because of the missed time he was deprived of being a fourth Dodger to drive in 100 runs. However, his .344 average was best in the league, and the highest by a Dodger since Oyster Burns batted .354 in 1894. Snider's .336 average was fourth-best in the league. His 42 homers surpassed Hodges' team record of 40, and was second to the 47 slugged by the Braves' young slugging third baseman Eddie Mathews, who dethroned Ralph Kiner as homer champion after seven years; his 126 RBIs was third-best. Campanella led the league in RBIs with 142 in 144 games, finished third with 41 homers, and batted .312 in his second MVP season.
Jackie Robinson had his final exceptional season, batting .329 with 109 runs and 95 RBIs as the cleanup hitter. Because Cox hit a surprising .291 and played his usual spectacular defense, Robinson never became Dressen's full-time third baseman as planned. He made only forty-four appearances at third; for the first time in his career he played the outfield, appearing in seventy-six games in left. Gilliam, his replacement at second base, would win the Rookie of the Year award after batting .278 and leading the league with 17 triples and finishing tied for second in walks, third in stolen bases, and fourth in runs.
Over the final 122 games, Hodges belted 30 homers, drove in 117 runs, and raised his average 121 points. Despite his horrendous start, he batted .302, with 31 homers (sixth in the league) and 122 RBIs (fifth). He batted .300 for the first time, hit 30 homers for the fourth year in a row, and had his fifth consecutive 100-RBI season.
With Furillo back, the Dodgers' lineup matched up well against the Yankees, who had won 95 games in capturing their fifth consecutive American League flag under Casey Stengel. The big question was whether Carl Erskine (20–6), Russ Meyer (15–5), Billy Loes (14–8), Preacher Roe (11–3, and a three-year record of 44–8), Johnny Podres (9–4), and Clem Labine (11–6) could hold their own against Whitey Ford (18–6), Ed Lopat (16–4), Allie Reynolds (13–7), Vic Raschi (13–6), and Johnny Sain (14–7).
Yankees announcer Mel Allen and Vin Scully were the broadcasters for the 50th Anniversary World Series. Red Barber was asked by Gillette to represent the Dodgers' broadcast team, but he turned down the small fee they offered, so Scully stepped in. Barber was so incensed that O'Malley, who may have anticipated the announcer's response. didn't back him against the sponsor that he resigned, and would join Allen in the Yankee booth in 1954.
Dodgers fans thought this was finally the year their team would win it all, but their confidence disappeared after two crushing losses at Yankee Stadium. The Yankees scored first in five of the six games, including Game 1 when they lit up Erskine for 4 runs in the first inning. Gilliam, Hodges, and pinch-hitter Shuba later homered off Reynolds, and Furillo had a clutch RBI single off reliever Sain as the Dodgers fought back to tie the score 5–5. But the Yankees scored 4 times off Labine and Wade for a 9–5 victory.
In Game 2, Roe, going against Lopat, held a 2–1 lead and had given up only 2 hits when Billy Martin homered to tie the game in the bottom of the seventh. Mantle slugged a 2-run homer in the eighth to win it 4–2.
The Dodgers showed fortitude by winning the next two games in Brooklyn. Erskine, coming back on short rest, threw a 6-hitter to outduel Raschi 3–2. It was a historic outing, because he set a World Series record by fanning 14 Yankees. Campanella was the first guest on Edward R. Murrow's new television interview show, Person to Person. At the rehearsal, Murrow joked that the show would get a real kickoff if Campanella hit a game-winning homer that night. He did exactly that in the eighth inning off Raschi.
In Game 4, Loes gave up only 3 runs and struck out 8 in eight innings, and Snider drove in 4 runs with a homer and 2 doubles, as the Dodgers prevailed, 7–3. With the Series even, Dodgers fans got back some of the optimism. So did Yankee haters across the country who'd been waiting five years for any underdog to upset the boys in pinstripes.
Podres got the start in the pivotal fifth game, and was greeted with a leadoff homer by Gene Woodling. The Dodgers tied the game in the bottom of the second on a bad throw by Phil Rizzuto. Having an up-and-down Series, Hodges singled twice but be thrown out at the plate in the bottom of the second and made the biggest error of his career in the top of the third. "Gil Hodges boots easy ground balls as often as a lunar eclipse," wrote Tommy Holmes in the Brooklyn Eagle about Hodges allowing the tying run to score when Joe Collins's two-out grounder glanced off his glove.
The young Podres was shaken and proceeded to graze Hank Bauer with an inside pitch and walk the free-swinging Yogi Berra to load the bases. Dressen brought in Russ Meyer, who promptly gave up a grand slam into the upper deck by Mantle. All 5 runs were unearned. The Yankees increased their lead to 10–2 and held off the Dodgers, 11–7, to go up 3–2. Of Mantle, Hodges raved years later: "There's never been any player like him as a switch-hitter with power. Besides that, when he hit right-handed he was the equal of any right-hander in the game, and when he swung left-handed he was the equal of any left-hander."
In Game 6, Erskine pitched more like he did in Game 1 than Game 3. "For a couple of innings," wrote Holmes, "Erskine was in more trouble than a prisoner of the Soviet secret police." The Yankees scored 2 runs in the first on an RBI double by Berra and an error by Gilliam and went up 3–0 in the second on Woodling's sacrifice fly. Then the Yankees' bats were silenced by Erskine, Bob Milliken, and Labine. The Dodgers scored a run in the sixth inning off Ford, and then tied the game on Furillo's stunning 2-run homer off Reynolds in the top of the ninth. Had that blow reversed the Dodgers' fortunes? That question was quickly answered. In the bottom of the ninth, Labine walked Bauer, Mantle beat out a high bouncer between the mound and third base, and Billy Martin delivered his 12th hit of the Series, a single to center field. Bauer beat Snider's throw to the plate, and the Dodgers had lost a heartbreaker on the last day of its season for the fifth consecutive year. The Yankees' dramatic 4–3 victory gave them a remarkable fifth world championship in a row.
"We were beginning to wonder if we were ever going to beat the Yankees," Snider said. "The Yankees weren't better than us. I'm not saying we were better, but we felt we were just as good."
"You can't call them lucky," said Erskine after the game in the Dodgers' gloomy clubhouse. "They've done it too often for that. They played fine ball and gave us nothing." Erskine was quoted by Holmes in a column he titled, "Yanks on Their Game—Our Guys Weren't." It was a title that was equally appropriate for the 1947, 1949, and 1952 World Series as well.
Even after his amazing season in which so many positive things happened on and off the field, Hodges was distressed and confounded by still another World Series loss to the Yankees. It was probably good that he had no time to replay the Series in his mind and dwell on the reasons the Dodgers weren't champions. A few days after the Series, he left on the Jackie Robinson All-Stars barnstorming tour. Beginning in Baltimore on October 9 and concluding in Houston on November 1, it was intended by Robinson to be a groundbreaking tour in which an integrated team would travel through the South and Southwest.
Four white players were on Robinson's roster: Hodges, Branca, St. Louis Browns' second baseman Bobby Young, and star Indians third baseman Al Rosen, who would hurt his back and leave the tour early. Among the black players were Robinson, Athletics pitcher Bob Trice, Indians first baseman Luke Easter, and Dodgers farmhands Charlie Neal and Maury Wills. "Jackie thought the tour would move the process of desegregation forward," recalls Branca. "He asked Gil and me because we were very close to him. We played all-black local teams and other barnstorming teams. We realized that it was a gambit for integration."
The tour went well until it arrived in Birmingham, Alabama, where there was a city ordinance forbidding mixed athletic events. If Hodges, Branca, and Young played, they would be arrested. Rather than cancel the game, Robinson and his tour's longtime promoter, Ted Worner, agreed to have the white players sit in the stands and watch. Willie Mays, home in Alabama while on leave, filled in. The same thing happened in Memphis, where the All-Stars played the Indianapolis Clowns.
Robinson was vilified and defended in the black and political press across the country for agreeing to sit the white players after bringing them into the two cities that he knew had ordinances against mixed sporting events. The Chicago Defender got a lot of attention when it printed an op-ed piece titled "Jackie Disgraces the Race." Its conclusion: "We think Jackie owes an apology to every white member of his squad for the embarrassment he has subjected them to. We feel that Jackie should also apologize to every real American who is fighting against racial discrimination in this country." Even Red Smith in the New York Herald Tribune didn't understand Robinson's decision to play the games without his white players: "From here it looks as though he blew a great chance to make a big score for tolerance."
Trail-blazing black journalist Luix V. Overbea of Chicago was one who defended Robinson, writing, "Isn't it amazing that so many swivel chair analysts can expect Jackie Robinson to go into two cities like Birmingham and Memphis and change conditions in one day when thousands of Negroes living there every day can do nothing?" When Birmingham ended its racial sports ban four months later, Robinson could have been given more credit, but over all, contends Rachel Robinson, "it was a negative experience for Jackie because his objectives weren't met.
He felt he should have been more vocal about seeing that everyone played or, if they didn't, that no one played."
Hodges' participation in Robinson's tour was his most noble and visible gesture on behalf of equal opportunity for blacks in sports, but as someone who avoided publicity and tooting his own horn, he never really talked about the experience, even of nearly spending time in jail. The Birmingham police were serious about arresting Caucasian players who suited up with Robinson's All-Stars, as was demonstrated when officers charged into the dugout to arrest Hodges' replacement. They left red-faced and rednecked when they discovered Willie Mays wasn't white.