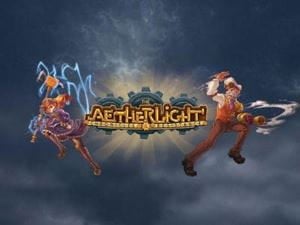 When we think of the Bible many tense up, as it is a serious book. Religion could be thought of as the same—something we feel reverence towards. Unless we are raised in an environment that fosters growth, and encourages us to embrace the Bible as something that can be a fun—it can be scary, and feel aloof for many.
Why not make learning about the Bible cool and engaging for kids since there is so much vying for their attention.
"There is a battle for the hearts and minds of young people--that's why I'm excited about The Aetherlight," Roy Peterson, president and CEO of American Bible Society shared. "Through this gaming experience, we have a mechanism to get young people to engage with Scripture."
We need to take back technology and use it for good and to serve others. This is where games come in, and the number of people who use gaming software is staggering. Entertainment Software Association reported that over 100 million people played video games in 2015.
The report found that 42 percent of gamers spend three hours a week playing games—the average age of a gamers is 35. CEO of ESA, Michael D. Gallagher shared in a press release that it reveals the impact video games have.
"Video games provide a social setting where family and friends come together to connect, learn and have fun. The sheer number of people who regularly enjoy entertainment software and share those experiences with others underscores how video games have become ingrained in our culture."
Adults and children love playing adventure games, puzzles or platforms that challenge the mind while beefing up problem-solving skills. Introducing interactive games using a Biblical lens is a good way to introduce kids to games and to the Gospel.
Aetherlight is a point and click and RPG game that take users into steampunk world that is ruled by automatons. Graphics are great, but about the storyline?
Carl Becker CEO of Scarlet City Studios, which created the game, has it covered.
"We have taken the greatest story ever told--the story of the God of the Bible and his relationship with humanity - and built an allegorical world that is truly epic."
Christian video games can be successful if the storylines are rich—and its high quality. This will attract gamers no matter what, and it can teach viable life lessons. Talk with any gamer—and they will share—they want a good game. Becker further described what the Aetherlight experience is like.
"Think the Chronicles of Narnia, or Ben Hur, or even Dave and the Giant Pickle! What this means is that the player's experience is as deep as it is long - our hope is that this brand new expression of the biblical narrative will help them to see their own world, and their part in it, through new lenses - with greater hope and a richer sense of meaning."
Check out the The Aetherlight!