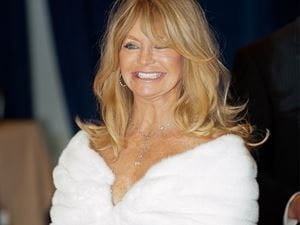 RenaSchild/Shutterstock.com
Sassy actress Goldie Hawn is a staple in Hollywood ever since she won an Oscar for Best Supporting Actress in "Cactus Flower." Over the years, Hawn remained out the gossip columns, tabloids and film in order enjoy life better, but she had no choice. She admitted that in her 50s, the roles were simply not there anymore and she left the business for 15 years. "You think you're going to fight the system? You think you're going to prove to Hollywood when you hit 45 that you're still a sexy, viable object? No," she told Harper's Bazaar. "There's a certain reality. Does it make me angry? No. I'm not an angry person. I'm not a militant person. Anger doesn't get you anywhere. It's not productive." We know Hawn from "Private Benjamin, "Overboard," and "The First Wives Club" and the feisty blond is still winning our hearts over. Here is why we love Goldie Hawn.
She was exposed to different religions.Hawn attended a Presbyterian church and went to a synagogue as a kid. "But my mother loved Jesus-she was just a complete Jesus freak," she said. This allowed her to learn and the exposure to Judaism and Christianity helped her have a foundation of faith and to experience a prayer life. When asked why she was interested in Jesus, she referenced when He went into the wilderness and was tempted for 40 days and 40 nights. "He went to the desert; He sat quietly. He sat so quietly that He heard the voice of God. He heard the truth. He felt the truth. He was able to receive the truth because He emptied Himself and He had the ability to do it. Perhaps that was His specialness or part of it," she said in a Beliefnet interview.She believes in the power of prayer."I don't think there's any question that prayer can work," Hawn explained to People magazine. "I'm a very spiritual person. I'm not a religious person, although I was raised Jewish and I like my tribe, but that was a beautiful thing. It was phenomenal. I just emptied myself. I don't know how to explain it." Hawn experienced the power of prayer after her oldest son Oliver Hudson came back to life after his heart stopped beating when he was born. After she prayed, Oliver's heartbeat started again.She isn't into overparenting.Goldie has 3 adult children and learned to step back and allow them to have their own lives. "That's what being a mother is also, is witnessing. Just be there. You don't always have to power over," she told Oprah. "I believe that this is one of the most important things as a parent you can do... to let go, in times, so these children can formulate their own identity." Hawn also doesn't want to tell her kids how to raise their own children because everyone has their own values and principles. She shared with the Daily Mirror about the fear she had about her children living in her shadow. "My kids just went out and did it and I'm really, really proud. Kurt [Russell] and I look at each other and go, 'Wow, this is amazing.' The worst thing two stars could have are children that feel like failures and that was our worry."She is always available for her kids.During the height of her career, Hawn was still able to give her kids what they needed. In fact, it was pretty traditional her daughter Kate Hudson said and surprising for most people to hear. "As you get older, you start to realize that people see your parents differently, but to us, they're our parents, and we had a great childhood because there was so much love. They were very present parents, surprisingly, for how big their careers were."Ageism doesn't bother her.Hawn is not bothering with the fight against ageism in Hollywood. She's not losing sleep over it or feels guilty about not taking on the system. According to the 71-year-old, the angst isn't worth it. "Does it make me angry? No. I'm not an angry person," she adds. "I'm not a militant person. Anger doesn't get you anywhere. It's not productive."She speaks her mind.Hawn does her own thing and speaking her mind is one of her strong suits. When she was playing dumb blond roles, an editor asked about the reasoning behind it. She replied in typical fashion:. "I said, 'I don't understand that question because I'm already liberated. Liberation comes from the inside.'"She is still in love with Kurt.Hawn has been in a relationship with Kurt Russell since 1983. The couple met while filming "Swing Shift" and never married. They both received a double Walk of Fame star ceremony in Hollywood and were asked again about making the relationship official. She declined to answer. So, what is their secret to making a relationship work for so long? "You can't just go along and say, '[This] is the way I am, so whatever,'" Hawn shared. "No, you really try and be better and better," etonline.com reported.

Hawn achieved fame, accolades and raised a family in one of the toughest places thrive, which is Hollywood. Her charm, wit and strength is something that keeps fans forever in love.