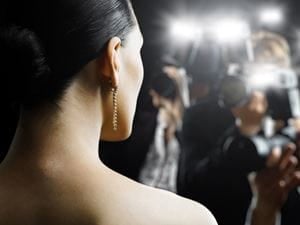 Shutterstock.com
Things are about to get real if you think that you are the only one standing in your Christian faith.
If you need inspiration, look no further than to the Bible and to the stars for a boost. These celebrities were illuminated and transformed by God's power. Outside the box office, the red carpet and the glaring lights of the paparazzi's cameras--they made a stand. They are more than stars or icons, they
declared their faith
, which is no easy feat in today's media hyped-up culture. Here are the stars that motivate, inspire and shared their faith with the world and voiced: "I believe in God."
David Oyelowo
Being reminded that we are not alone on our faith journey is essential. Look no further than to hunky British actor David Oyelowo. The star of "Selma" said he was influenced by playing Martin Luther King, Jr. According to published reports, if he was to play the famous leader, he would need an anointing. "I had to have God flow through me because when you see Dr. King giving those speeches, you see that he is moving in his anointing," he said.
Rev. Run
DJ Run is a founding member of Run-D.M.C., a hip-hop group which garnered multi-platinum albums and accolades during the 1980s. Yet, something was amiss in Run's life and he began to seek God to fill the emptiness. He became ordained as a Pentecostal minister and became Rev. Run. Today he's rapping to another beat as God's representative. "Best move I've ever made [was having a] deep relationship with Jesus Christ."
Mark Wahlberg
Actor Mark Wahlberg often said that he believes in God. He also credits his faith for making him a better person. "I want to serve God and to be a good human being and to make up for the mistakes I made and the pain I put people through," Wahlberg said. Although he was warned not to talk about his faith, he boldly has shared it with honor! Who would argue with Mark Wahlberg who also said: "I believe in God."
Alice Cooper
Rock star Alice Cooper has been a devout Christian for years, but the son of a preacher doesn't want to people to look up to him. "It's really easy to focus on Alice Cooper and not on Christ. I'm a rock singer. I'm nothing more than that," he said in an interview. "I'm not a philosopher. I consider myself low on the totem pole of knowledgeable Christians." Even so, Cooper does not make any apologies, as he is a believer and a follower of Christ. "Humans make lousy gods, we have to let God be God and us be what we are."
Jane Fonda
Actress Jane Fonda was a declared atheist and married Ted Turner, who also was an atheist. However, during their relationship, she became more curious about the Christian faith. "I felt my emptiness being filled up with reverence," she said. Today is a different story, as the Oscar winner has shared her faith in God more willingly. "My faith is a work in progress (as am I)," she added. "But I will plant my flag on the belief that God lives within each of us as Spirit (or soul)."
Chuck Norris
Actor Chuck Norris is a martial arts icon and also declared "I believe in God" after he recommitted his life to Christianity in 2009. He said that working in Hollywood makes you become engrossed with things that are not healthy. "Unfortunately, a lot of times in the entertainment industry, sometimes you lose sight of what's really important in your life. I lost a marriage because of it." Norris is very outspoken about his faith and continues to serve the Lord.
Reba McEntire
Country singer and actress Reba McEntire has always been outspoken about her Christian faith. Having the Lord by her side was an inherent feeling for McEntire growing up in Oklahoma as she always knew who the Lord was. She would read with her grandma Bible stories and it just felt logical to her. "We've known the Lord forever. There's not been a time where it was like — "Oh this is our Jesus story," it's just always been there for us."
Angus T. Jones
Angus T. Jones made history for his role as Jake Harper on the sitcom "Two and a Half Men." However, his heart started to change and he fell out of love with doing the show and even called it "filth." Today, he is a missionary with World Harvest Outreach Church, a Seventh-day Adventists church in Houston, Texas. Jones strongly believes that leaving Hollywood was a great decision."I really want to come into the light because I know that is where the healing is and I've seen God do amazing things."
Dwayne "The Rock" Johnson
Actor and former wrestler Dwayne "The Rock" Johnson talked about how faith and God became his rock in life when battling depression. "I just have to, put my faith in God and continue to work hard and hopefully good things will happen," he shared. Faith is a powerful force that can really move mountains as Johnson found emotional healing.
You must feel better knowing that you are never alone as a believer. Not only do you have the records of Biblical titans, you can be assured that you are not the only one to proclaim "I believe in God." If you need more direction, look no further than to Psalm 28:7. Here we find King David proclaiming his belief and trust in the God of Israel. "The LORD is my strength and my shield; in him my heart trusts, and "I am helped; my heart exults, and with my song, I give thanks to him." Wear your faith proudly under the direction of the Holy Spirit. It doesn't matter if you on or off the red carpet. These celebs sure did.