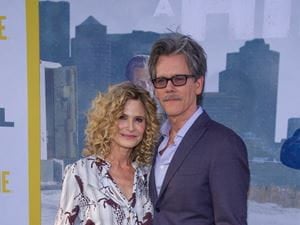 lev radin/Shutterstock.com
Kevin Bacon recently celebrated his 65th birthday. The actor, who's appeared in some of the biggest television shows and movies throughout the past few decades, first broke into Hollywood at 17 when he appeared in "National Lampoon's Animal House."
Since then, he's remained a consistent Hollywood figure and has worked with so many other actors that a game called "Six Degrees of Kevin Bacon" was created. In the game, a person chooses an actor and then tries to connect them to other actors until they find a connection to Kevin Bacon. The goal is typically achieved within six connections.
To celebrate Bacon's achievements, here's a look through his life in the industry to his most significant role ever: a husband to Kyra Sedgwick and father of two.
The star of "Footloose."
Kevin Bacon succeeded as an actor by starring in movies like "Friday the 13th" and "National Lampoon's Animal House." Still, he gained significant momentum in his breakout role in "Footloose," playing Ren McCormack, the new kid in town. In the film, Bacon plays a teen who moved from the big city of Chicago to a small Oklahoma town. After initially struggling to make friends, he creates a group.
He learns the town council has banned dancing and rock music within the town's borders because the reverend's son died in a car accident after a night of dancing and driving under the influence. Throughout the film, Ren falls in love with the reverend's daughter Ariel and the duo works together to get the town council to reverse the ban, ultimately achieving their goal.
Bacon wasn't a fan of the film in the past, but he seems to have warmed up to it, telling Willie Geist on Today's "Sunday Sitdown" that he's come around on the movie and called his role "a great gift." However, the one thing that Bacon still can't understand is deejays playing the song whenever they see him at a wedding.
'Apollo 13' and onward.
After his breakout role in "Footloose," Bacon continued to star in big blockbuster hits and critically acclaimed movies. One of his biggest hits after "Footloose" was the 1990 horror science fiction film "Tremors," which also stars Michael Gross and Fred Ward. In the movie, Bacon plays Val McKee, a repairman in a small town who has to band with the rest of the town to protect themselves against unusual creatures terrorizing where they live. The film wasn't initially a huge success. However, its popularity grew after it was released on VHS. It became a seven-movie franchise, but Bacon only appeared in the first one.
Some time after "Tremors" came out, Bacon starred in "A Few Good Men," which also starred Jack Nicholson, Demi Moore, and Tom Cruise. The movie tells the story of two Marines charged with another Marine's murder in Guantanamo Bay, Cuba, and the lawyers working to clear their names. Bacon plays the prosecutor on the case, Marine JAG Corps Captain Jack Ross. When discussing the film, Bacon explained that working with Nicholson was a big deal as he always looked up to Nicholson.
In 1995, Bacon starred in two films that earned him a SAG Award nomination, "Murder in the First" and "Apollo 13," which earned him a win. The movie, which also stars Bill Paxton and Tom Hanks, follows the true story of astronauts Fred Haise, Jack Swigert, and Jim Lovell, who are on a mission to land on the moon when their oxygen tanks explode while in space, putting their return to earth at risk.
Returning to television.
As a young actor, Bacon started on television in the CBS soap opera "Guiding Light," appearing in 11 episodes from 1980 to 1981. After focusing on his movie career for 30 years, Bacon returned to television in the FOX original series "The Following." He starred as retired FBI agent Ryan Hardy who comes out of retirement to find escaped convict Joe Carroll. Hardy initially caught Carroll, a serial killer who murdered 14 women and jailed him. The series ran for three seasons from 2012 to 2015.
Most recently, Bacon starred in the Showtime series "City on a Hill," which aired for three seasons from 2019 to 2022. The show made the actor return to the FBI agent role. However, this time, instead of finding a serial killer, Bacon partnered with a district attorney to make Boston safer. Jackie, his character on the show, is known for breaking the rules, and in the series last season is free from the previously imposed restrictions, as he's no longer an agent.
Kevin Bacon and Kyra Sedgwick's love story.
A 29-year-old Bacon met 22-year-old actress Kyra Sedgwick officially for the first time on the set of their film "Lemon Sky" in 1987. However, before that meeting, a 12-year-old Sedgwick ran into Bacon after watching him perform in an off-Broadway play. When they met again in 1987, Bacon said he immediately fell in love with her, telling Piers Morgan that he thought she was aloof, really very beautiful and sexy. However, he said Sedgwick was immediately put off by Bacon, a sentiment she confirmed.
Eventually, Bacon asked the actress for dinner, and the rest was history. The couple got engaged shortly after they started dating in 1987 and married the following year. In June 1989, the couple welcomed their first child, Travis, and had their daughter Sosie in March 1992. In May 2017, Bacon told Closer Magazine that his children are his proudest accomplishment in life.
The couple usually posts about their relationship, sharing videos of them singing with goats in their barn or hanging out at home. Most recently, Bacon and Sosie, known for her role in the movie "Smile," starred in a commercial for Hyundai's new IONIQ 6 electric sedan, which aired during Super Bowl LVII.
Kevin Bacon's career has spanned decades and includes numerous iconic roles. However, the actor is happiest spending time with his wife and family, calling his children his proudest accomplishment outside his other accolades. What a fantastic way to live life!