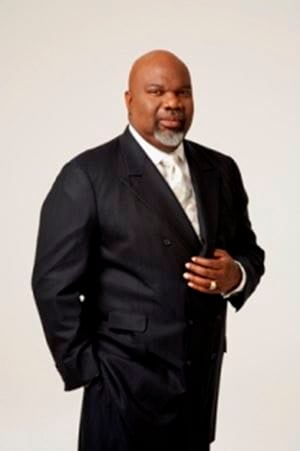 Lakesha Gadson: Bishop Jakes, it's an honor to speak with you today. Congratulations on having this weekend's Number 3 movie in the Box Office charts and the Number 1 comedy in the nation topping "Something Borrowed." Wow, how does it feel about that accomplishment?

Bishop Jakes: Well, I'm absolutely thrilled about this accomplishment. We exceeded all expectation and projections on our own team as well as Hollywood in general. I really think this indicates that a movie which was made for a fraction of the cost of what its competitors were made with still did incredibly well. [It] speaks to the quality of the film and how much the people enjoyed it.
What would you like people to do for week two?

I want them to come out for week two. They've gotten Hollywood's attention which is victory already. But if they don't come out this weekend, I think it will fail to have the impact we really wanted. We need them to come out and tell their friends about it. Encourage people who were doubtful to come see it. Some people are skeptical and won't believe it until they see it. They get their verification from someone they trust. So I want to recruit everyone as volunteers to go out there and really beat the pavement and encourage everyone to make this weekend explode. I think we would have opened up the door for people to have jobs and to have opportunities and to tell our own stories.
In your previous interview with us about this movie, you mentioned how our individual differences have the potential to bring us together. This film addresses what happens when people get together who don't understand each other. Can you elaborate on the importance of more movies that address these issues?

I think this is a very, very important concept. This movie does broach the subject that our whole nation needs to hear. We don't have to come from the same background, dress alike, vote alike or even worship alike in order to find common ground, to be civil or to be respectful of one another. And I think our country is in dire need of this kind of reinforcement. Our families are in dire need because we are getting to the point that anybody who doesn't see everything the way we see it become a villain or enemy. And if we continue down this path, we don't have to worry about outside terrorism because we are going to self-destruct. And I think that is why we are losing our marriages, we are losing our children and we are going to ultimately going to lose our country. We need to learn how to work together with people who are quite different from us.

At the beginning of the movie, Paula Patton's character (Sabrina) makes a promise to God that if He gets her out of a certain situation (with or without dignity), she would save herself for her future husband. What words of encouragement can you give to young women who have made this same promise to God and still waiting for their husband to find them?

I thought it was an important discussion to have in the movie that real love is not deterred by that restriction but proves itself in the waiting process. It is important to say this. The other strong point to be made is that Hollywood gives us all kinds of illustrations of people who turn promiscuous. We see it every day on every soap opera. We see teenage pregnancy and various diseases. We see people going down that path but the reality is there are millions of people in this country who are really slowing down because of all of those reasons; their spirituality, and the frustration of giving all that you have to someone who just sees you as a notch on their belt. We never see any illustrations of people who are going the other way. The film industry wants us to think it's a one way street but Jumping the Broom says it's a two way street. So, the other side of it is you can change your life. I live in a world where people change every day. I work with people who were incarcerated [and I help] them to reintegrate back into society. I see people who were teenage pregnancy cases reintegrate back into society and [are] changing their lives. It is perfectly appropriate, if you are going to talk about redemption, to show the before and after illustrations of people who turned and went the other way.
I have to ask, "What's next for T.D. Jakes?"

How much time do you have? Several things. Sacred Love Songs is coming out. It's themed around the movie. The cut El DeBarge did in the movie is on the Sacred Love Songs track. We got together Ledisi, Joe, Karen Clark Sheard, Bishop Paul Morton, Micah Stampley, and Fred Hammond. When I was growing up, people even [in] the secular world sung about love. You know, "Once, Twice, Three Times a Lady." Now they are singing about sex. Let's bring some songs themed around this movie and do Sacred Long Song since we have not done it for 10 years. This project is coming out May 31st and I'm real proud of it. We've also been "green lighted" to do a couple more films with Sony. We are shooting some movies made for television that we will start shooting in a couple of weeks. Things are looking good in terms of TD Jakes Enterprises. We are blazing a trail in terms of entertainment. One of the visions I had for the enterprise is for us to do innovative and cutting edge things in the way of family-oriented entertainment. Something you could bring your grandmother to or your teenage son to and use it as a teaching opportunity.