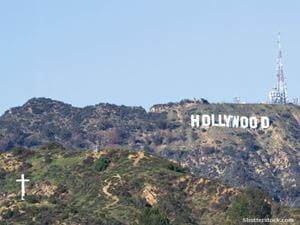 Hollywood has become synonymous with extreme, non-Christian values and lifestyles. The entertainment industry is often compared to the cities of Sodom and Gomorrah, holding the same stigma of sin and vice. How we should respond to celebrities in Hollywood has been a topic that many in the church have wrestled around with and debated. Some view these celebrities as gifts, and others view them as products of the world. It gets even more complicated when we you start talking about Christians in Hollywood who proclaim Jesus Christ as their Savior, but are still connected with Hollywood in their professional lives. What is the proper way to respond to Christians in Hollywood? There are several things we should consider when forming a response.
Celebrities Can Be Devout Christians
Some of our favorite athletes, actors, singers and comedians are devout Christians. Many of these celebrities found God in remarkable ways and are unafraid to share the gospel, not only in their personal lives but in their professional lives as well. One great example is Carrie Underwood. The country singer's inspiring faith story began in her church in rural Oklahoma where she sang in the church choir. She spent many years trying to make it as a singer when she ended up on American Idol. After winning the competition, her career really took off. No matter what situations she's confronted, she always makes sure to keep Christ at the center. In 2014, she stunned many with her Christ-themed song, 'Something in the Water' about the power of being baptized. She is also married to a believer. Carrie has said in countless interviews that her husband, Mike Fisher of the Ottawa Senators has helped her grow in her faith, and their spirituality is at the very heart of their relationship.
Another great example is Tim Tebow. Since the start of his football career, NFL quarterback Tim Tebow has been one of the most recognized Christian athletes in the sports world, not ashamed of Jesus in word and in action, on and off the field (who can forget Tebowing?). When he speaks at events, he often encourages people to stand up and act for God in their lives. He recently called on fellow athletes to allow Christ to lead their paths, believing that their lives will be more clear once they follow Christ. While NFL quarterback, Tim Tebow is widely recognized and admired by many for his faith, he has had a lot of critics throughout his career who have questioned his outspokenness related to his faith. He has been widely criticized by many in the media simply because of his religious beliefs. Former Cincinnati Bengals wide receiver Cris Collinsworth said it perfectly on an espisode of "Inside the NFL": It's unbelievable…that one of the best kids - just pure kids that's ever come into the NFL - is hated because of his faith, because of his mission work, because of the fact that he wears it on his sleeve, because of the fact that he lives his life that he talks about.'' In the face of controversy and criticism, however, Tebow never lets the critics get to them, one of the many reasons he continues to be admired today. Some celebrities will claim to be Christians, but will not uphold a Christian lifestyle. Celebrities like Underwood and Tebow are great examples of true, devout Christians in Hollywood as they keep Christ at the center of everything they do.
Their Faith Can Be Genuine
Stardom is often associated with artificiality and insincerity, but we shouldn't assume this simply because they are connected with Hollywood. We shouldn't think or assume that Christian celelebrities are insincere about their faith. If they claim to be Christians but prove to be power, fame and money-focused, their genuiness (or lack there of) will show.
They Can Advance the Gospel
Fame can be put to good use and be used as a tool to advance the gospel. Because celebrities are in positions where they can reach the massess, they are also in positions to share the message of Christ and speak the truth about God. They are also in a position to give back to the kingdom of God. Instead of obsessing over how effectively they are doing this, we should celebrate this message.
We are called as Christians to seek God and His righteousness. Rejecting these celebrities on the basis of fame alone isn't fair. God uses different people to proclaim His message in different ways. These women, men and children who are Christians in Hollywood are children of God. While we shouldn't idolize Christian celebrities, we should embrace their gifts and their willingness to proclaim the gospel and their love for Jesus Christ. If these celebrities do not support these goals, we know where they stand; however, if they do support these goals, we should embrace them.