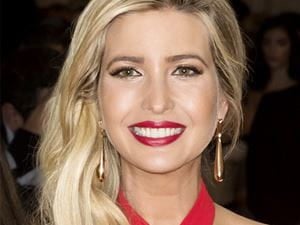 Ovidiu Hrubaru/Shutterstock.com
Ivanka Marie Trump has always been in the spotlight and it is no mystery that she was a principal contributor to her father Donald Trump's campaign and perhaps should have been his running mate (just kidding). The American businesswoman and former fashion model is the daughter of Trump and his first wife, Ivana Trump (married from 1977 to 1992.). In addition to her business pursuits, she has reached out to working mothers to encourage them in all facets of their careers and is passionate about this initiative. Ivanka is a mom of 3 kids and launched the #WomenWhoWork initiative in 2014 to help women live to their full potential. Women can find articles on health tips, fashion tips and also find guidance. The executive vice president of development and acquisitions at the Trump Organization is also the co-founder of Trump Hotels and runs IvankaTrump.com. What a hard-working gal! Here are other facts on Ivanka Trump that are quite entertaining and provocative.
She is a fashion guru.
Ivanka businesses also include running her clothing line, shoe line, jewelry line and a handbag collection. Revenues from her collections were estimated at $100 million dollars in 2015.
She was boycotted.
With the contention over Donald Trump's remarks against women, Ivanka was the one who took a hit from the public because of her continual support of her father. One brand strategist generated the hashtag #grabyourwallet in response. "The beauty of America is people can do what they like, but I'd prefer to talk to the millions — the 10 of millions — of American women who are inspired by the brand and the message that I've created," Ivanka said in response to the boycott.
She was criticized for her maternity leave policy.
Former creative director Marissa Velez Kraxberger came forward about the Ivanka Trump's parent company G-III for not offering paid maternity leave. Kraxberger wrote she had to battle for her leave. "I'm not writing this because I think Ivanka is a bad person. If you truly support parenting and children then you actually have to support it fully." The storm started after Ivanka said that her dad would change the labor laws for women in the workplace by focusing on affordable childcare for all. This would include 6 weeks of paid leave for new mothers. She said that hopefully under the Trump administration they will be able to implement it. Ivanka actually offers a pretty good benefits package. The benefits package includes paid leave. They have a flexible work schedule, endless vacation and endless sick days, according to her spokesperson.
She is an advocate for women.
Ivanka prides herself in not being just a businesswoman, but being an advocate for women by trying to empower them in every aspect of their lives. She said it began before the presidential campaign and explained it was never politically motivated. "I've never politicized that message," she continued. "People who are seeking to politicize it because they disagree with the politics of my father — there's nothing I can do to change that."
She attended Wharton Business School.
Ivanka attended Wharton Business School in Pennsylvania after she attended Georgetown University. She graduated with a degree in economics in 2004. Her father, her brother Donald Jr. and her sister Tiffany also graduated from there as well. They are all supportive of each other. "So proud of my beautiful and brilliant sister @tiffanytrump on her graduation today. We all love you very much," Ivanka posted.
She became Jewish.
Ivanka married businessman Jared Kushner in 2009 and converted to Judaism before she was married. She considers herself as "Orthodox." The couple reportedly does not eat pork and keeps dairy products and meat products separate. She told Vogue: "It's been such a great life decision for me. I am very modern, but I'm also a very traditional person, and I think that's an interesting juxtaposition in how I was raised as well. I really find that with Judaism, it creates an amazing blueprint for family connectivity." The couple will move within walking distance of the Orthodox Kesher Israel and a Chabad congregation, according to the Jewish Telegraph agency.
She was an acquaintance of Chelsea Clinton.
Ivanka and Chelsea Clinton were introduced by their husbands and connected a few times in the same social circles. The ladies never discussed politics because they had so much in common. Chelsea told Cosmopolitan.com that she was appreciative of her friendship with Ivanka. "I'm always going to believe because this is how my parents raised me, that friendship is more important than politics," Clinton said in the 2016 interview.
She was criticized for mixing business with politics.
When Ivanka gave a speech at the RNC and sent out a tweet to shop for her look with a link to buy her dress at Macy's--there was a backlash. People were upset and one person posted that "@IvankaTrump is using her speech to the RNC to market her clothing line." An email alert went out to journalists about purchasing her $10,000 dollar bracelet that was seen on "60 Minutes." Her representatives responded and said that they were just obeying protocol and that they were "discussing new policies and procedures with all of our partners going forward."
She supported Hillary.
According to reports, Ivanka supported Hillary during her 2007 campaign and donated to the Clinton Foundation. It is believed the donations ranged from $5,000 dollars to $10,000 dollars.
Her real name is not Ivanka.
She is named after her mother Ivana, who was a model. Since her mother hails from the Czech Republic, the traditional Slavic name is Ivanka. The name stuck and is now a brand.
Ivanka is busy doing it all. She is balancing a professional life, a marriage, 3 kids and is working to make an impact by supporting women in the workforce. You may not think that she's an ideal role model for women, but you can't discredit her for being her own person and working to make a resolute change.