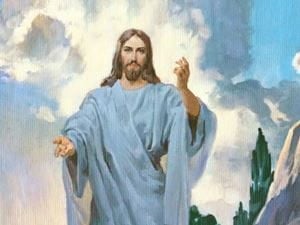 Waiting on the Word/Flickr.com
It's hard having a birthday on Christmas Day. While you are blessed with the privilege of sharing a birthday with Jesus Christ, the Savior of the world, you are also constantly struggling for the limelight. You have to deal with people who try and give you joint Christmas and birthday presents, along with those who don't even remember your birthday at all. The struggle is real. Here are 11 celebrities and figures who share a birthday with Jesus Christ.
Sir Isaac Newton
The English physicist and mathematician was reportedly born premature on Christmas Day in 1642. In spite of this, he made great advances in optics and his three laws of motion. He is best known today for the falling apple that inspired his theory of gravity. To add to his resume, Newton established the foundation of classical mechanics and discovered calculus.
Jimmy Buffett
There has to a party in Margaritaville for Jimmy Buffett every Christmas. Buffett once put it in the liner notes for a holiday album he released back in 1996 that he is "the Christmas war baby turned island boy born on the day W.C. Fields died." Born in Mississippi in 1946, the "It's Five O'clock Somewhere" singer has also written three books that landed on the New York Times Best Seller lists. The singer has lived a blessed life, continuing to excel in the music, restaurant, merchandise and casino resort trades.
Annie Lennox
Sweet dreams must be made every day for popular singer and songwriter Annie Lennox. The lead singer of British music duo Eurythmics was born on Christmas day in 1954. Lennox achieved monumental success in the entertainment industry, winning an Academy Award for best original song, while also selling more than 80 million records worldwide. She is also a committed political activist. The Scottish singer received an OBE in 2011 for her "tireless charity campaigns and championing of humanitarian causes." She is most commonly known for her distinctive vocals to singles "There Must Be an Angel" and "Sweet Dreams (Are Made of These)".
Conrad Hilton
Conrad Hilton should have a lot to celebrate and not just on Christmas. He is one of the youngest members of the Hilton dynasty. Conrad is the younger brother of socialites Paris and Nicky Hilton. He also shares the same birthday with his great-grandfather and founder of the Hilton Hotel chain – also named Conrad Hilton. Despite his status, he has found himself in the news countless times for unlawful behavior.
Dido
Recording artist Dido may have been born on Christmas Day in 1971 but she also celebrates an "official birthday" every June 25. This stems from the story of Paddington Bear, whose adoptive parents gave him two birthdays a year – One on June 25, and the other on Dec. 25. She released two of the best-selling albums in UK chart history with "No Angel" (1999) and "Life for Rent" (2003). She was later nominated for an Academy Award for her song "If I Rise". She gained major recognition in 2000 when rap artist Eminem sampled her vocals for his hit single, "Stan."
Rod Serling
Who can forget the infamous lines "You are about to enter another dimension…A dimension not only of sight and sound, but of mind…The Twilight Zone." Rod Serling was born on Christmas day in 1924. As a creator and lead writer for the long-running TV series, "The Twilight Zone" he explored the themes of racial tension, corruption and free will and married them with science fiction. In 2013, The Writers Guild of America ranked "The Twilight Zone" as the third best-written TV series of all time.
Sissy Spacek
Sissy Spacek was born on Christmas day in 1949. She is most notably remembered as Carrie White, the telekinetic prom queen covered in pig's blood in the 1976 horror movie "Carrie." She later went on to win an Academy Award for her lead role in the Loretta Lynn biopic "Coal Miner's Daughter". Spacek started her film career as an extra in Andy Warhol's Trash, after having spent her late teenage years handing out of Warhol's Factory. She definitely followed in her thespian mother's footsteps – building an impressive resume all her own.
Humphrey Bogart
Humphrey Bogart was born on Christmas day in 1899. The legendary screen actor starred in a number of iconic films including "Casablanca," "The Maltese Falcon," "The Big Sleep" and "Sabrina" and became the face of post-warm film noir. He won an Academy Award in 1952 for Best Actor in "The African Queen".
C.C.H. Pounder
C.C.H. Pounder was born on Christmas day in 1952. Pounder has quite a unique background. She was raised on a sugar cane plantation in the South American country of Guyana before coming to America. The performing artist studied theater at Ithaca College. She is most recognized for her screen roles on the NBC television hospital drama, "ER," as Dr. Angela Hicks, Detective Claudette Wyms in the FX television cop drama "The Shield" and Winnie Mandela in the film "Redemption: The Stan Tookie Williams Story."
Justin Trudeau
Canada's Prime Minister, Justin Trudeau was born on Christmas day in 1971. He has followed in family's footsteps. His father, Pierre Trudeau spent 15 years as Prime Minister. Prior to going into politics, Trudeau studied Engineering and Environmental Geography at university. He also played at acting, starring in the 2007 CBC film "The Great War".
Cab Calloway
Scat singer Cab Calloway was born on Christmas day in Rochester in 1907. He was coached by one of the most influential jazz musicians and singers in music history – Louis Armstrong. Calloway was a major voice of the Harlem Renaissance art movement during the 1920s, defining Harlem sound. His other achievements include writing a bestselling Hepster's Dictionary and perfecting the gliding backward dance later replicated by Michael Jackson as the "moonwalk".
Christmas birthdays are really rare. According to a Harvard University study, December 25 is the least common day for births after February 29. If you were born on Christmas Day, consider yourself quite special. Christmas babies shared a birthday not only with Jesus Christ, but also all these incredible celebrities and figures. If you are one, you rock!