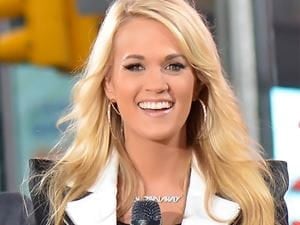 Dephisticate/Flickr
Most fans of Carrie Underwood are aware of how dedicated she is to her faith in Jesus Christ. Underwood, who rose to fame after winning "American Idol," has always remained steadfast in her faith, weather in person, on stage, or in song.
It has now been over 10 years since Underwood won Idol, but she has proven that fame has not destroyed her faith. Without hesitation or reserve, Carrie has strived to live a life of Christ and openly shares that journey with her fans.
Carrie has inspired Christians everywhere. Here are the great examples of how we can see God through Carrie Underwood.
Christ-Centered Marriage
"And over all these virtues put on love, which binds them together in perfect unity." Colossians 3:14
Carrie married NHL player Mike Fisher in 2010, and the pair have been vocal about how their Christian faith has helped strengthen their marriage, and is the foundation for their love.
"I think we're very similar," said Mike in an interview with Rare Country, "We both grew up in Christian families. We experienced life, and then all of a sudden [we experienced] fame. We are able to connect in different situations. Spiritually, we are able to be on the same page and understood each other and that was part of the connection we had. Now, it's a big part of our marriage, for sure."
Carrie added that her and Mike also pray and read uplifting pages out of books together. Further, she has said that the pair reads the Bible to one another over the phone. The two spoke about how they share devotionals together, and ask questions like "how did you apply this to your life today" or "what do you think this can mean for us" to stimulate conversation and discussion about the Lord in their marriage.
Underwood isn't afraid to put God first in their marriage and has said that Mike has improved her walk with God. She has spoken before saying, "our spiritual bond is something we try to put first in our lives."
Gospel Music
"Come, let us sing for joy to the Lord; let us shout aloud to the rock of our salvation." Psalm 95:1
Carrie Underwood is a huge country star, but has crossed over on to the Christian music charts as well. Underwood has a long history of being unashamed of her faith that includes singing "How Great Thou Art" on national TV. Underwood has also teamed up with Christian singer-songwriter Michael W. Smith before, and created a duet of the worship song "All Is Well."
"I'm not the first person to sing about God, Jesus, faith (or) any of that, and I won't be the last. And it won't be the last for me, either. If you don't like it, change the channel." Underwood told Glamour.
Carrie's song "Something in the Water" was a popular hit with fans, and speaks on having an "ah-ha" moment with God. Despite the spiritual message, Underwood wanted her fans to enjoy the song regardless of their religious beliefs saying "the song is hopefully uplifting no matter where you are on your spiritual journey."
Philanthropy
"One who is gracious to a poor man lends to the Lord, and He will repay him for his good deed." Proverbs 19:17
Carrie Underwood has been a huge advocate for several difference causes over the course of her life and strives to make it a cornerstone of her legacy.
"Everybody has the power to do something, to be a contributing force," Underwood said, "and I would rather people look back on my life and say, 'She made the world a better place.' We can all do things like that, and I believe that when opportunities arise for you to do good, you should do good."
Underwood established the Checotah Animal, Town, and School Foundation for her hometown in 2009, which helps with general causes, needs and services in the area of Checotah to directly impact the community. Through this organization, she was able to partner with ACM Lifting Lives and give students a gift valued at more than $120,000 in new instruments for their music programs.
Underwood is also a huge supporter of animal rights, and has partnered with the Humane Society of the United States and Pedigree to help with public service announcements. She also opened the Happy Paws Animal Shelter in her hometown.
Furthermore, she has been involved with many organizations that benefit children. Underwood and her husband made a video for the "Do It for Daron" campaign, which urges young people to stop bullying. She also donated $140,125 to Save the Children, and visited children at the St. Jude Children's Research Hospital.
Raising a Christian Son
"Train up a child in the way he should go; even when his old he will not depart from it." Proverbs 22:6
Carrie Underwood has one son named Isaiah Michael Fisher with her husband. Together, the parents have openly spoken about wanting to raise their son a Christian.
"Mike and I talk about teaching him how to approach everybody in a loving way, even if they're not the same, and to try to say, 'You know what? God loves them, so it should be my job to do my best to love them as well.'" Carrie said in an interview with People Magazine.
Growing up a conservative Christian in Oklahoma, Underwood said there was a lot about church that was scary because she didn't understand it all. Carrie and her husband are working to make their son's journey of faith smoother, and are doing so by surrounding themselves with a positive community of church members. The couple has a nightly routine of reading their son children's Bible stories, and attending church as a family.
Sharing Faith With Fans
"He said to them, 'Go into all the world and preach the gospel to all creation.'" Mark 16:15
Underwood has received huge criticism for being so outspoken about her Christian faith, but instead of folding has continued praising Jesus in front of millions. Not only does she sing about Jesus, but she tries to share Him with her fans, too.
Underwood opened up to Oprah in a talk show, discussing the importance of prayer and keeping the Lord at the forefront of her life. She was unafraid to share her faith with the millions of viewers. In addition, the "American Idol" alum made her first film debut in the movie "Soul Surfer" where she played a spiritual youth counselor. Underwood hoped that the film would enable American audiences to see the power that faith has in the healing process. "I hope that it is very clear that the faith in this movie is more than an undertone, and that the reason Bethany got through everything was because of her faith in God," Carrie said.
Underwood has also shared her faith on her multiple social media platforms, captioning photos of her family with bible verses and hashtags that celebrate faith. Underwood even posted videos of her praising Jesus with her son in song.
Carrie has always shared her faith with the world, and has never apologized for doing so. Despite facing constant backlash for her love of Jesus, Underwood has been a great example of how you can share God in all aspects of your life and it will only bring you eternal happiness.