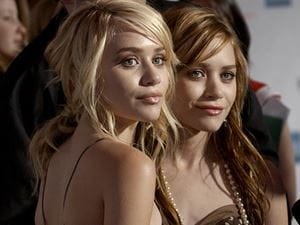 Everett Collection/Shutterstock.com
We all know them from the family sitcom, "Full House," where they shared the role of Michelle Tanner. Mary-Kate and Ashley were child stars—we watched them grow up in the limelight. And with the exception of a few children's videos, since 2004, the Olsen twins have remained pretty silent and away from the paparazzi as much as possible.
Collectively the Olsen twins are actresses and fashion designers. The twins were born in Sherman Oaks, California to David and Jarnette Olsen. They have an elder brother, Trent, and a younger sister, actress Elizabeth, as well as a half-sister, Courtney Taylor, and a half-brother, Jake. In order to adhere to child labor laws that set strict limits on how long a child actor could work, the sisters took turns playing the role as Michelle on Full House. And they continued the role of Michelle until the show wrapped up in 1995.
After Full House, the twins completed several movies, made guest appearances, and began to dabble in the preteen market of clothes, shoes, hats, books, CDs and cassette tapes, fragrances and makeup, magazines, video and board games, dolls, posters, calendars, and even telephone and CD players. Mattel produced various sets of Mary-Kate and Ashley fashion dolls from 2000 to 2005 along with separate outfits and accessory packs.
In case you're curious, here are a few things you probably didn't know about the famous Olsen twins:
Their first film was "To Grandmothers House We Go."
Mary-Kate named her first horse "C.D."—short for compact disk. Yes, we're serious.
They own a production company called DualStars where they produce their own movies and videos.
Ashley's middle name is Fuller, while Mary-Kate has no middle name. Get it, Fuller House?! No, we're serious – that's her middle name. No pun intended!
The twins were cast for 'Full House' at nine months when their mother's friend introduced her to an agent who asked to see their photographs. Their mother was extremely reluctant to have them even audition for the role in "Full House." They were chosen out of 20 sets of twins to play the role – they were the only babies who didn't cry during the audition.
They starred in a total of 192 'Full House' episodes.
The Olsen twins are actually fraternal twins. Ashley is two minutes older than Mary-Kate.
For a while, the twins were credited as "Mary-Kate Ashley Olsen," because the producers didn't want the audience to know that Michelle was played by twins.
The Olsen twins almost quit after season one, because their mom was worried about the twins having a normal childhood. However, after a huge salary raise from the producers she changed her mind.
Ashley is right-handed while Mary-Kate is left-handed.
When they were just six years old, Mary-Kate and Ashley became the youngest producers in history.
Ashley Olsen has been a longtime fan of rock music and is a big fan of bands such as Thirty Seconds to Mars and Counting Crows. In October 2013 she even appeared in the music video for the song "City of Angels" by Thirty Seconds to Mars.
Together, the Olsen twin's entire empire includes books games, films and products from when they were younger, a fashion label and DualStar Entertainment is worth $1 billion. For individual net worth, each twin is worth an estimated $150 million.
Ashley Olsen's favorite smell is movie theater popcorn. And Mary-Kate's favorite scent is coffee.
Mary-Kate is one inch taller than Ashley.
The Olsen twins missed their prom so that they could host Saturday Night live! The duo hosted the show in 2004 at the age of 17-years-old. Jimmy Fallon and Will Forte did a prom sketch especially for them.
Mary-Kate and Ashley were the first twins to get a star together on the Hollywood Walk of Fame in 2004.
The Olsens have launched their own couture fashion label called The Row–named after Saville Row in London. The Olsens were later named Womenswear Designer of the Year by the Council of Fashion Designers of America for The Row in 2012. They received the award again in 2015. The CFDA also named the Olsens' Accessories Designer of the Year in 2014 for their work with The Row. Mary-Kate told millionlooks.com, "If you go throughout our entire collection, you've seen it all before. Meaning, pieces repeat. That first T-shirt, for example, that's this T-shirt from a couple of seasons ago, so it's always consistent. It's just about how we can evolve and also give the option to either buy this version or that version, creating a story."
Mary-Kate received a Daytime Emmy Award nomination for her performance in "So Little Time."
The Olsens did return to TV after the end of "Full House" when they stared in the ABC sitcom, "Two of a Kind," which co-starred Christopher Sieber. Similar to Full House, Sieber's character was a widowed father. The series only lasted one season, but aired reruns on various cable networks for several years afterwards.
Neither Mary-Kate or Ashley Olsen have Facebook or Twitter accounts. In an interview with millionlooks.com Mary-Kate said, "That gives me so much anxiety. We've spent our whole lives trying to not let people have that accessibility, so it would go against everything we've done in our lives to not be in the public."
Despite the distance they've put between themselves and Hollywood, the Olsen twins have managed to remain successful and profitable. Instead of immersing themselves in acting, Mary-Kate and Ashley have stayed away from the spotlight and created several successful clothing labels. In addition, the twins have also received several awards and recognitions for their fashion label works. I think it's safe to say that we haven't seen the last of the Olsen Twins, despite their refusal to join the "Fuller House" reboot.