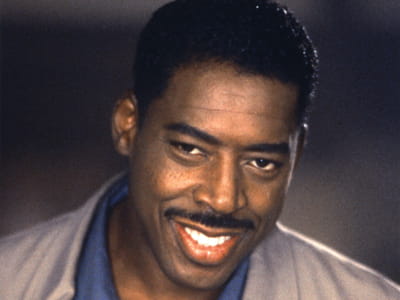 Even if you don't know Ernie Hudson's name, you know his face and his resume. Currently starring as a detective in the NBC series "Heroes," Hudson is known for his many film and TV roles, including "Ghostbusters," "The Hand That Rocks the Cradle," "Oz," "Desperate Housewives" and others.
Hudson comes from a family of ministers and credits his Christian faith with having guided him throughout his life. Now, he's participating in an all-star line up of celebrities who've helped create the just-released audio Bible series, "Word of Promise," voicing the apostle Peter. Hudson recently spoke to Beliefnet Entertainment Editor Dena Ross about the spiritual roles he's played and how the good in people inspires him.
Your grandfather and great grandfather were both ministers. How did they shape your faith?
In my family--my cousins, uncles--they've all been very spiritual and religious. They were very involved in the early formation of the Church of God in Christ. And so, religion has always been a part of my family. I think some people practice more than others, but it's always been a part of our life.
I don't say I was born in the church, but I was born and from the earliest [years] I was always involved in church activities, much more so up until I left home. I tend not to do it as much now, but, I've always been there, sang in the choir, was involved in the youth activities. There was usually something going on at the church, certainly, six out of seven days. Sunday was an all-day event.
And so, the concepts, the principles, the basic tenets of Christianity was always a part of what we considered a normal life, and certainly we've built our lives on [it]. And certainly in our house, because my grandmother raised me, and she was the matriarch.
I had aunts and uncles who were not necessarily people who went to church a lot, but I think once it's a part of your life, it's a part of who you are. The truths that are found in the Bible are universal truths. And it shapes who you are and guides you throughout your life.
What was it like portraying Peter in the "Word of Promise" audio Bible project? Was there a pressure to perform a biblical character?
It was interesting, because the first part of the year I was doing a play on Broadway and the president came to see it and someone said, "Is there an added pressure?" I don't kind of feel that kind of pressure like "what if something goes wrong?" I think it felt more like a responsibility to bring whatever I believed, whatever honesty that I felt. I just felt it was to be aware and accept the responsibility that you're doing something that has significance greater than if it was just doing some book on tape. And it was that--but, I mean, it's the Bible.
I think I always really related to Paul. So, I was very thankful that I was asked to do that particular character.
What kind of characteristics about him do you see in yourself?
I felt that he was a genuine seeker and a true friend of Christ, and loyal, and well-meaning even though sometimes he had those human frailties.
I think that's what I find, certainly, in myself and in a lot of people. There are certain things that we aspire to and we really believe that we can step up. But, then, life happens and we sometimes [we] don't measure up to all that we think we can, but we try.
It's the human element of the character that I really liked. And yet, he loved Christ and Christ loved him, and that relationship was just very special.
Do you think this dramatization of the Bible is going to affect people different than when or if they just read it?