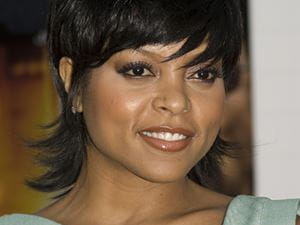 Many remember Taraji P. Henson as baby mama Yvette to Tyrese Gibson's immature father Jody in "Baby Boy." It's a character that is never too far behind her because it was her first big break in the industry eight years ago. But over the last few years Henson has had the opportunity to be more than a baby mama, particularly as her turn as the adoptive mother to Brad Pitt's Benjamin Button in "The Curious Case of Benjamin Button"--which gained her a Academy Award nomination. In "I Can Do Bad All By Myself" she teams up with Tyler Perry for the second time to portray April, a nightclub singer with a drinking problem who is faced with caring for three children and making the decision whether to live to continue living for herself or openg her heart to family, faith, and love.
Henson spoke to Beliefnet about her own spirituality, the lessons she learned from playing the role of a broken woman, and how acting is her shrink.
This is your second time working with Tyler Perry. What is your experience working with him?
I worked with him on "The Family that Preys," and I saw the way he worked, his method. It was very reminiscent of my training at Howard [University] - very hard core, very in your face, not tiptoeing around.
That's what I'm used to. Howard University was tough. The first day of rehearsal, if you didn't hit the note, [they'd tell you to] sit down, next. Literally, you would be replaced like that. It makes you hungry.
I just missed that because you get in the industry and they bow down to you, they want to put shoes on your feet and make you feel like you're this and you're that. And that is poppycock.
I really wanted to get back to the basics, and I really enjoy the way that he works.
Were you a fan of his work prior to "The Family that Preys"?
Absolutely. I'm a huge Madea fan, huge. Love Madea. And I remember when he called me the day after the Oscars telling me about this script and he was like, Madea's gonna be in the film, and I was like I love it, I love her. And plus, she's the only Black woman that can open a film.
Well, it's Tyler Perry, Tyler Perry, Tyler Perry. So, he's gonna get all the glory. But, I'll get my love, too.
They won't say I opened the film. Now, God bless him because he's really trying to set it up like that. That's why he did the poster and this and that. But, at the end of the day, Tyler Perry's name is on it, so most of the audience, they're coming to--not to say that I'm not bringing my people. There are people who are coming just because they want to see me, too, that probably wouldn't necessarily go and see it.
I read the blogs. There are some people saying, "I'm not even a Tyler Perry fan, but I'm going because I love Taraji."
In this film, your character deals with sexual molestation in her past and alcoholism in her present. In "Hustle and Flow," there was a character with a different set of issues. In "The Curious Case of Benjamin Button" your character had an inherent sadness. Where do you pull from emotionally to play these kinds of characters?
It's in the script. It's in the back story. It's in the why the person ended up the way they did. Each character has their own story like each individual does. Every human walks around with a certain kind of sadness. They may not wear it on their sleeves, but it's there if you look deep. It's just doing the research and finding out the why she ended up like this.
How does faith and spirituality guide you, whether you're on set or making decisions about the movies you choose to do?
That's everything. That's who I am. God lives within me. I meditate, I pray. I'm nothing without God. So, I just ask that He use me in my work. There's always somebody who can identify with the characters that I portray.
That's why I'm not afraid to play a pregnant whore, because they exist. I'm not afraid to play a thumb-sucking baby mama from the hood. That girl exists. She needs a voice.
There's so many April's in the world. They need a voice. And I don't judge my characters. That's not my job. My job is to live their truth on this film so people can identify.
What would you like to say to women dealing with domestic violence?
You just have to really love yourself enough to be able to walk away, to not put the responsibility of you in other people's hands, take responsibility for yourself. It may sound selfish, but you have to put yourself first. And you can't get mad at somebody else because they're putting themselves first.
It's up to you to be responsible for how you feel if you're not happy. Your happiness lies in your hands. You can't rely on a man to make you happy or complete you. That starts with you.
How has acting, on the level you are on right now and playing the type of roles you do, changed your life?
Acting for me is very therapeutic. It's my shrink. I heal myself a lot through a lot of my characters because I draw from my own personal experiences.
I remember, I was in an abusive relationship years ago, and I remember when I first did "Baby Boy" and I got an epiphany. I was like, "Wow, I was never the victim. He didn't hold a gun to my head and make me stay in that relationship. I chose to stay in that relationship, so how can I blame him for punching me? Like, I chose to stay. I'm no victim."
You always have the power to walk away from a situation. Each role role helps -- "Curious Case of Benjamin Button" and "I Can Do Bad All By Myself" helped me and still is helping me bring closure to losing my father.
So again, acting is actually my shrink.