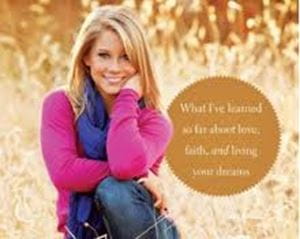 "My skiing accident was a challenge, but also a blessing," said Shawn Johnson. "I had been so busy with work and travel, struggling to figure out what to do with my life, but now I finally had time to reflect and figure out who I was."
As a member of the 2008 USA Women's Gymnastics Team, Shawn Johnson won four medals, one gold and three silver. In 2009, she captured the national spotlight again by winning the widely popular Dancing with the Stars competition. Johnson also won the 2009 ESPY (Excellence in Sports Performance Yearly Award) for female Olympian and the Teen Choice Award for female athlete in 2009 and 2011.
In the midst of these successes, Johnson suffered the potentially career-ending injury that forced her life to a halt and made her rethink what was really important. She made a comeback on the international gymnastics scene and hoped to be a member of the 2012 Olympic team in London, England, this summer.
On June 3, 2012, Johnson announced her retirement from competitive gymnastics—a move that further demonstrates her wisdom in knowing that winning isn't everything.
"There's an incredible depth to Shawn that many people want to know more about," said Jan Long Harris, Tyndale Associate Publisher.
"She's an amazing athlete and role model who displays a humility and maturity well beyond her years. We're delighted to be working with her." Winning Balancereveals the amazing against-the-odds journey of a young woman from an ordinary family who won an Olympic gold medal on the balance beamand became even more balanced in life.
Taken from Winning Balance by Shawn Johnson. Copyright © 2012 by Shawn Johnson. Used by permission of Tyndale House Publishers, Inc. All rights reserved.