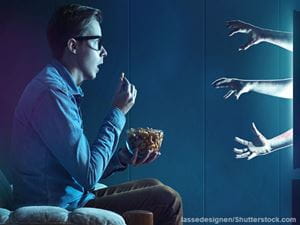 Horror flicks are notoriously known for blood, guts, ghosts, and jaw-dropping shock, but are Christians supposed to create or watch horror films?
"Deliver us from Evil" is a crime-horror film was based on a book written by a New York detective, documented demons and mysterious events that could not be explained. Scott Derrickson, a Christian, is known for his work on Sinister in 2012, and The Exorcism of Emily Rose in 2005, wanted audiences to face our fears of the supernatural. Derrickson said the horror genre takes a serious look at life's mysteries.
"There are a lot of voices that are broadcasting that the world is explainable," he told the National Catholic Register.
"Corporate America limits the world to consumerism. Science can limit it to the material world. Even religion limits it to a lot of theories that can explain everything. I think we need cinema to break that apart and remind us that we're not in control, and we don't understand as much as we think do."
Affirm Films, known for faith-based films like, Soul Surfer, created a horror thriller based on biblical accounts of end times called "The Remaining."
Written and directed by Casey La Scala of "Donnie Darko," ("A Walk to Remember"), the project was inspired after Scala father died. "When my father passed a lot of things ran through my mind," he said." One being to love the one you're with before it's too late because things could end in a blink of an eye," said Scala who wrote "The Amityville Horror: The Lost Tapes," coming out in 2015.
Does inviting fear into our lives gratuitous? Of course it is, but siding with Derrickson we should be aware that there is a supernatural, and battle raging on earth.
Twin brothers Chad and Carey Hayes responsible for the movie "The Conjuring" said their only rule for making horror movies is that God always wins in the end and they would never glorify evil.
"If you discover that darkness exists, as the characters in the movie and the audiences who watch it do," Carey told Beliefnet in 2013. "That means God exists. And that means eternal life exists. That's something to feel great about."