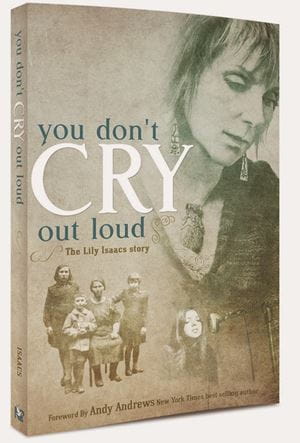 The matriarch of bluegrass gospel group The Isaacs was recovering from a long night after the tour bus broke down on the side of the road in Arkansas. From Lily Isaacs's Nashville office she sounded tired, but enthusiastic to talk about helping in the book You Don't Cry Out Loud.
Isaacs was born to Polish Jewish parents in Germany after World War II and was disowned from her parents after coming to Christ in 1971. She raised her children through a bitter divorce, battled illness, and built a successful career with her children joining her.
"God has allowed me to survive so much during my lifetime that my heart has always been to try to help some and I would hope that didn't go through it in vain," said the 30-year cancer survivor raised in the Bronx.
"I feel like that people will identify with my story and I also had a lot of requests over the years at our concerts to perhaps write my autobiography."
Writing her story allowed Isaacs to revisit places in her heart that were painful.
Hurt, rejection, and fear were places reexamined, yet it was an invitation to allow Christ to heal brokenness. "We all have places in our hearts where we store things that are not pleasant," she said.
"In writing my book with my ghost writer I had to relive everything and get down to the very details. It's kind of like therapy, so after a session of talking I would be exhausted for few days and so I would have to shelf it for awhile. I think that was the hardest part."
Her parents were Holocaust survivors and moved to the U.S. with absolutely nothing. Isaacs's father was held in the Buchenwald Concentration Camp and released in 1945. The pain that followed caused her father to drink heavily and mother to stray.
"My mother being 11 years younger than my father was robbed of her teenage hood and was ready to party. Growing up that way was really challenging because my parents didn't get along and my mother had boyfriends."
Isaacs never planned on becoming a Christian she believed that Jesus was just a prophet. In 1971, that changed and her parents were not receptive to the news. It took several years for them to receive their daughter back home.
"I just chose to be light and to live my life where they could see God through me. One of things I have learned is that you can agree to disagree."
Eventually, she decided to make peace with her parents without engaging in a war. The Isaacs include son Ben, Sonya, and Becky travel extensively with their mom performing at the Grand Ole Opry, Israel, Norway, and South America. Read more of Lily's testimony.