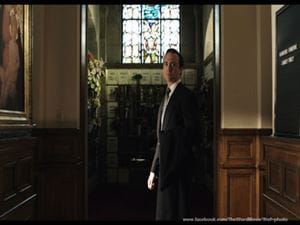 If you are a believer in Christ, will you go to heaven if you commit suicide?
This topic is expected to raise this question in the new mystery thriller, "The Word."
True Blood actor Kevin O' Donnell, who was raised Catholic, played almost every kind of role during his film and theater career. Nothing prepared him for the part of grief-stricken single father Tom Hawkins. Hawkins boy was kidnapped at a mall and murdered by a religious cult. While FBI agent Mike Sheehy (James Naughton) worked the case--the father decided to take control, which ends in a heart-thumping twist.
"Its got all the great elements of a great noir, a great mystery, as well as a universal theme of suffering, loss, redemption and faith," said O' Donnell.
Walking in Tom's shoes became was exhausting, O' Donnell admitted.
"What happens is when you are working on something so intense there has to be laughter on the set. You have to find some levity. For me I was going to those [painful] places everyday and I was having these massive headaches every day because of crying all the time. I had to go watch a Will Ferrell comedy to sleep at night sometimes because it was so much. It was one of the most grueling parts I've ever played."
Tom is a man of faith, and firmly believes he will be reunited with his son, Kevin. But somewhere there was a deeper disconnect from the world, the law, and even faith, which propelled him to see his some on his own terms.
O' Donnell was raised Catholic and "I know that suicide is definitely frowned upon, but I was taking it from my perspective, not my character's perspective. From the character's perspective, he [Tom] doesn't have a lot of other choices."
Writer Steve Grimaldi said he wanted to base the story more around mystery.
"We could have really turned this into more of a religious film and with those types of nuances, but we wanted it be the core mystery," said Grimaldi.
"For me personally, the whole question around God's forgiveness and mercy is important, but we didn't want to make it a key story about him [Tom]."
When you think about the preaching of Jesus, you wonder what is God willing to forgive.
"Is suicide the one piece that can't be forgiven? We leave it up to the audience to decide at the end 'Geeze, this guy's been a good person his whole life, tried to do the best he can, and then his world gets torn apart. What will God really do in that case?'"