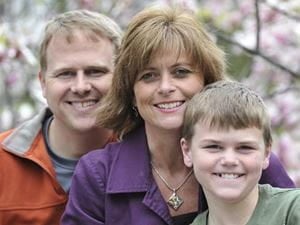 Did "Heaven is for Real" mirror the best-selling book on Colton Burpo's trip to heaven when he was four-years-old or was it strictly through a Hollywood lens?
Critics argued that the theme of the film was taken from a Universalist approach, not a Christian standpoint. In the book written by Colton's father Todd Burpo, the boy was very concerned that people might die without knowing Jesus, which was not in the movie. Some said the film did not clarify enough that Jesus Christ is the only way to heaven. I can agree to certain point, but this is entertainment, not a documentary, so call me a positive Polly.
If you see a movie that comes from Hollywood, there will be creative licenses taken. With that out of the way, let's all calm down. Depending where you are in your walk, the film offers some solace, especially to those who are grieving
Director and co-writer Randall Wallace admitted that they omitted sections of the book like the angels, or hell. But he did not feel they purposely left out Jesus as some concluded.
"We end the movie with a picture of Jesus that he [Colton] saw," said Wallace, who attended seminary. "The last image of this movie is a picture of Jesus, so I never felt that we were leaving Jesus out."
Colton, played by newcomer Conner Corum is joined by Greg Kinnear (Todd Burpo), Kelly Reilly (Sonja Burpo), and Thomas Hayden Church (Jay Wilkins) add a quiet power to the cast..
"I think it's a very hopeful story," said Greg Kinnear, who played Todd and worked with Wallace in "We Were Soldiers."
"I think the notion that God makes the rules is the underlying theme of this thing. It's a very surprising set of circumstances that take place and I felt like the message that it doesn't get bogged down with is What does heaven look like?, Was it real, or not real?, What color was it?"
Kinnear said regardless of where a person's faith is—to have a front row seat to the Burpo's journey is an experience.
"I'm from a small town and I think he [Wallace] captured all that, and Todd is a guy who doesn't just where one hat. He's a firefighter, a wrestling coach, a father and a pastor. It's an honest portrayal of a young man who has convictions about what he believes," said Kinnear who lived in Logansport, Indiana as a youth as well as Washington, D.C. and Beirut, Lebanon.
"Snow White and the Huntsman" and producer Joe Roth said he discovered the book when it hit the New York Times best-sellers list in 2010 and was fascinated by the account. He called the agent in Denver and made an offer to buy the rights.
"Underneath it [book] was an enormous question," said the veteran of over 200 films. "I did the "The Sixth Sense" and it was very successful and I had questions on the afterlife. It seemed very interesting to me."
The Burpos were very involved in the beginning of the film and had a say in the producer, director, casting and script. Roth had a handshake agreement with Todd on the authenticity of the film.
"'The one thing you have to promise me is that Colton won't turn to me at the end of it and say: 'That's not the way it happened,' or 'I never said that, '" Todd Burpo told Roth.
I can't promise that you'll agree with Roth or Wallace's adaptation of the film or what direction the creators decided to take, but same theme from the book remains that there is a heaven, a Jesus, and hope after this life. Something we have all wrestled with.
"The question of what happens when we die is certainly a question that everyone in life ultimately asks themselves," Wallace said.