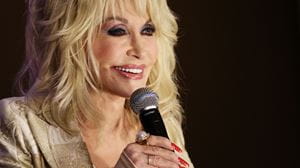 Country music's matriarch Dolly Parton grew up poor in Pigeon Ford, Tenn. and vowed to make a difference in her community.
Dollywood is proof.
With an estimated 50,000 guests daily, Dollywood is a major source of revenue for the city of just over 5,000. The park was renamed Dollywood from Silver Dollar City when Parton became a co-owner with the Herschend Family in 1986.
This spitfire is nowhere near to slowing down at 71.
After a tour in Australia and whirlwind press conference at the park, the blond, big-haired country music icon has the energy of a teen.
"I feel good, like James Brown," Parton laughed. "I dreamed myself into a corner, and it is raw energy. I haven't done it all by myself. I have been blessed with good company, and I have a lot of faith in God. I really just live off of faith."
Dollywood, a destination theme park, is expanding with a new resort hotel overlooking the Smoky Mountains in 2015 and will be offering a new family roller coaster this year.
"I always thought that if I made it big or got successful at what I had started out to do, that I wanted to come back to my part of the country and do something great, something that would bring a lot of jobs into this area."
Dollywood is the largest employer in the community and the composer of "I Will Always Love You" and "My Tennessee Mountain Home" is amazed by the longevity despite the the recession.
"This [expansion] would provide 2500 new jobs from the resort alone. It's just something I wanted to do for families to have a place to come," she says. "It's just a dream come true."
Parton explains that another dream of hers was being part of a solid family. She's one of 12 children.
"Some of my best friends are in my family. I'm very close to several of my sisters and brothers I love them all. When you got that good base it really will see you through a lot of things. People would be surprised about the quiet life we do try to have because you need to have your down time."
A rendering of the new resort hotel
Parton and husband, Carl Dean, will be married 48 years and together 50 on May 30th. In the entertainment world this is unprecedented.
"We talk a lot about that ourselves! We will say 'can you believe that we've been together 50 years? How did that happen? Nobody does that anymore.' It's one of those things that I think God had His hand in as well, to lead me, and to bring the right people and things into my life."