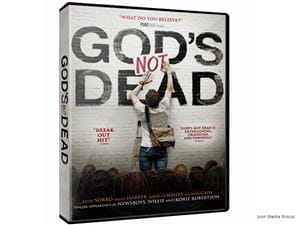 Faith-based films have experienced a boom in audience and finance this past year. With films like Son of God and Heaven is For Real, their presence has amassed millions of dollars, attracting people of various faiths as well as non-believers.
One of the hit films, 'God's Not Dead,' is the number one independent film of the year and brought in $60 million at the box office this spring.
With almost 4 million likes on Facebook, droves of people have gone to see the film and are now purchasing it on DVD, released August 5.
A young college student, Josh Wheaton (played by Shane Harper), goes tête-à-tête with his philosophy teacher, Professor Jeffrey Radisson (played by Kevin Sorbo) after refusing to sign a statement in class, saying "God is dead." In turn, Professor Radisson challenges him to defend his belief, giving him three classes to state his case that "God's not dead," with his classmates as the jury.
Other sub-plots - a Muslim college student converts to Christianity but hides it from her father, a young businessman refuses to see his ailing mother and leaves his girlfriend after discovering she has cancer, just to name a few – builds the story but supports the same message of hope and faith.
David A.R. White, who plays the jaded Pastor Dave, is also the co-founder of Pure Flix Entertainment, a film company that produces hundreds of faith-based films, including 'God's Not Dead.' He spoke with Beliefnet on the positive responses he's received from the film and talked about the future of movies in the faith-based genre.
"These films are about redemption, forgiveness, hope, and inspiration. Hopefully we leave people inspired by their faith, and encouraged in their faith. Critics can say that they're similar (with themes), but it's been an exciting time to see this genre open up and become a marketable genre," David says.
Kevin Sorbo, the antagonistic and threatening Professor Radisson, also talked about the success of 'God's Not Dead.'
"Obviously, it's done incredibly well on a $2 million dollar budget. It made $62 million, released in 30 countries worldwide. It shows that people are looking for content like this, looking for movies that have a message to send out there, not just about computer images and spreading Hollywood's own agenda," says Kevin.
"We will make more movies like this; Hollywood will make more movies like this if [the audience] support them."
Lionsgate, one of the largest film and television distribution companies in the U.S. has taken notice, partnering with PureFlix and picking up the home entertainment rights to 'God's Not Dead.'
"The faith-based audience has a tremendous presence on social media and other online platforms, and we look forward to working with Pure Flix to craft an innovative roll-out campaign for God's Not Dead that capitalises on our proficiency in the digital space and draws upon our partnerships with digital and traditional platforms alike," said Jim Packer, Lionsgate president of Worldwide TV and Digital Distribution, in a statement in July.
More than just filling seats, the genre is reaching new audiences and heightening exposure of Christian values and beliefs.
"It shows that there's a hunger for this type of entertainment that people have, explains David. "It's been exciting to see how much this movie has impacted so many lives and I would just encourage people to continue to be a part of that."
'God's Not Dead' is now available on digital HD, pay-per-view, Blu-ray and DVD. Check out the film's Facebook and Twitter for more details.