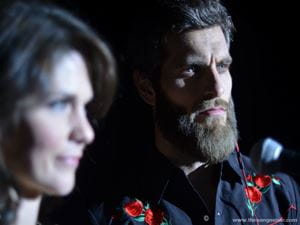 Sometimes faith-based films are cookie-cutter, and gloss over real issues, like drugs, alcoholism, and adultery in order not to offend audiences. If the script is written with sensitivity, and with honesty it will be compelling and refreshing.
"The Song" does this.
Alan Powell is musician Jed King, who writes "The Song" for his wife Rose Jordan, played by Ali Faulkner. Constantly in the shadow of his music legend father, King vowed to maintain loyalty to his wife, music and his God.
The single becomes a smash, thrusting King into stardom and a world of sex and drugs. Sultry violinist Shelby Bale (Caitlin Nicol), whom you will both love and hate—ensnares the once strong family man with her free spirit and exotic features.
"The rawness and realness that you see on screen was there and the script as well. I thought it was very interesting that the writer and director were willing to show that," said Powell, who is married, and had his wife stand in for the love scenes. "That's not always the case specifically in this genre."
Rose is strong, a character Faulkner enjoyed developing.
"She's a breath of fresh air, but at the same time she's very strong," she said. "Where she may be inexperienced, she's not naïve, necessarily. She's wise and she's strong and that combination of strength and vulnerability [and] to be so open and loving is a beautiful combination."
Powell, also a musician, said he could be on tour up to five weeks and there's an overwhelming disconnect from children and spouse.
"As musicians this is something we struggle with and deal with and this is something that Jed struggles with as well. We need to prioritize our family certainly above our careers in this world. This is something that I could relate to with Jed and what he was dealing with."
Taking on real issues was also important to Faulkner and "the goal of the film was to be something that people could relate to and be something that was very real and transparent."
"The Song" is set for release in September.