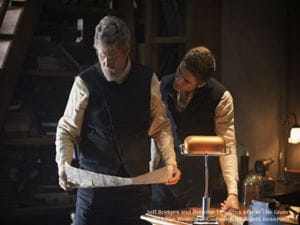 Despite rounds of interviews with reporters, Jeff Bridges remains passionate when answering questions about his latest film that took over a decade to make. With lunch on the line, the veteran actor with salt and pepper hair, and full beard flashed a grin to explain.
Initially, Bridges wanted his father Lloyd to play the gruff elder in Lois Lowry's 1993 science-fiction teen book, The Giver.
"I was looking through a catalog of children's books and I came across this wonderful cover of a book, with this old, grizzled kind of guy on the cover and thought 'Oh yeah, my dad can play that guy,'" Bridges, 64, said.
Bridges shot the film years ago originally with his dad and nephew, but it never found legs. He nurtured the project that passed through script writers, directors and studios like Fox in 2006, but Bridges' option rights ran out .Warner Bros. scooped the rights up, but dropped the project. Some studios shied away from the adaption since it was geared towards middle school and high school kids, until films like "Twilight" and the "Hunger Games" succeeded at the box office.
Pieces fell into place. Talent like Odeya Rush, Katie Homes, Cameron Monaghan, Alexander Skarsgard, Brenton Thwaites, Taylor Swift and Meryl Streep were casted.
Jonas played by Australian actor Thwaites lives in a utopian society controlled by the Chief Elder (Meryl Streep) and is trained to become the Receiver of Memories (of humankind) by The Giver, Bridges. To have complete tranquility, all homes are uniform and people are one. There is no competition, emotion, war, and ultimately no free will. People are drugged daily so they could not access their feelings all for the sake of happiness. Jonas would change all this.
"There are very universal themes, primarily what makes true happiness and what we're willing to give up to gain it," producer Niki Silver explained.
Staying true to the themes of the book was a particular challenge for scriptwriter Michael Mitnick and "Bone Collector" director Phillip Noyce.
Lowry read many scripts adapting the book for the screen, but it proved to be difficult. Mitnick was able to shape the script around action, while maintaining authenticity.
"I admire Michael, for taking on for what must have been quite a challenge for him and doing it as well as he has."
Bridges, who also produced the film, learned to let go of preconceived ideas, if he wanted this film to reach max potential.
"The great thing about the movie business is that you're working with a collection of creative people," said Bridges. "In order to take advantage of that, you have to let go of some of things you're clinging to."
"The Giver" opens nationwide on Aug 15th.