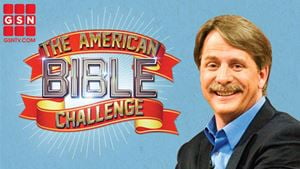 Bet you never knew the below facts about "The American Bible Challenge." Here are 10 on America's favorite game show to get started for season three!
In 2012 the premiere of the show had 2.3 million viewers in one night, the largest in the GSN's history.
The show has 21 million viewers to date.
Producer Tom Forman of "Extreme Makeover: Home Edition" also produces TABC.
The host Jeff Foxworthy has been to Africa three times.
New categories will be added for the third season where contestants need to guess whether words are Klingon or from the Bible!
18 teams will open the new season.
What are the typical questions asked on the show? Here are two and no cheating:
A. How many books does the Bible contain?
B. Who was king when Jesus was born?
Presenter Jeff Foxworthy has been a believer since he was a child continues to volunteer at a homeless shelter.
Potential guests took a 30-question test before meeting with casting directors.
Before agreeing to become a presenter on the show, Foxworthy said all winners needed to donate proceeds to their favorite charity.
The first season of the show gave away over $200,000 to 18 charities.