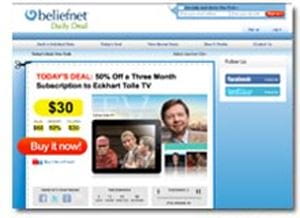 This week, Beliefnet is launching an exciting new way to save money, have fun and give back to your favorite charities FREE. Beliefnet Daily Deal is a free newsletter featuring incredible discounts on entertainment, dining, fitness and many other fun and inspiring activities and services. On top of getting a great deal, 10% of the proceeds are automatically donated to your favorite charity or ministry.
We hope you enjoy our latest Beliefnet addition – click here to check out our latest deal.
Click here to subscribe to Beliefnet Daily Deal and please visit our FAQ page for more information.
Sincerely,
Beth-Ann Eason, Beliefnet COO and General Manager
PS. Don't forget to "Like" us on Facebook and follow us on Twitter!