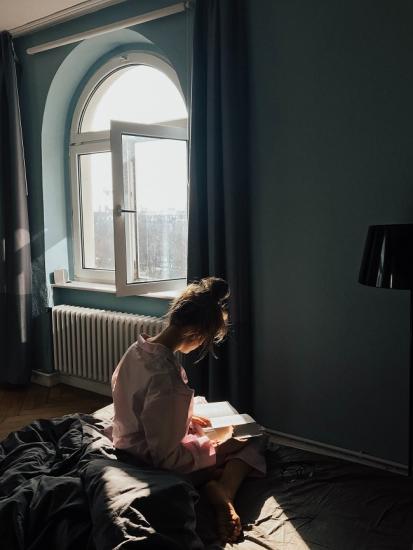 For the last six weeks, responsible Christians around the country have forgone their Sunday morning worship services in order to "shelter in place."  Instead, they've found ways to worship at home.  They've made this sacrifice in order to be part of a nationwide effort to slow the spread of the coronavirus.
Admittedly, for many of us, not attending worship on Sunday morning is a sacrifice.  It is a sacrifice for me.  I truly miss going to church on Sunday morning.  Not seeing my church family regularly is difficult.  I long for that weekly opportunity to put aside my worldly concerns and consider more spiritual matters.
But I am happy to make this sacrifice.  If by staying home, I not only prevent myself from getting ill, but I keep myself from potentially spreading the virus, then I am happy to do it!
Significantly, as Christians, we are called to sacrifice for others.  As Jesus said in John 15:13, "Greater love has no one than this: to lay down one's life for one's friends."  As a result, I am happy to do something as small as give up my Sunday morning worship to protect the vulnerable people in our society.
But finding ways to worship at home is tricky.  While at home, we simply can't replicate the feeling of being in a church sanctuary.  Moreover, no matter how good our home sound system is, there is nothing like listening to live organ music.  And even with Skype, Zoom and FaceTime, there is no substitute for spending real time with our church family on a Sunday morning.  But we can find other ways to worship.  And they can be equally rewarding, in their own way.
Below are some ways to worship while at home.  You may find them to be so spiritually fulfilling that you continue these practices long after the quarantine is over!
Watch Church Services Online
Most churches now have transitioned to offering online services for their congregations.  My own local United Methodist Church has done so.  Our staff conduct a weekly Sunday morning service with just four people in the sanctuary: my pastor, her husband (who films the service), and our music directors, a husband and wife team.  The service is quite nice, and we are able to watch it at home, on our television.
Seeing the pastor, music directors and church sanctuary on Sunday morning (even if on the television) provides a feeling of normalcy during this topsy-turvy period.  Moreover, it is pleasant to grab a cup of tea and watch the service from my couch!
In fact, you don't have to limit your television viewing to your own church.  I know people who watch multiple church services.  They may watch their home church's service, and then they watch services from across the country.  It is interesting to hear the music and sermons from different churches, which may be very different from your own.
Develop A Prayer or Meditation Practice
While we normally think of worship as a group activity, our spiritual development requires that we engage in individual reflection as well.  There is no better way to accomplish this than with a prayer or meditation practice.
If there was ever a golden opportunity to develop a prayer or meditation practice, it is now.  Not only do we now have the time to do so, but quieting our minds is so important during this stressful period.
If your home is noisy, you might consider getting up a little bit earlier than the rest of your household in order to have some quiet time to pray or meditate.  I always am the first person up at my house, and as a result, I am able to use the early morning to contemplate.  It is much easier to think when my only distractions are the little birds singing outside my window.
Alternatively, you can pray or meditate while you walk.  I take my dog for a long walk each day, and I find that is a good time to pray.  Sometimes I meditate on the lyrics of one of my favorite hymns.  For instance, yesterday as I walked with the dog, I meditated on the words of the beautiful hymn, "How Great Thou Art."
By praying and meditating, you also give yourself a break from the news for a bit.  While it is important for all of us to keep abreast of what is happening in the world, these days the news can become overwhelming.  Through prayer, we can refocus our attention on God and know that "this too shall pass."
Read Inspiring Literature and Listen to Beautiful Music
Admittedly, it is nice to go to church and enjoy a powerful sermon.  But we also can stimulate our brains by reading inspiring books and articles.  You might do something as simple read a passage from your Bible each day.  Or, if there is a particular author who you enjoy, purchase his or her books online.  And of course, Beliefnet has thought-provoking articles which are available for free!
Moreover, while we can't sing hymns in church on Sunday mornings for the time being, we can listen to them.  These days, I listen to piano renditions of my favorite hymns on Spotify.  Even on YouTube, there are lovely videos of hymn music.  This video is one of my favorites – One Hour of Relaxing Hymns on Piano.  I listened to this particular video over and over again when my husband was in the hospital.  It brought me peace of mind at a time when I needed it most.
I encourage you to find meaningful ways to worship at home.  Even though attending a church service is always nice, there is something to be said for worshiping alone.  When we worship at home and in solitude, we have the opportunity to deepen our relationship with God.  So take the time to develop a spiritual practice that is separate from your church experience.  Ultimately, your spiritual life will be richer because of it.
Email: meerabelle@meerabelledey.com
If you would like to receive my Free E-Book, "The Confidence Course," and sign up for my weekly newsletter, go to meerabelledey.com.