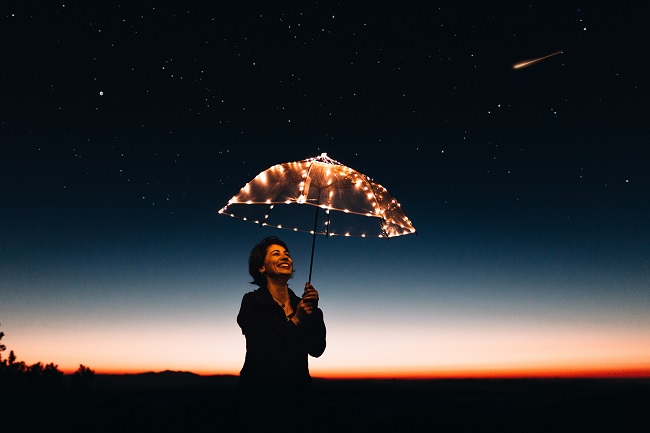 Many of my friends are having milestone birthdays this year. Birthdays that end with a "zero." These celebrations have made me think back to when I turned 40. That is a big birthday. It designates the midway point of life.
Unfortunately, I spent that day alone. No cake. No cards. No party. And I remember driving in my car that day and thinking, "This cannot be all there is to life. This is brutal." But at that time, I could not see how my life could ever turn around.
And that is how we feel sometimes. We don't know the future. We can only see our present, and it looks fairly grim.  And instead of being happy and trusting that God has a good plan for us, we feel hopeless.
Now, on my 40th birthday, if I had known the future, I would have been pretty excited. I would have known that my life would get so much better. I would have known that in a couple of years, I would meet my husband and be blessed with a great marriage. I would have known that I would get a job that I loved. If I'd known the future, I would have said to myself, "Celebrate! You have a great life ahead. Go shopping! Buy some outfits and a bottle of perfume. Celebrate because there are great things ahead for you!"
Unfortunately, that day I didn't know my future. So, I spent it feeling fairly depressed and lonely. And that was ridiculous. I should have had faith that God had a good plan for me. I should have meditated on Jeremiah 29: 11-13:
"For I know the plans I have for you," declares the Lord, "plans to prosper you and not to harm you, plans to give you hope and a future. Then you will call on me and come and pray to me, and I will listen to you. You will seek me and find me when you seek me with all your heart."
I should have trusted God's plan for my life. Then I could have relaxed and enjoyed the day. I could have gone out shopping and treated myself royally. I could have just enjoyed my birthday regardless of what was going on in my life at that point.
How many perfectly good days do we ruin because we don't trust God? I will admit that I've wasted a lot of days feeling hopeless and depressed because I didn't trust God. I've felt worried and overwhelmed instead of casting my cares to Him.  Unfortunately, those are days that I cannot get back.
So often, people will say that you should enjoy the journey and not just the destination. But it is only through faith that we can enjoy each step of the journey. Faith allows us to say, "Objectively, today things may look pretty hopeless. But I know (I know!) that God has a good plan for my future. So, I will enjoy today."
You can enjoy every day, no matter what is happening in your life, by doing three things:
Trust that God has a good plan for your life.
Be kind to others, no matter what.
Do your best in all things.
That is the recipe for enjoying each day of your life. That is how you can enjoy the journey, and not spend most of your life fretting or feeling hopeless.
This week, make a decision to trust God in all things. Believe that He will solve the problems that you cannot solve. Know that he has good plans for your future. And just Enjoy Today.
(Photo Courtesy of Pexels)
Email: yourmorningcupofinspiration@gmail.com
Books: "The Secrets to Success for the Working Mother" by Meerabelle Dey (https://www.amazon.com/Secrets-Success-Working-Mother/dp/1546329544 )