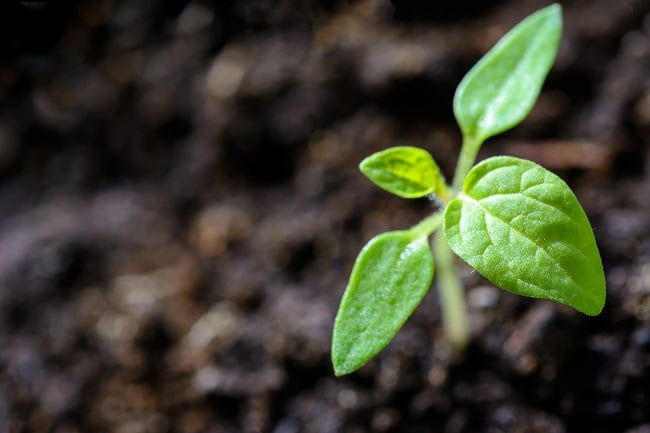 In the Gospel of Matthew, Jesus tells the parable of the mustard seed.
"The kingdom of heaven is like a mustard seed, which a man took and planted in his field. Though it is the smallest of all seeds, yet when it grows, it is the largest of garden plants and becomes a tree, so that the birds come and perch in its branches." Matthew 13: 31-32 (NIV)
The point Jesus is making in this parable is that the creation of the kingdom of heaven on earth will start with something small, like a mustard seed. Specifically, it will start with a young carpenter who preaches about love, justice, forgiveness and kindness, and who dies on a cross. His life and those ideas were small, seemingly insignificant seeds. However, two thousand years later those seeds have given rise to a religion that touches people all over the world.
The same idea holds true when we want to do the work of creating the kingdom of heaven on earth. We don't need to do anything grand. We simply need to plant tiny mustard seeds.
Let me give you an example. When I was growing up, I had Sunday School teachers who planted Bible stories in my head. I don't think they thought much of it. But when I became a teenager and during my early twenties, I took great solace in those stories. And when I went through the process of growing up and becoming an adult, the small seeds that those teachers planted changed how I developed as a person. Those seeds led me to study religion in college and graduate school. They also created in me a lifelong desire in me to learn about the Bible and the teachings of Jesus.
Now that I am an adult and a Sunday School teacher, I try to do the same thing that my teachers did. I try to plant Bible stories in my students' heads. I want the morals of those stories to take root and change how my students think about the world. My kids will readily tell you from the story of the Tower of Babel that God loves humility and hates pride. And they will gladly tell you from the story of Daniel in the Lion's Den that God is our great protector. My hope is that when they become adults, some of what they have learned will help guide them in life.
Planting small seeds will change the world – for better or worse. We can plant seeds of love or of hate. Right now, we are seeing the effects of having a cavalier view of the type of seeds that we plant. Seeds of hate have been planted for a number of years now by certain people in power, and those seeds have taken root in the minds of very troubled people. Some of those people have committed violent acts in the last week or so in our country.
It is important to pay attention to the small seeds which you are planting each day. Are you encouraging people and planting seeds of hope in others? Or do you insult and denigrate others? Do you commit random acts of kindness which make others feel loved and cared for? Or do you live selfishly? Do you speak softly and with maturity, or do you rant and bluster about?
If you think about your future obituary, what would it say about the type of seeds that you have planted during your lifetime? I would want my obituary to read that I planted seeds of love during my lifetime, and that those closest to me felt cared for by me. I would want it to say that I inspired people to be kinder and a little bit more patient with one another. I would hope that my life would be one in which I planted the right kind of seeds on this earth.
This week, consider the type of seeds you are planting. Make sure they are the seeds that will establish the kingdom of heaven on earth. If we all planted seeds of kindness, justice and decency, think what a different world it would be.
(Photo Courtesy of Pexels)