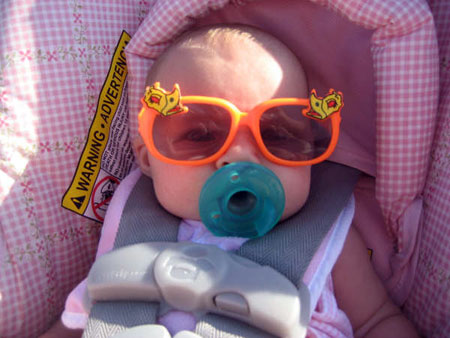 Who doesn't love cute kids, like this 3-month-old baby?
"Your Little Cuties" is a new Beliefnet blog featuring adorable kids photos and videos. Our goal is to bring an automatic smile or grin to your face. Laughing and saying "Awww…how cute!" is also encouraged. We like to describe this blog as CuteOverload but with kids–your kids!
Beliefnet welcomes photos and videos of your cute kids, grandkids, family kids, and other kids you know of all genders, ethnicities, and ages. We are looking for kids captured in a cute pose or dressed in cute outfits related to the following milestones:
Baptisms
Bar/Bat Mitzvahs
Birthdays
Ceremonies
Coming of Age
Confirmations/First Communions
Funny outfits
Holiday costumes
Pageants
"Sundays Best" or outfits worn to a house of worship
All photos and videos will be posted without any personal information such as full names or city and state. Instead, only your Beliefnet Community member names will be posted along with a link to your profile. We will only include the captions and stories that you provide with your photos.
You can click here to read detailed guidelines on how to submit your photos and videos to Beliefnet.
Get started in the world of little cuties by also looking at this gallery of cute kids photos.
Visit our blog daily for photo and video updates that will bring some levity and joy to your life!
Photo: Shared by Beliefnet reader Ree530