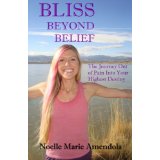 She lives in a travel home, along with her husband.
They sold their real house, left their jobs, and took to the road.
Now, they travel from city to country to city, bearing a message of freedom, joy, bliss.
Her message? One of hope and happiness, as well as freedom and spirituality.
Her book? Bliss Beyond Belief. The title alone was enough to draw me.
The author? Noelle Marie Amendola.
Wow! That's the word that comes to my mind when I think about meeting Noelle in person – or, sort of "in person" – in a recent SKYPE interview, no less. I am not real sure how I first met her but I think it was by accident (or, as she would put it, "by Divine design") on Facebook. It does not matter now just how. What does matter, however, is who she is and the message she shares.
Noelle Amendola exudes genuine excitement. You'll see that in the interview. When she tells you that her life is filled with blissful ease, joyous trust, meaningful self-abandon, her face will say all of that for her. What you're left with this feeling she could be the most real person you've met in a long time and you'd like to know her secret.
Amendola has found feedom from what many across America would call a stifling religious background. Scores of people have left, or are leaving, the faith of their childhood. Many are searching for spirituality beyond religion. And, both of these descriptions would fit Amendola precisely. What makes her different, however, is that she has found her spiritual moorings.
And, that may just be the biggest irony. Her spiritual moorings were not found until she turned loose of most of them. What is left is a joy and gladness that could only ever be found when we let go of a painful past, get in touch with our inner Source, and then share with others the bliss of this discovery, which is precisely what Noelle Amendola does.
What a joy it was to interview her. But then, you'll share in that for yourself. Take a look here at her life, her joy, her infectious spirit of generosity, and her deep commitment to the Eternal Presence we all seek, whether conscious of it or not. Then, order her book, and discover for yourself what it means to enjoy Bliss Beyond Belief.
What Others are Saying about Bliss Beyond Belief:
"Noelle's Book goes beyond a self-help book it is a like a blue print of how to get face to face with your inner child." – Toni Carbone
"A wonderful uplifting book for everyone!" – Jennifer Allred
"This is a Wonderful book and great guide to a better life." – Emily Warren