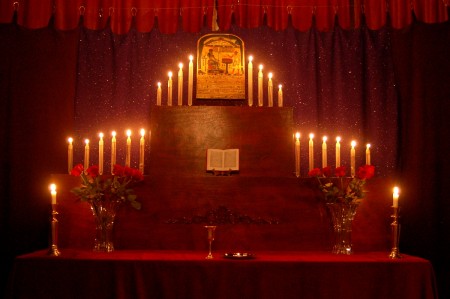 When Amanda and I started our church tour, I'd had it up to here with vanilla religion. I wanted to take a walk on the wild side (read: nothing Christian), but it turns out that, for a city that prides itself on "keeping weird," Portland doesn't have much to offer in that regard.
And then I heard from a member of Home PDX that there is a place in town that can satisfy all that and more!
It's the local chapter of Ordo Templi Orientis, based on the teachings of occultist Alister Crowley—a.k.a. The Great Beast—and purveyor of the only Gnostic Mass in these parts. It sounded quite gnice.
Steeped in pagan ritual, it promised sharpened gnives and a bare gnaked virgin! I gnew it would be loads of fun—and definitely out of our comfort zone. Even though our gnees gnocked a bit as we entered their lodge yesterday, the service didn't disappoint.
Check back shortly for our report.