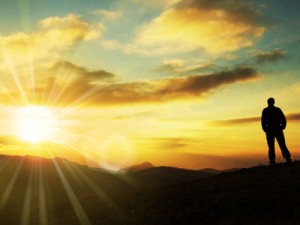 In Luke 10, the Bible talks about two sisters, Mary and Martha. Jesus went to the house of these two sisters to teach one day. Mary chose to sit at His feet and receive from His teachings while Martha chose to work tirelessly to serve Him. Martha wanted everything to be perfect and began to get frustrated because she was doing all the work and her sister wasn't helping. She said to Jesus, "Jesus, will You tell Mary to get up and come help me? There's so much that needs to be done here, and I'm the one doing all the work."
Now, how often do we have the same attitude Martha did? "Jesus, do You see how hard I'm working? Do You see how overwhelmed I am? Do You notice how much I'm doing for You?" I think Jesus would respond to us today in the same way He responded to Martha. In essence He said to her, "Martha, that's great that you have such a strong work ethic, but Mary is doing the right thing. She is doing what is needed." Mary chose to take time to be in Jesus' presence. She knew she needed to take the opportunity to receive personally from Him, so she set everything else aside to focus on Him.
Every person needs to take time to receive, to be refreshed and built up so we can become more like Jesus and live more effective lives. Sometimes we think we are doing a good thing by staying busy all the time, but we aren't changed by activity, we are changed by encountering Almighty God. If we are constantly on the go, "running on empty," not only are we cheating ourselves, we are cheating our families and the people around us because we aren't able to give them our best or minister to their needs the way God intends. We can't give what we don't have. We have to receive from the Father so that we have something to give to the people we encounter day in and day out.
If you have ever flown in a commercial airplane, then you have heard the flight attendants informing passengers about airplane exits, emergency lighting, flotation devices and oxygen masks. The flight attendant will say something like this: "Place the oxygen mask over your nose and mouth before assisting children or those around you." In the same way, we have to put our spiritual oxygen masks on, so to speak, by connecting to the Breath of Life, our Heavenly Father.
Today and every day, take time to sit at the feet of Jesus. Let Him refresh and renew you. Put your "oxygen mask" on! Let Him share His deep secrets with you and set you on the path of life, peace and victory all the days of your life!
"Come to Me, all you who labor and are heavy laden, and I will give you rest. Take My yoke upon you and learn from Me, for I am gentle and lowly in heart, and you will find rest for your souls. For My yoke is easy and My burden is light" (Matthew 11:28–30, NKJV).