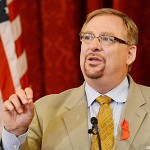 I recently returned to Twitter after a brief hiatus. To my surprise, I discovered that Twitter has become a great source for finding new spiritual insights and inspiration.
While it may seem odd, great wisdom and inspiration can be found in 140 characters. Here are my top ten religious "Tweeters."
@RickWarren:
The author of the best-selling Purpose Driven Life has a constant stream of biblical verses and pithy insights.
@PastorMark (Mark Driscoll)
The creative pastor known for his hour-long intellectual sermon offers unusual perspectives on culture and faith.
@Beliefnet
Beliefnet remains the best source for inspirational writing and stories from leaders and thinkers of all faiths.
@Tribseeker (Manya Brachear)
The fabulous religion reporter for the Chicago Tribune highlights breaking and intriguing news stories.
@JohnCMaxwell
The Pastor and leadership author delivers inspiring quotes and insights
@BradLomenick
I'm a huge fan of Catalyst, which engages and encourages young Christian leaders. I wish we had a Jewish equivalent.
@URJ (Union for Reform Judaism)
The organizing body of the Reform Jewish movement highlights news and perspectives from all over the world.
@RabbiJason (Jason Miller)
A fellow social media rabbi who combines great news and humor and insight.
@ChiefRabbi
Lord Jonathan Sacks, the Chief Rabbi of Great Britain, is one of the most articulate religious leaders in the world today.
@imabima
Rabbi Phyllis Sommers ruminates with humor and thoughtfulness on being a mom and a rabbi.
There are many many more.
Who are your favorite spiritual voices on Twitter?
By Evan Moffic,
Grow Spiritually. Inspire Yourself. Live a More Meaningful Life.
Get More from Rabbi Moffic http://bit.ly/U6pA1G