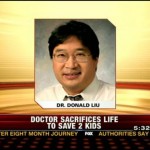 "At times," wrote Hans Zinnsser "the dead are closer to us than the living, and the wisdom and affection of the past stretch blessing hands over our lives, projecting a guardian care out of the shadows and helping us over hard places." Last month we were are reminded of this truth by an extraordinary man and tragic ending .This man, Donald Liu, was a pediatric surgeon at University of Chicago.
In early August Dr. Liu was at a beach with his family in Berrien County on Lake Michigan when he saw two children fall out of a kayak. He went out to rescue them. He succeeded in helping them get above water. As he did so, he got caught in the undertow. He drowned. Both children lived.
A Chinese Jewish Doctor
As a rabbi, I had a particular interest in Dr. Liu. Born in Shanghai, he came to the United States and converted to Judaism upon marriage to his wife Dana. The family had just returned earlier in the month from Shanghai, where they celebrated the Bat Mitzvah of their oldest daughter Geneviece. He also had a 10 year old son Asher and seven-year old daughter Amelie.
Dr. Liu's extraordinary impact was noted by colleagues and friends, who called him a brilliant surgeon and compassionate physician. One of his colleague described him as "a world-class pediatric surgeon who made innovations and advancements in minimally invasive surgery for children and cared for trauma victims."
What struck me most, however, was an article his oldest daughter Genevieve wrote for the Jewish newspaper, The Forward. It testifies to what we would call in Jewish tradition Dr. Liu's ethical will, the way he is remembered and honored by his children.
An Ethical Will
Genevieve wrote, "My father passed away as he was saving two drowning children in Lake Michigan. The tragedy was shocking and devastating, but in some ways it was not out of character, because he died being the savior that he was when he was alive, saving hundreds of thousands of kids from life-threatening diseases through his discoveries and surgical brilliance."
"To me, he was the best father anyone could ask for. For example, he sent me to a very expensive camp for four weeks, only to drive there four days later to make sure I was okay. He brought me home that same day and did not make me feel shame or embarrassment. (Not to mention the camp was a 9.5-hour drive there and back.)"
"I still remember on my bat mitzvah day, the way dad approached the bimah. He put his arm around my shoulders. 'Genevieve,' he said, his eyes teary and his nose stuffy, 'you taught me eternal love, and I have a story for you: There was a time when one of my greatest mentors was dying. He sat me down and told me: 'Don I'm dying, I need you to do one thing for me.' Being the young resident that I was, I anxiously nodded my head like his little puppy dog.'
'Anything, anything,' I said. 'Please,' he asked, 'take this letter and put it in the Wailing Wall for me.'
"I took the letter, and a month later, your mom and I went to Israel to put the letter in the Wailing Wall, but I was always curious what it said, so I opened the letter."
The Meaning of Life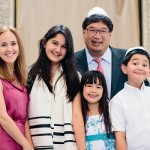 "It said two things, the first something along the lines of, 'I hope my children are successful in life,' which all parents hope for, and the second that 'I pray that my children know that I love them.' That's what I always want my children to know, that I will always love each one of them eternally." He gave me a big fat kiss and a tight squeeze and left the pulpit."
"What devastates me the most is the fact that some people are so great, so much bigger than all of us, that we can have them in our lives for only so long. I feel as if it should be the other way around: Some people are so great, they should live forever."
"It's a hard fact to accept, but in some ways — actually in all ways — my father cheated death. He will live eternally through his memory and his model for living."
Genevieve's poignant words echo an ancient Jewish teaching. In the death, the sages taught, the righteous are called living. How is this possible? Even after they've died, we continue to measure ourselves by their standards. We try to live up to their ideals. We strive to fulfill the promises they made to the world.
By Evan Moffic,