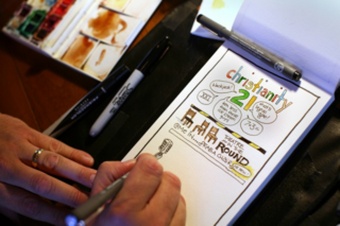 As other bloggers have noted, putting the Christianity21 experience into words is nearly impossible. In short, it went even better than Doug and I imagined it. All of the pieces came together beautifully.
In fact, when people repeatedly stopped me in the hallways on the first day to say how well they thought it was going, I found myself giving the same response over and over: "The energy in that room is amazing."
If you want to find out about the nuts and bolts of C21, see this link for mui links, names, books, etc.
And you can read about all of the presenters here. I dare not single out any of the presentations, since so many of them were so, so good. I'd rather write about my overall impressions of the event.

I often write about the conservative and liberal versions of American Protestantism here, and, although those are oversimplified and overgeneralized terms, they're good enough for the purposes of this conversation.
Before the event, Doug and I met with Jen Howver and Mark and Kelly from Imago, all of whom
helped us plan and execute the event. We made a chart with two axes on a large piece of paper, thus dividing the paper into four quadrants. One axis was "practitioner – theorist" and the other was "liberal – conservative." We then took our best guess on all 21 of the presenters, and placed them along the axes. We were pleased to see that we had representation in all four quadrants.
And this got me thinking about how rare it is that among the most liberal Christian leaders (think GLBTQ supporters) and the conservative evangelicals (think Willow Creek and North Point churches) share the stage. In fact, it got me to wondering if there are 21 men out there who would even accept an invitation like this.
I don't want to over-stereotype people based on their gender, but I've been a speaker at lots of events, and when the majority of the speakers are men (as is invariably the case), there is a certain competitive nature to those events that I did not sense at C21. And, to say it another way, I just don't think that we'd have gotten the cooperation from speakers at either end of the theological spectrum if the roster had been male.
All that to say thanks to the presenters for their grace.
There had been rumors of street-preaching protesters outside of the event. Unable to line up any compatriots (he had hoped for 21), one emergent twenemy preached a bit outside on the street, but I only spoke to one person who even saw him. Another emergent opponent was in the room for every session but the last, and he was the model of grace and respect, even as he squirmed at the theology he was hearing.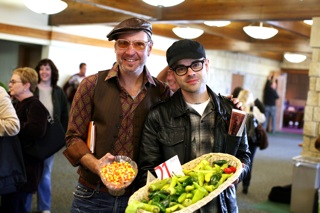 Also memorable was the posse of men who usually speak at these events. These guys came at their own expense, slept on couches and spare beds, and moved chairs, worked the registration table, and generally provided a hospitable presence. Since I haven't named any of the women in this post, I won't name the guys either, with one exception: Jay Bakker stayed at my house for a week, and we became fast friends. He's an exceptional human being.
In the final session on Sunday afternoon, one word emerged as emblematic of the weekend: Courage. One participant said to me, "I've been so afraid of starting something new for Jesus, but now I know I can do it. There's so much courage in this room!"
Indeed, there was. Here's hoping that God blesses us with similar gatherings in the future.
Photos courtesy of Courtney Perry. More images here. Time-lapse movies of Paul Soupiset's sketches here.