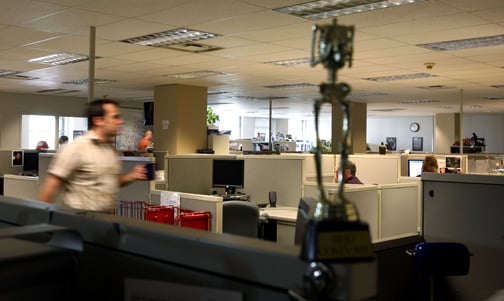 The Dallas Morning News pioneered the Sunday "Religion" section in daily newspapers, launching it in 1994. They were quickly emulated by newspapers around the country, including my hometown newspaper, the StarTribune, which established a more politically-correct sounding "Faith and Values" section on Saturday.
As someone — like over half of Americans — who takes religion seriously, I've enjoyed that section. About three times a month, there was an original story by the local religion beat reporter, and once-a-month they picked up a story off the wires. There was also the "Notes" section with newsbriefs about religion stories local, national, and international, plus a Faith and Values Calendar that displayed concerts and lectures around the Twin Cities. They even ran the occasional column. In all, it gave those of us interested in religion an nice weekly sense of what was going on around the metro area.
The DMN killed the religion section a few years ago, relegating it to a noteworthy blog. That blog has thrived, on the good graces and during the free time of its authors…until now. Yesterday, Get Religion reported (via Rod) that the DMN has reassigned its two excellent religion reporters, Sam Hodges and Jeffrey Weiss, to cover suburban issues.
Ugh.

My sadnesses are several:
1) The DMN religion blog will soon fold, or peter out.
2) Other newspapers (and MSM outlets) will follow suit.
3) Less good books on religion. Here's what I mean: Do you ever notice
how some of the best books on politics or international affairs or a
sport (or anything, really) are written by the a reporter who's covered
that beat for years. Think Thomas Friedman, who wrote From Beruit to Jerusalem
based on his exeperience as a NYTimes correspondent in the Middle East
— and he is just the king-of-the-hill of scores of books written by
journalists.
Journalists are able to write books that are more objective than books
by advocates (like me), and more lively and anecdotal than books
written by academics.
And now, I fear, excellent journalists like Sam and Jeffrey will never
write books about their lives on the religion beat, cuz there is no
religion beat.
Photo of empty cubicles at the Dallas Morning News courtesy of Courtney Perry.