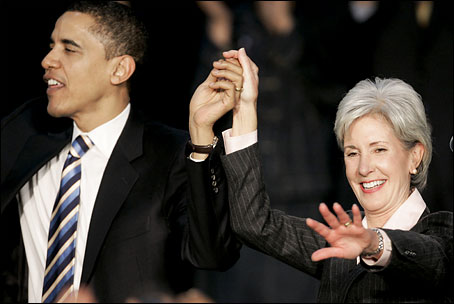 This morning, I have signed a last-minute petition supporting the appointment of Kansas Governor, Kathleen Sebelius, as the Secretary of Health and Human Services. Some on the Right are raising a stink about Sebelius's pro-choiciness, but if you take the time to read the statement below, you will see that she, like Obama, is committed to dramatically reducing abortions. Let's be honest, people, there is little political will to "end" abortions legislatively or judicially. Right now, it's up to the executive branch to work toward the systemic reduction of abortion.
As Christians dedicated to finding common ground solutions to reduce
the number of abortions in America, we welcome President Obama's
nomination of Governor Kathleen Sebelius as Secretary of Health and
Human Services.

Under Governor Sebelius' leadership, abortions have decreased in Kansas
by 10 percent, adoption funding and incentives have increased,
healthcare access for women and families has expanded, prenatal care
has become more widely available, and legislation protecting the unborn
from crime has become law. Such a record demonstrates a commitment to
results rather than rhetoric on life issues.

She is a Democratic Governor who has been elected by wide margins in a
state where registered Republicans outnumber Democrats two to one. Her
nomination has already won not only the support of Democrats, but also
praise from Republican pro-life Senators such as Sam Brownback and Pat
Roberts and Governors such as Sonny Perdue of Georgia. Her record and
her relationships with leaders in both parties are proof that
pro-choice and pro-life leaders can work together to advance a
pro-family agenda.

The governor, who is by all accounts a person of deep faith, deserves a
fair hearing in Congress and in the public square. Efforts to discredit
her will no doubt arise, but we hope that such tactics will not succeed
in taking focus off of her record of reducing abortions and supporting
women and families in Kansas – and the task that lies ahead of us all:
working together to improve health care and reduce the number of
abortions in America.
As a state legislator, Insurance Commissioner and now as Governor,
Kathleen Sebelius has worked to find common-sense solutions to increase
women's access to health care and to reduce the number of unintended
pregnancies and abortions. Under Sebelius' leadership, abortions have
decreased in Kansas, adoption funding and incentives have increased,
and women's medical privacy has been protected.

Number of Abortions In Kansas Decreased Between 2002 And 2007 By 8.5%:
In 2002, 11,844 abortions were reported in Kansas. In 2007, that number
dropped by more than 1,000, or 8.5%, to 10,836. [Kansas Department of
Health and Environment, Center for Health and Environmental Statistics,
Abortions in Kansas, 2002 and 2007]

Teen Pregnancy Rate Fell Between 2002 And 2006: Kansas' annual rate of
pregnancy for ten-to-nineteen-year-olds decreased from 28.3 to 27.1
(per 1,000 in female age group population) between 2002 and 2006. The
number of teen pregnancies in the state fell from 5,586 in 2002 to
5,192 in 2006, a 7% decrease. [Kansas Department of Health and
Environment, Center for Health and Environmental Statistics, Teenage
Pregnancy Report, 2002 – 2006]

Sebelius Signed Bill That Enacted "Alexa's Law" Related To Crimes
Against A Fetus: In 2007, Sebelius signed HB 2062, which enacted
Alexa's Law, to deal with certain crimes against unborn children.
"Unborn child" was defined as meaning a fetus at any state of gestation
from fertilization to birth. The bill meant that if a pregnant woman
was murdered, the offender could be charged with the murder of the
unborn child as well. The following crimes were included under Alexa's
Law: murder, voluntary manslaughter, involuntary manslaughter,
vehicular homicide, battery, aggravated battery, and capital murder.
[HB 2062, Kansas Legislative Summary 2007]

Sebelius Signed Bill Requiring Abortion Providers Submit Fetal Tissue
Samples to Kansas Bureau of Investigations: In 2005, Sebelius signed
the "Child Rape Protection Act" to require abortion providers to submit
a fetal tissue sample to the Kansas Bureau of Investigation when the
mother was younger than 14 years old. [Kansas City Star, 4/16/05]

1992: Sebelius Supported Compromise On Abortion Issue, Banned Late Term
Abortions: Sebelius voted for a compromise bill containing several
limitations on a woman's right to abortion. The bill banned late-term
abortions, required parental notification, and required that a minor
would have to be accompanied by an adult for abortion counseling. The
House voted to pass the legislation, 82-41. [HB 2778, 3/2/92; House
Journal, Page 1480-1483]

Funding For Adoption Support Increased Over $2 Million Under Sebelius:
Between FY2002 and FY2007, funding for adoption support, which helps
families who adopt children, increased by $2.1 million. Adoption
support funds can be used to modify a home to accommodate a child with
special needs, pay for other unique costs the adoptive child may have,
or simply provide on-going financial support. [Kansas Division of
Budget; FY 2002-2007]

Sebelius Administration Received Federal Adoption Incentive Payment:
Kansas received an adoption incentive payment of $440,000 from the U.S.
Department of Health, as a result of increased adoptions in FY2003.
Incentive funds were to be used to address long-term stability of
adoptive homes through the development and implementation of parent
education programs. [Kansas Department of Social Rehabilitative
Services, 2005-2006 Business Plan]

Signed Law Doubling Adoption Tax Credit: Sebelius signed legislation in
2006 to double the adoption tax credit. In 2004, under the Sebelius
administration, 306 families received adoption tax credits in Kansas
totaling $328,005. [SB 432, 2006; Associated Press, 5/22/06; Kansas
Division of Budget]

Sebelius Signed Bill To Aid Adoptions: In 2008, Sebelius signed a bill
that expanded the pool of people eligible to conduct adoption home
assessments by adding the following professions: licensed clinical
marriage and family therapist; licensed marriage and family therapist;
licensed clinical professional counselor; licensed psychologist;
licensed masters level psychologist; licensed clinical psychotherapist;
and licensed child-placing agency. [HB 2570, Kansas Legislative Summary
2008]

Pushed Legislation to Require State Funding of Health Care Programs For
Pregnant Women And Children: In 1990, Sebelius and a group of women
legislators successfully added $1.5 million funding to the state's
appropriations bill to provide resources for pregnant women and
children, including health care and nutrition programs. [Wichita Eagle,
3/8/90]

Sebelius-Appointed Attorney General Is Prosecuting Dr. George Tiller
For Violating Late-Term Abortion Law. In January 2008, Gov. Sebelius
appointed Douglas County District Judge Steve Six as attorney general,
replacing Paul Morrison, who left office after disclosing an
extramarital affair. "Six said last month [October 2008] that while he
does not approve of Kline's handling of the investigation, that doesn't
mean the charges should be dismissed. He also argued in court documents
that Morrison filed the case after conducting his own investigation."
Tiller's trial is scheduled to begin Wednesday, March 4, 2009.
[Associated Press State & Local Wire, 12/25/09; Associated Press
State & Local Wire, 11/14/08; Kansas City Star, 2/26/09]

Sebelius Has Vetoed Legislation That Put Women's Privacy In Jeopardy:
In May 2007, Sebelius vetoed a bill that would have required more
reporting details regarding late-term abortion. In her veto message,
she wrote: "The questions required by this proviso are open-ended and
request detailed information on a patient's medical condition." She
said the provision would open a patient's private medical information
to possible public viewing. In 2008, Sebelius vetoed a measure that
dealt with late-term abortions. The bill authorized information
obtained by the Secretary of the Department of Health and Environment,
including the identification of physicians medical care facilities, to
be disclosed to district and country attorneys, the Board of Healing
Arts, and the Attorney General thereby threatening women's medical
privacy by turning over records to law enforcement. [Kansas City Star,
5/22/07; House Sub. For SB 389, Kansas Legislative Summary 2008]