(First, a quick blog update: I'm sorry to have been MIA this week. Beliefnet was changing our blogging platform and they forgot to include me. It took a few days to figure out, but now I'm back…)
And here's what I had hoped to post on Monday: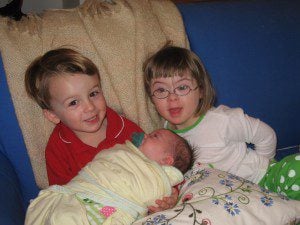 March 21, or 3/21. It is snowing outside. I look out the window and think back to a long, cold, stuck-inside winter, and yet I look at the calendar and notice that it is the first day of spring. The daffodils are already on display in my grandmother's garden, on view from my kitchen window. Despite the cup of hot tea on my desk and the wool sweater around my shoulders, I know that buds on the trees, birds' nests, and trips to the playground are in store. Soon. The reality of the calendar overcomes the reality of the weather.

March 21, or 3/21. It is also World Down Syndrome Day, a day that plays on the biology of Down syndrome, the presence of a third 21st chromosome. Every day I receive a "google alert" with news stories from around the globe that contain the words "Down syndrome." Every day I see signs of a long, cold winter in those stories—the abuse of children and adults with Down syndrome, the legislator from New Hampshire who suggested recently that people with disabilities should be shipped to Siberia, the scientists who champion "eradicating" the "disease" of Down syndrome via prenatal testing (i.e. via abortion). And every day I see the signs of spring.
These signs of spring tend to come as stories—stories of young men and women enrolled in community colleges, working as nurses and teachers' aids, stories of homecoming kings and queens, tributes to community members. Part of the purpose of this blog is to tell our story, the story of a family with a little girl with Down syndrome, with parents who celebrate because Penny just took her shirt off all by herself for the first time, with a brother who says, "can I have a sleepover with Penny tonight?" and a baby sister who is still learning the role her older siblings will play as she grows up. Today, Penny sat with Marilee on her lap and told her all the things she would be able to do: "You'll be able to talk, Marilee. And walk. And run. And eat!" Yes, our oldest daughter has Down syndrome. And yet in so many ways, ours is just a story of a family.
Each of the millions of individuals with Down syndrome, and each of the friends and family members who love them, have stories to tell. Very few of their stories focus upon health concerns or cognitive delays. Very few of them say anything about Down syndrome in the abstract. Almost all of their stories will be like ours—particular moments of triumph and heartbreak, rejection and bigotry, inclusion and purpose.
Like the daffodils blazing yellow on this cold, gray day, may the rejection and disdain towards people with Down syndrome be overcome by the stories of hope and love and joy.