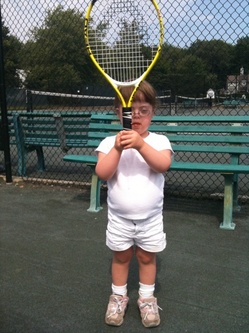 Last week, Peter asked Penny if she'd like to take tennis
lessons. "Yes!" she said, without a moment's hesitation.
So he took her over to our local tennis club and they
watched the other kids play.
Penny is 4 ½. She wears 3T clothing. And although her
physical therapist has been singing her praises of late, Penny still has trouble
with coordination, strength, balance, and speed. She has trouble, that is to
say, with things like playing tennis.
So Peter and Penny watched the other kids play. At the end
of their observations, Peter said, "I'm not signing her up. I'll just teach her
one on one." Penny said, "Tennis lessons!"
It was tempting to hold her back. It was tempting to wait
until we knew she'd fit right in and be just like the other kids. We didn't want to set her up to fail, but we also didn't want to wait until some
indeterminate moment in time when she suddenly was able to hit the ball like
a pro.
So yesterday she arrived, tennis whites and all. The only
other kid in the group was a six-year old boy who seemed to relish nailing the
ball in the general direction of the instructor's head. Peter was worried.
Penny was ready.
When they returned, I listened to her recount the day: "I
hit the ball with the racquet. And I tossed it. All by myself. With no help."
"That's my girl," Peter said.